TRAINMASTER BY WERNER MEER US-RAILROAD-SHOP KILCHBERG
HOCHWEIDSTRASSE 3 CH-8802 KILCHBERG (ZÜRICH) SWITZERLAND, founded 1977
PHONE *41-44-715-3666, FAX *41-44-715-3660, E-MAIL trainmaster@bluewin.ch
Go back to our Website - click here
Updated: December 29, 2007
HO Scale Mojave Desert Layout Project - 0/22
Track Plan Mojave Desert Layout HO Scale, Size: 4,5 x 6,5 m (13,5 x 19,5 feet)
Space is a real problem here in Switzerland, as we are usually just renting a flat and do not own a home.
Therefore, I decided together with my wife Melinda, to build my layout within our 4 1/2 room flat, just using my office 2, part of office 1 and part of the passage. The basic idea is to run long trains, two diff. ones at a time. That is the reason, why I will build double track. The max. grade is 1,5 % and the min. radius is 104 cm (41"). Please be aware, all markings on this plan are done in metric mesurements. The landscaping is reflecting Southern California's Mojave Desert. Inside office 2 along the walls will be Cajon Pass incl. Hill 582. In the passage will be a desert town "Percyville", similar to Daneville of Pelle Soeeborg's 'Mountain to Desert' Layout with buildings from Summit USA.
To start building this project, I had to relocate several furnitures and make some clearence with all my thousand things.
I was able to start construction in December 2007.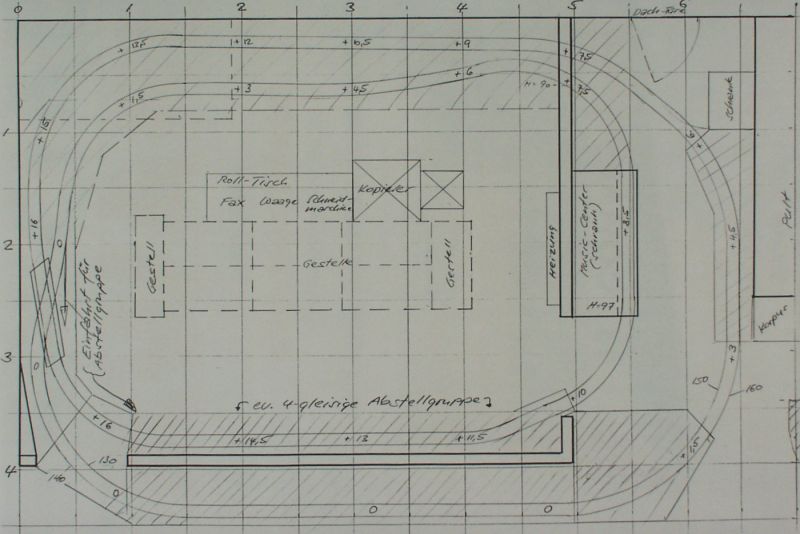 Plan updated: March 15, 2007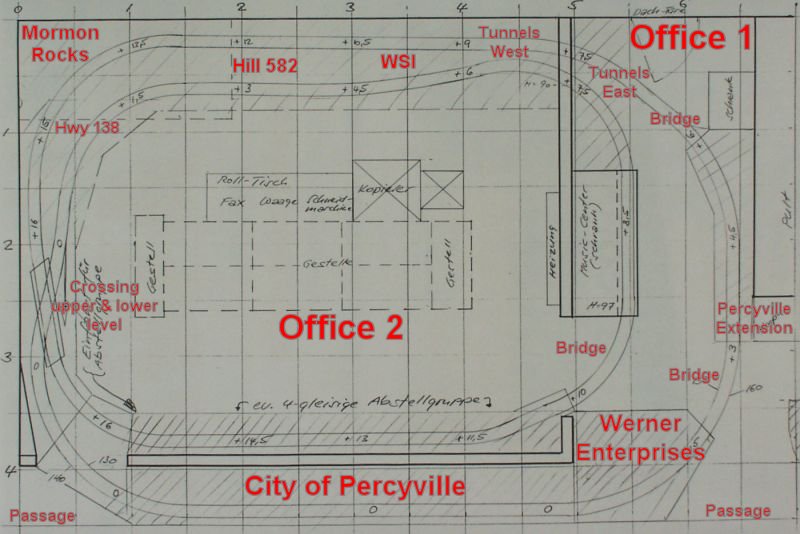 Plan updated: December 15, 2015
Below are photos of a cardboard model in 1:10 scale made by Reto Frick.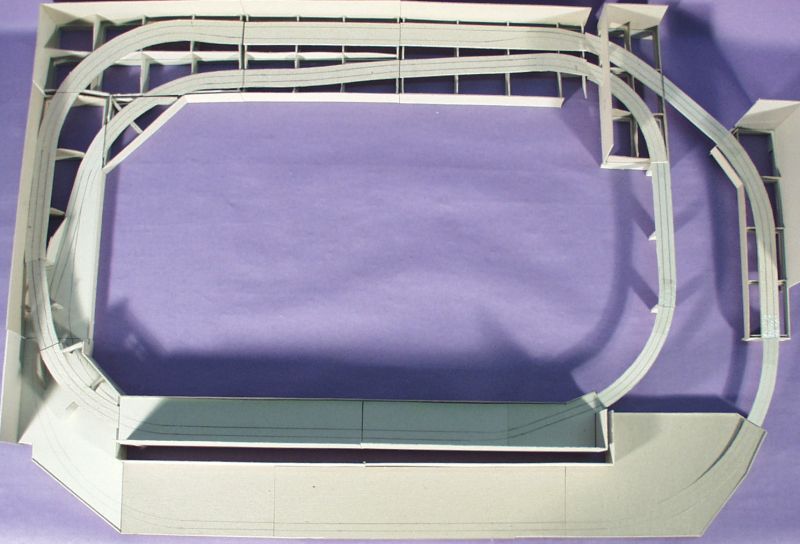 Birdseye view of the whole layout. In front will be the desert town and inside office 2 will be Cajon Pass area.
In the middle of office 2 are shelves which will cover the direct view.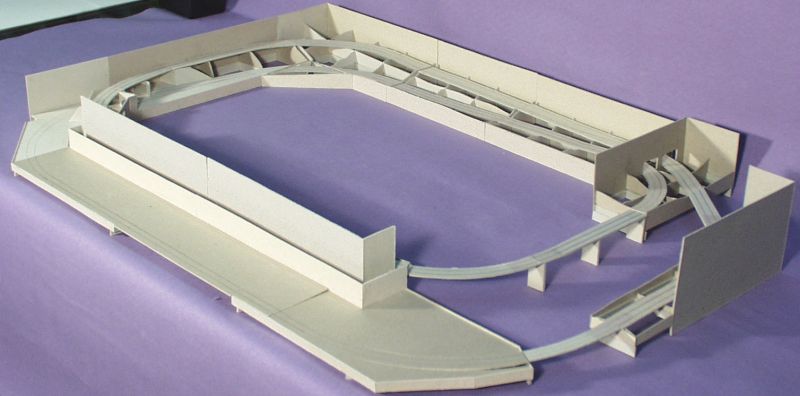 In the passage, underneath and above the desert town are show cases.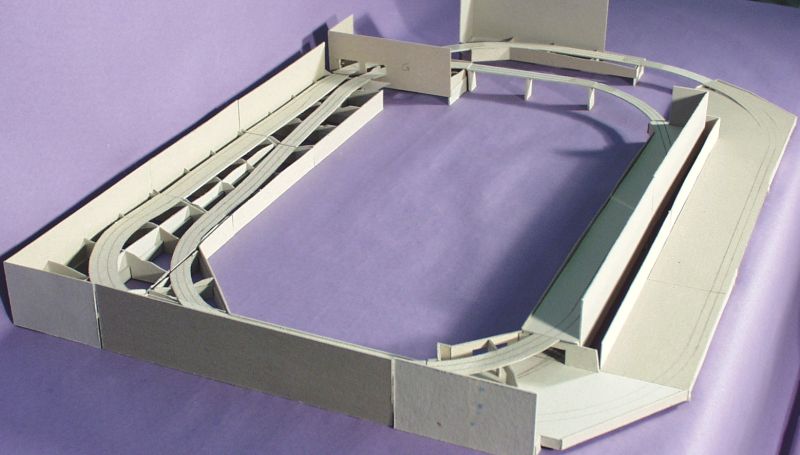 When entering the passage, you will just see the desert town (right side).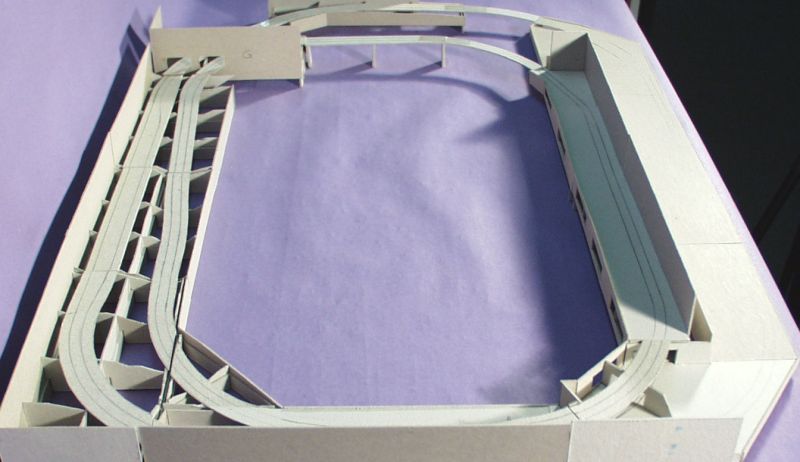 Overview from the left side (inside office 2)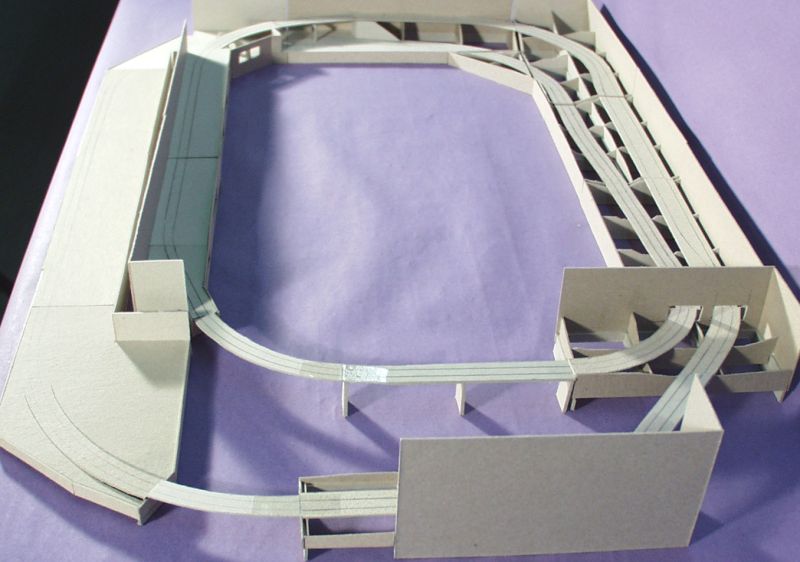 Overview from the right side (office 1). Note: There is a wall which will cover most of this view.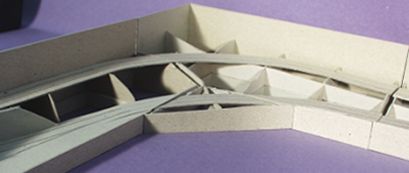 Inside office 2 left corner should become one day Mormon Rocks/Stein's Hill.


On the right side both tracks will go through the wall between office 1 and office 2.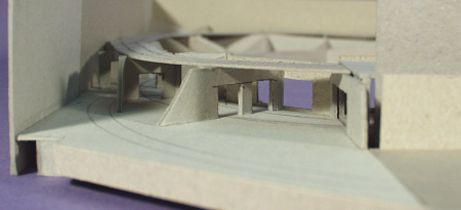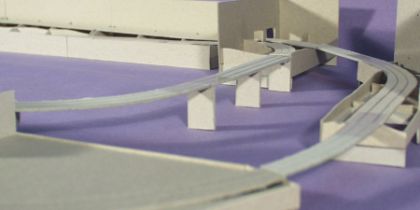 Left corner shows the two levels. Lower level will pass the desert town in the passage and upper level will be inside office 2 over the staging yard.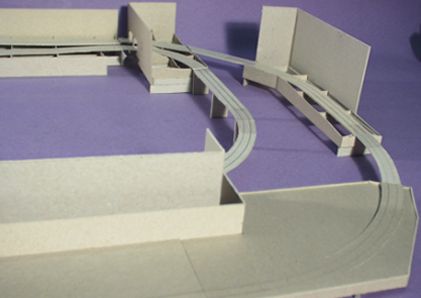 On the right side I have 3 folding down segments to get access from office 1 to office 2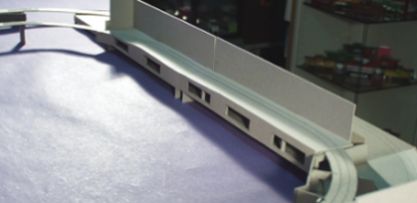 Inside office 2 will be a hidden 6-track staging yard below the main line.
See the very first photos of my layout as of 12/29/07 - Page 1/20 - click here

Updated: December 29, 2007
In 1999, I got this voucher from Max Peter for my 50th birthday. It includes all my favorite places and was actually the basic idea for my real HO scale layout which I started in 2007 (8 years later). BTW: Max was a grafic designer and made this drawing by hand ! Sad to say that Max died in 2013 at age 83.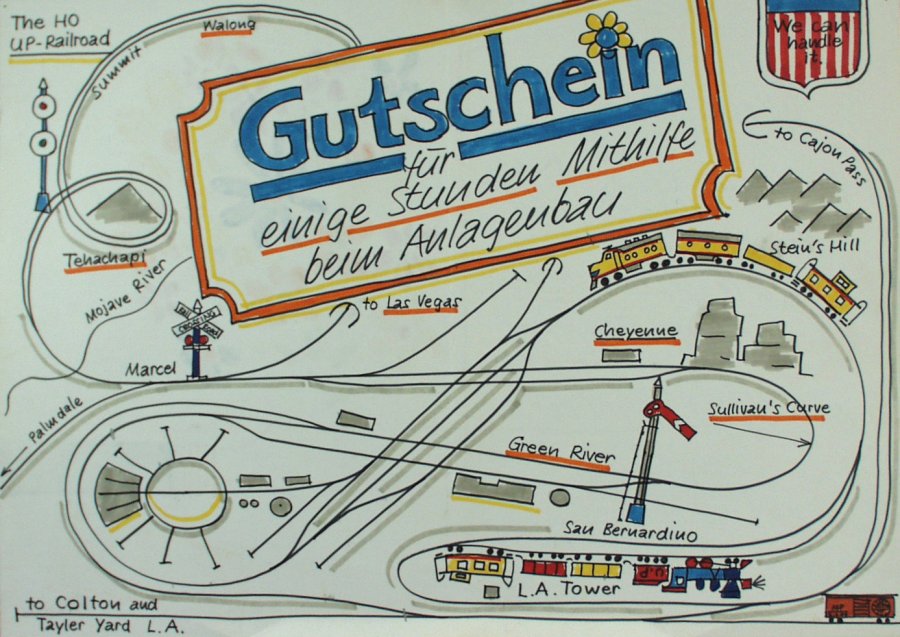 Back to main layout page - click here