TRAINMASTER BY WERNER MEER US-RAILROAD-SHOP KILCHBERG
HOCHWEIDSTRASSE 3 CH-8802 KILCHBERG (ZÜRICH) SWITZERLAND (founded 1977)
PHONE *41-44-715-3666, FAX *41-44-715-3660, E-MAIL trainmaster@bluewin.ch
Go back to our Website - click here
updated: February 17, 2019
Joshua Trees (Yucca Brevifolia)
Diese speziellen Wüstenpflanzen (Deutsch: Josua-Palmlilien) finden wir in der Mojave Wüste in California.
These special desert plants can be found in the Mojave Desert in Southern California.
Weitere interessante Infos über die Joshua Trees in deutscher Sprache - https://de.wikipedia.org/wiki/Josua-Palmlilie
More interesting information about the Joshua Trees in English: http://www.desertusa.com/flora/the-joshua-tree.html
Joshua Tree National Park: https://www.youtube.com/watch?v=UKdIeBsvOqQ
another Film about the Joshua Tree National Park: https://www.youtube.com/watch?v=rbHTLIxdCCg
One day in Joshua Tree National Park: https://www.youtube.com/watch?v=ttERleduULA
Black Rock area in Joshua Tree National Park: https://www.youtube.com/watch?v=q2Y2Do2gH3o
Wir haben zwei Fotoseiten zu den Joshua Trees zusammengestellt: Der echte Baum und das Modell für die Anlage.
We made two different photo pages for the Joshua Trees: The real thing and scale models for the layout.
Teil 1: Joshua Trees im Mojave Desert - Part 1: Joshuas at the Mojave Desert
click here
Teil 2: Joshua Trees im Modell - Part 2: Modeling Joshua Trees
click here (updated: 2/17/19)
Kim Nipkow und Felix Rüedi haben je eine separate Bauanleitung mit Fotos step-by-step gemacht.
Kim and Felix made a description with photos how to build Joshua Trees step-by-step.

HO Scale by Kim Nipkow (Switzerland)

HO Scale by Denis Herm (Germany) (new 2/17/19)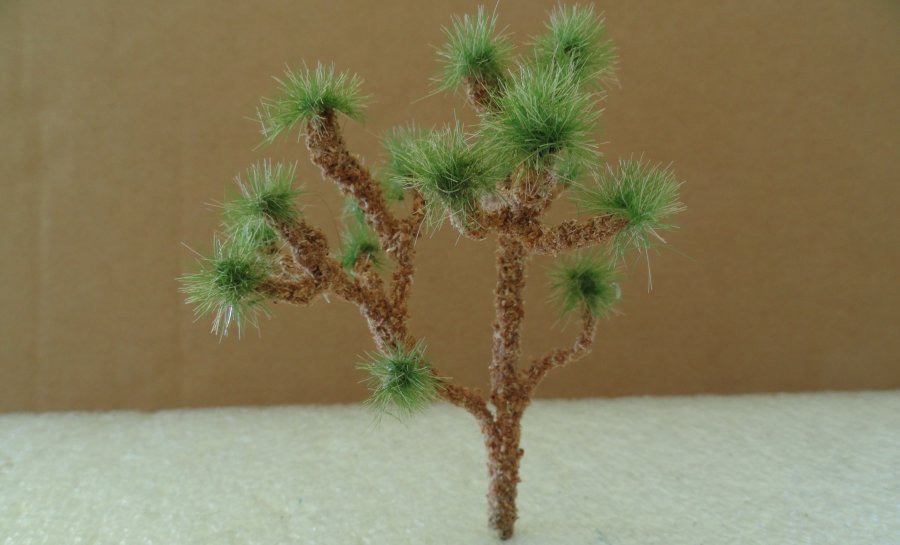 HO Scale by Felix Rüedi (Switzerland) (new 9/04/15)

HO Scale by Mason Clark (MS Trains) USA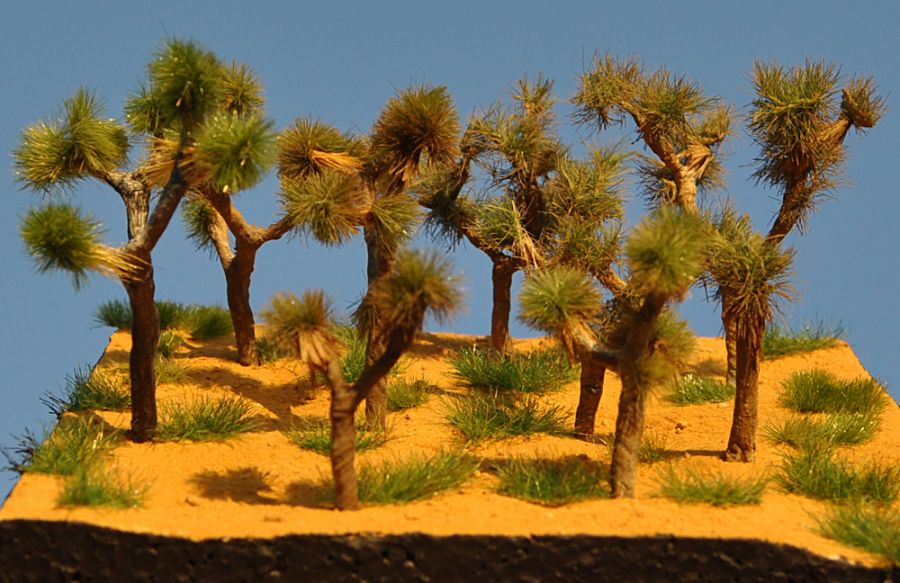 HO Scale by Chris Ott (Switzerland)
Mojave Desert Diorama mit Joshua Trees - Mojave Desert Diorama with Joshua Trees
click here
HO Scale by Kim Nipkow (Switzerland)
zurück zur Joshua Tree Hauptseite / go back to Joshua Tree main page - click here