TRAINMASTER BY WERNER MEER US-RAILROAD-SHOP KILCHBERG
HOCHWEIDSTRASSE 3 CH-8802 KILCHBERG (ZÜRICH) SWITZERLAND (founded 1977)
PHONE *41-44-715-3666, FAX *41-44-715-3660, E-MAIL trainmaster@bluewin.ch
Go back to our Website - click here
updated: February 17, 2019
Joshua Trees (Yucca Brevifolia) - Part 2
Diese speziellen Wüstenpflanzen (Deutsch: Josua-Palmlilien) finden wir in der Mojave Wüste in California.
These special desert plants can be found in the Mojave Desert in Southern California.
Weitere interessante Infos über die Joshua Trees in deutscher Sprache - https://de.wikipedia.org/wiki/Josua-Palmlilie
More interesting information about the Joshua Trees in English: http://www.desertusa.com/flora/the-joshua-tree.html
Mojave Desert Diorama mit Joshua Trees - Mojave Desert Diorama with Joshua Trees - click here
HO Scale by Kim Nipkow (Switzerland)
Teil 2: Joshua Trees im Modell - Part 2: Modeling Joshua Trees
Der Joshua Tree ist ein ganz eigenartiger Baum, der sich in den Wüsten von California und Nevada wohl fühlt. Es ist eigentlich eine Mischung zw. einem normalen Baum und einem Kaktus. Bis jetzt gibt es noch keinen kommerziellen Hersteller, der sich an die Joshuas gewagt hat.
The Joshua Tree is a unique kind of tree who likes the climate in the deserts of California and Nevada. It is a mix between a ordinary tree and a cactus. So far, no manufacturer is producing a Joshua in scale for the model railroad.
Hier zeigen wir Modellbäume von diesen Modellbauern / Here we ar showing model trees of these model builders:
A) Denis Herm, Germany / B) Kim Nipkow, Switzerland / C) Felix Rüedi, Switzerland / D) Mason Clark, USA
E) Chris Ott, Switzerland / F) Fred Kiener, Switzerland / G) Bruno Niederer, Switzerland
A) Joshua Trees in Spur HO made by Denis Herm (Germany) - new 2/19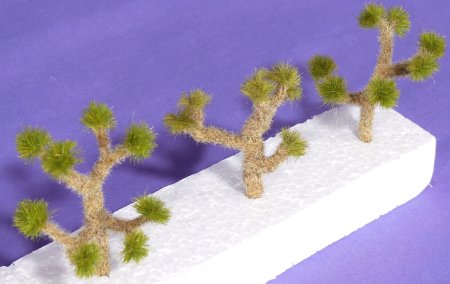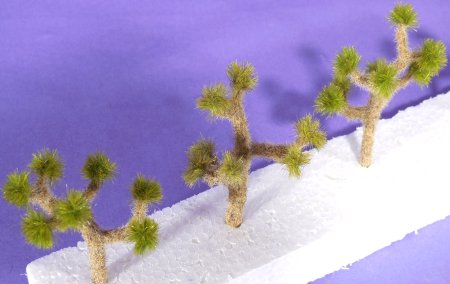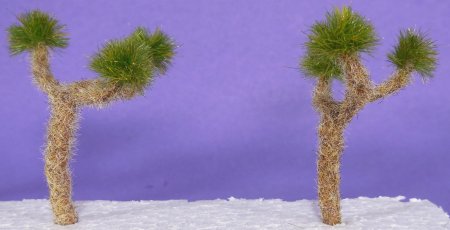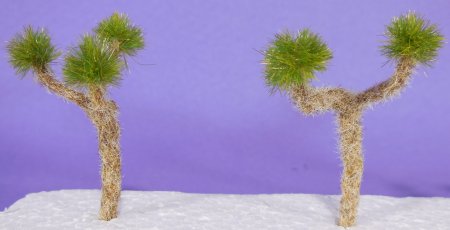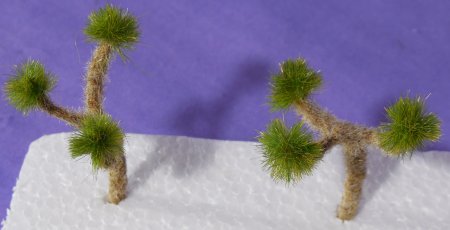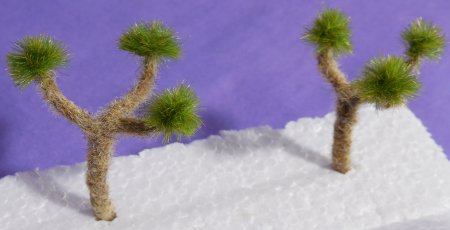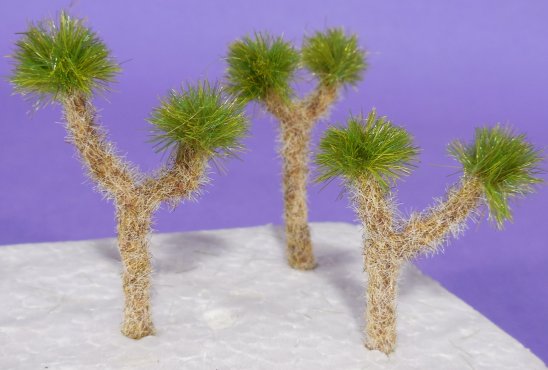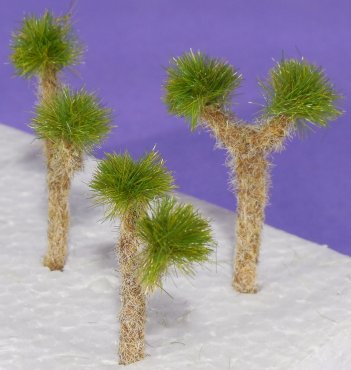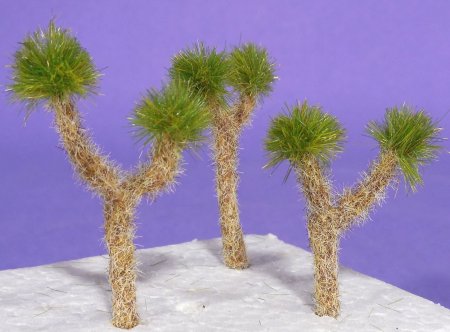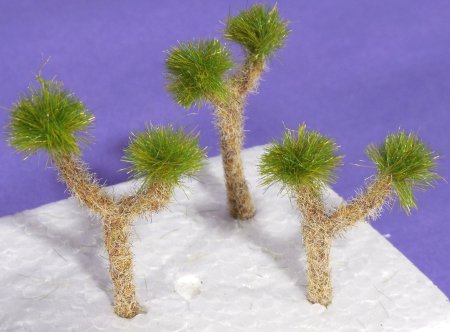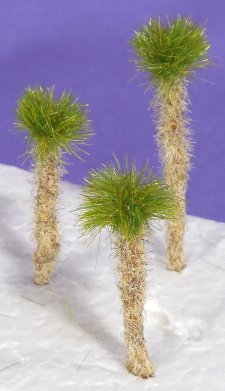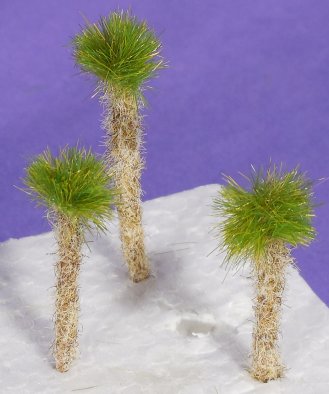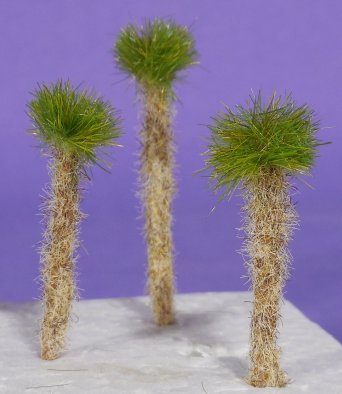 New 2/19: Currently available in our shop / momentan lieferbar im Shop - hier klicken
B) Joshua Trees in Spur HO made by Kim Nipkow (Switzerland)
Hier sehen Sie eine Beschreibung für den Bau seiner selbstgemachten Joshua Trees - Step by Step: hier klicken
looks realistic
the branch in front is "dead"
Direktlink zu Kim Nipkow's Homepage - hier klicken
NEWS 5/12: Joshua Trees in HO Scale by Kim Nipkow - click here - sold out
C) How to make HO Scale Joshua Trees - Step by Step - by Felix Rüedi
(updated: 9/04/15)
Sehen Sie die genaue Bauanleitung mit allen 25 Fotos - click here
Take a look at the description with 25 photos - cklick here

Bonus: 38 Fotos von versch. Joshuas (unter der Bauanleitung)

Bonus pictures: See 38 Photos of different Joshuas
D) Joshua Trees in HO by Mason Clark
Endlich gibt es einen Kleinserienhersteller (Junger Mann) in den USA, der Joshua Trees in HO macht.
Ein 3-er Set kostet $ 40.- (ohne Versand). Weitere Angaben finden Sie auf seiner Homepage: www.mstrains.com
Finally, there is a young fellow who makes HO scale Joshua Trees. Take a look at his web site!
New October 11, 2011: New Generation of HO scale Joshua Trees have arrived !

During my California trip in June 2011, I went to my Joshua Tree builder to pick up my HO scale trees. Mason Clark is the best builder of realistic Joshua Trees. No question, I am very pleased with the extraordinary look, like the real thing. The trunks are made out of a metal casting, branches are twisted and painted. The tips are the "secret" of Mason, but it gives every tree the special and realistic look - outstanding. Need Joshua's for your layout?
Go and visit the web site of Mason Clark: http://www.mstrains.com/
The first Joshua Trees are placed on the unfinished layout - 799
In the foreground is a small tree and behind a large one - 800
Close up of large tree, seen from above - 803
The trunk's structure is like the real thing - 804
Detail of small tree w/ 3 branches - 801
Another small tree which looks different - 802
Plenty large trees are waiting to be placed on the layout - 792
Plenty small trees will be used as well and mixed with the large ones - 793
Details of small trees - 794
none looks the same - 795
Details of large trees - 797
All Joshua's made it to Switzerland - 798
These Joshua Trees have been used on my HO scale Desert Layout: Take a look - click here
Diese Joshua Trees wurden auf meiner HO Anlage verbaut. (Werner Meer)
E) Joshua Trees in HO by Christian Ott (Switzerland)
Christian Ott hat sich intensiv mit den Joshua Trees befasst und seine Erkenntnisse gezielt ins Modell (Spur HO 1:87) umgesetzt. Das hochgesteckte Ziel ergab ein ganz beachtliches Resultat, was dem Original sehr nahe kommt.
Chris Ott was studying the real thing and finally made a very realistic model tree in HO scale (see below).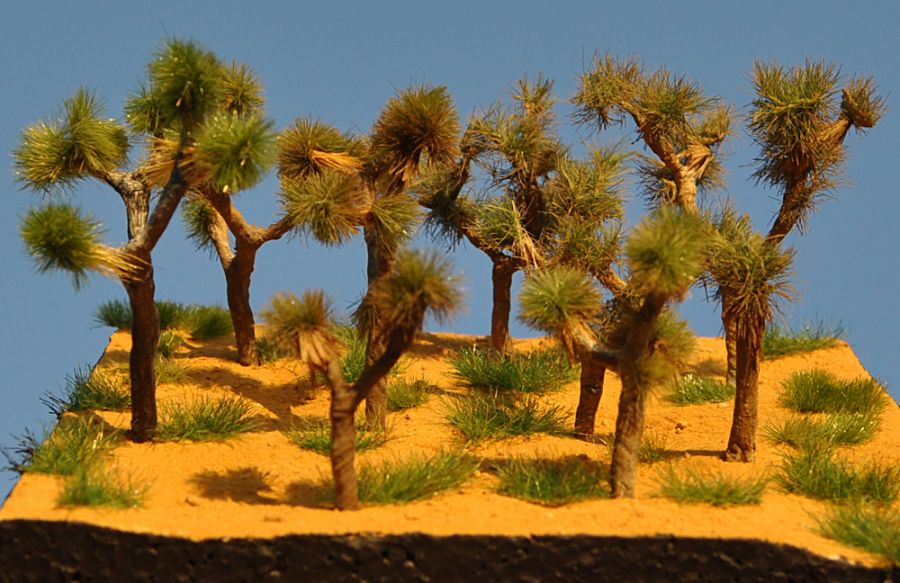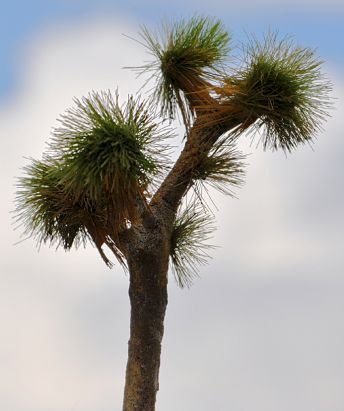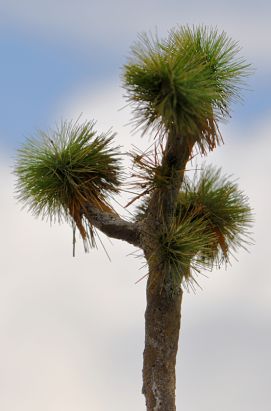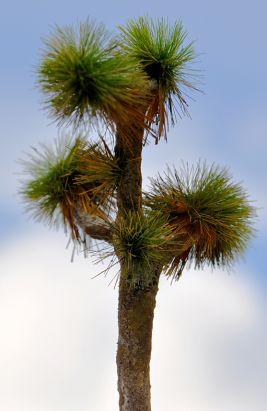 alle 4 photos copyright by Christian Ott.
Er hat auch eine Clinic zum Bau der Joshua Trees zusammengestellt - hier klicken und unter Clinics "Joshua Trees by Chris Ott" auswählen.
F) Joshua Trees in Spur HO made by Fred Kiener (Switzerland)
Jeder Baum ist ein Unikat und wird in Handarbeit mit grossem Aufwand gemacht. Somit schaut kein Baum gleich aus wie der andere. Grösse ca. 8 - 12 cm. Muster sind im Laden ausgestellt (nur auf Bestellung). Direktlink zu Fred Kiener's Homepage - hier klicken
Übrigens wurden diese Trees an der 14th Convention in Adliswil 2009 zum ersten Mal einem breiten Publikum gezeigt.
Hier sehen Sie die ersten Bilder von den HO-Modellen by Fred Kiener.
Below are the first samples in HO scale made by Fred Kiener.
Joshua Trees - erste Handmuster
Detail des Joshua Trees von oben
Diese Muster sind im Laden ausgestellt (These samples are on display in my shop)
G) Untenstehend sehen Sie ein Muster in Spur O made by Bruno Niederer (unverkäuflich).
Below is a sample in O scale made by Bruno Nierderer.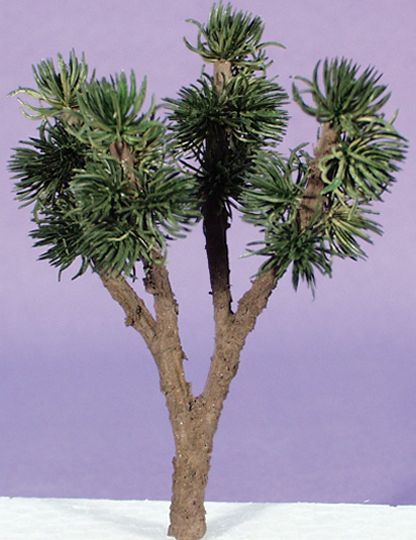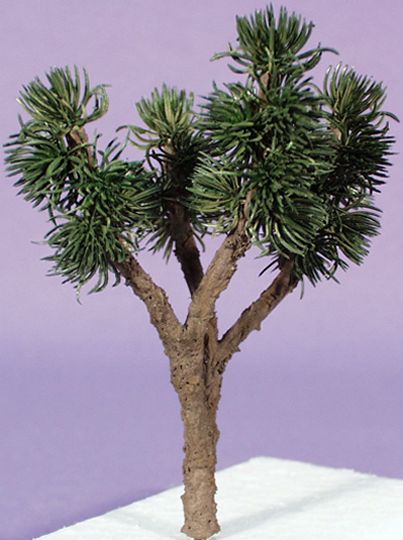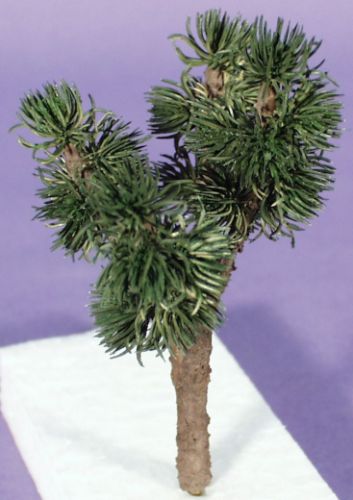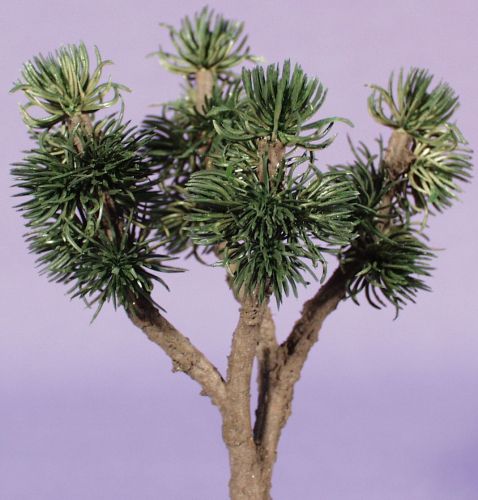 Teil 1: Joshua Trees im Mojave Desert - Part 1: Joshuas at the Mojave Desert - click here
zurück zur Joshua Tree Hauptseite / go back to Joshua Tree main page - click here
Weitere interessante Infos über die Joshua Trees in deutscher Sprache - https://de.wikipedia.org/wiki/Josua-Palmlilie
More interesting information about the Joshua Trees in English: http://www.desertusa.com/flora/the-joshua-tree.html