TRAINMASTER BY WERNER MEER US-RAILROAD-SHOP KILCHBERG
HOCHWEIDSTRASSE 3 CH-8802 KILCHBERG (ZÜRICH) SWITZERLAND (founded 1977)
PHONE *41-44-715-3666, FAX *41-44-715-3660, E-MAIL trainmaster@bluewin.ch
Go back to our Website - click here
updated / added: May 4, 2012
Werner Enterprises in the Mojave Desert in HO Scale
This Diorama was built in April 2012 by Kim Nipkow, who is a very talented model railroad builder. And on top, he even planted his own self made Joshua Trees. Today, Werner Enterprsies Trucks and Vans passed the Mojave Desert.
How to build Joshua Trees Step by Step by Kim Nipkow - click here
Kim Nipkow ist ein junger und talentierter Eisenbahnmodellbauer. Er hat sogar die Joshua Trees selber gemacht.
Werner Enterprises Models (Trucks, Van, Pickup) made by Pitsch Allneider (Trailer by Athearn).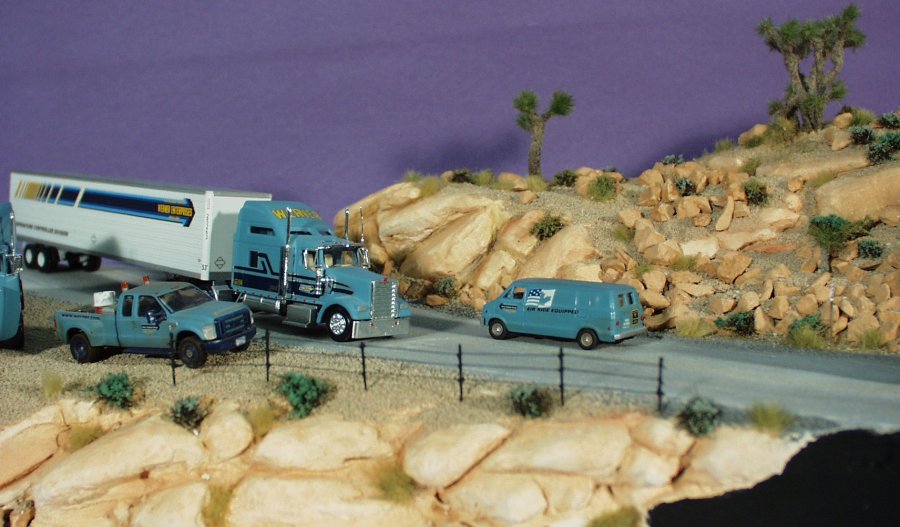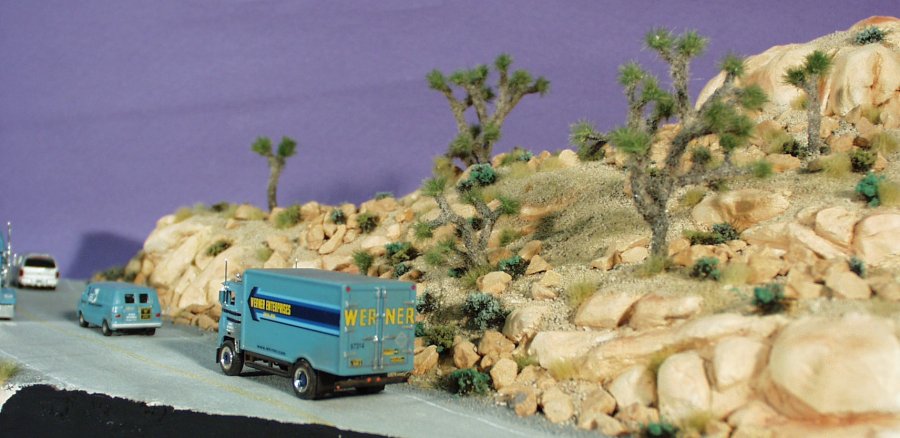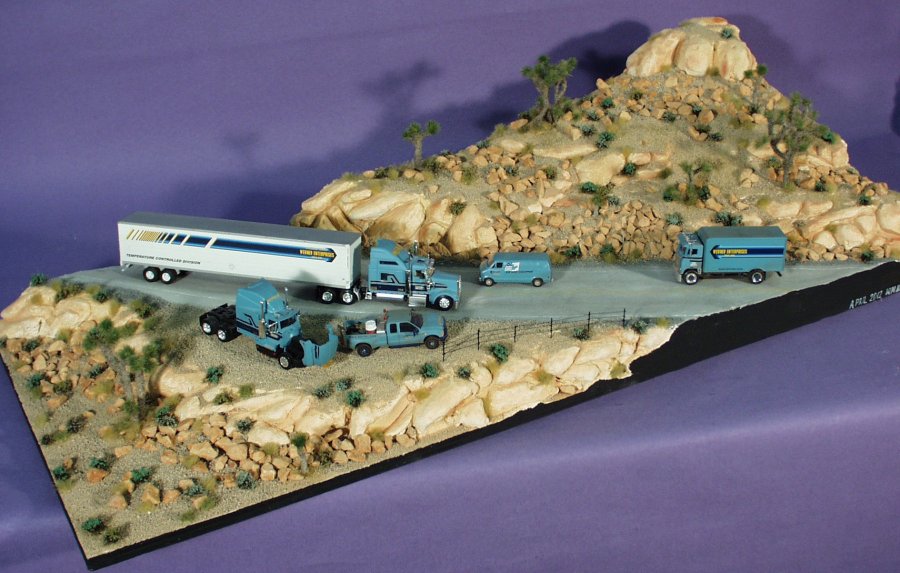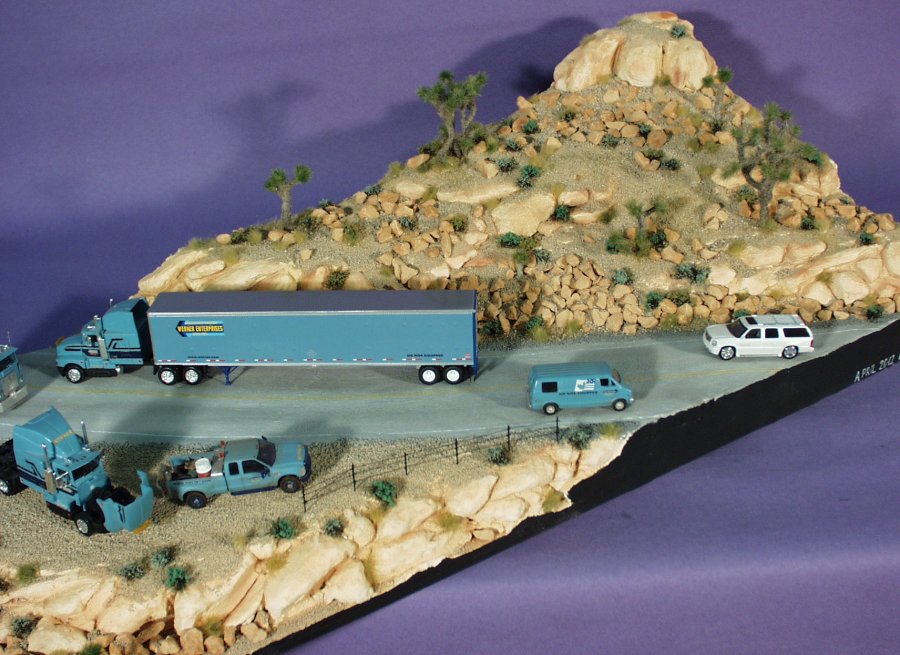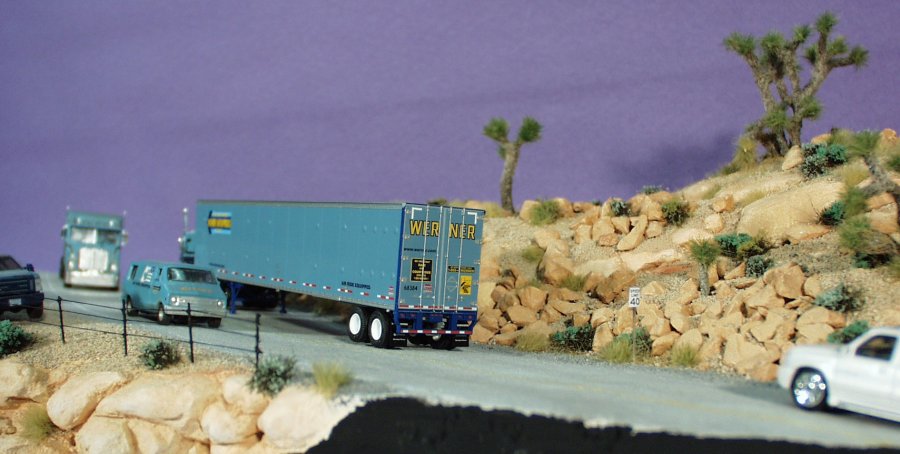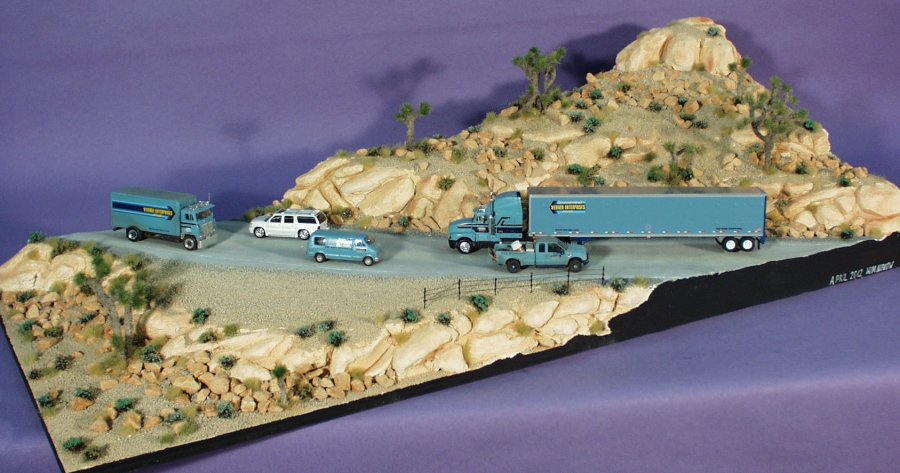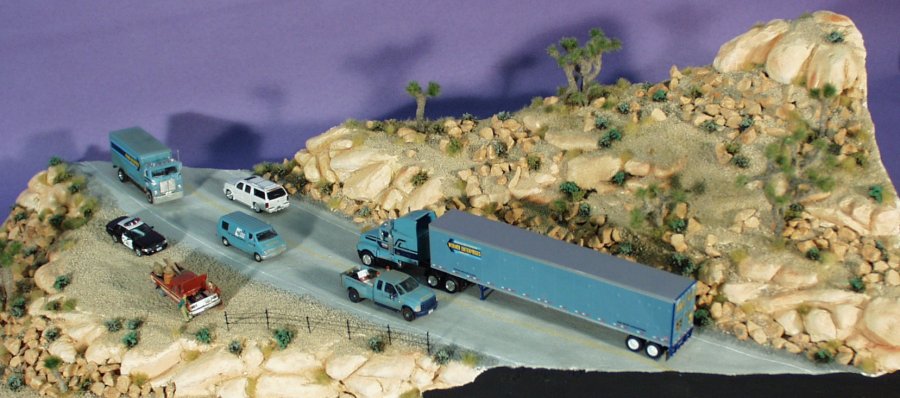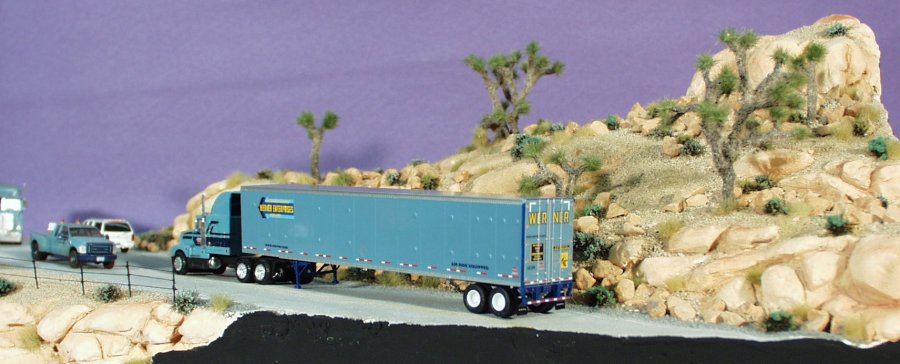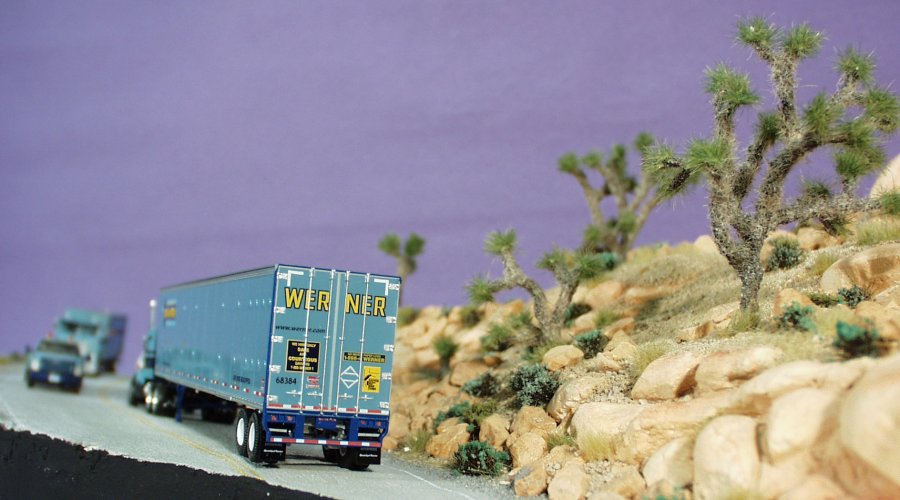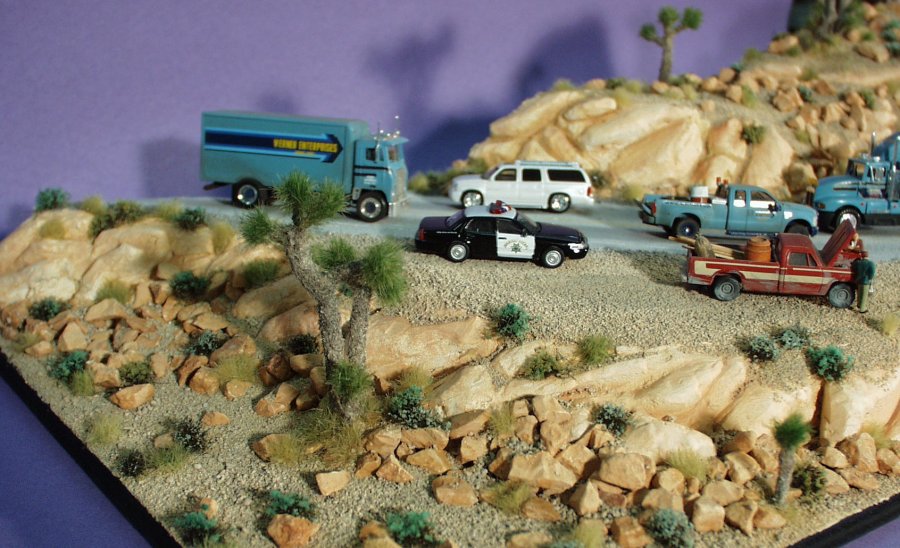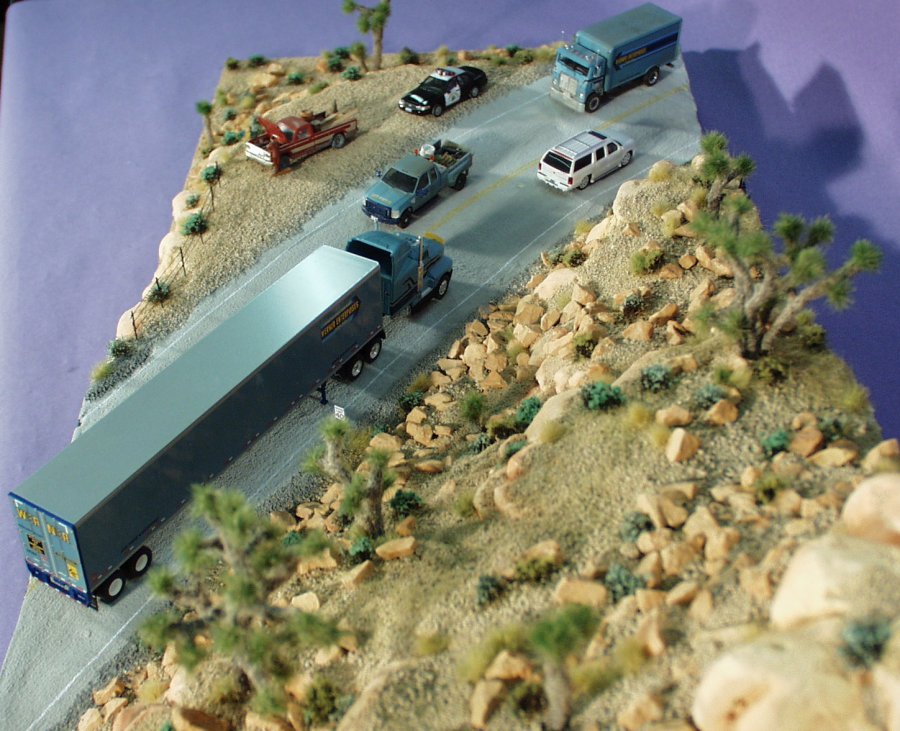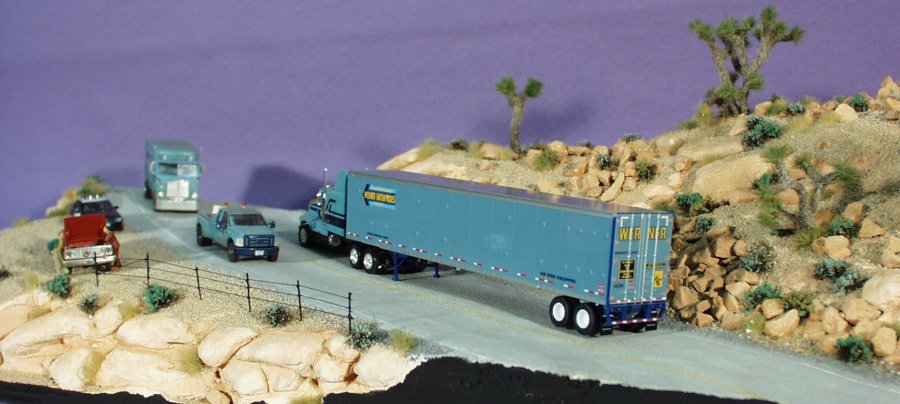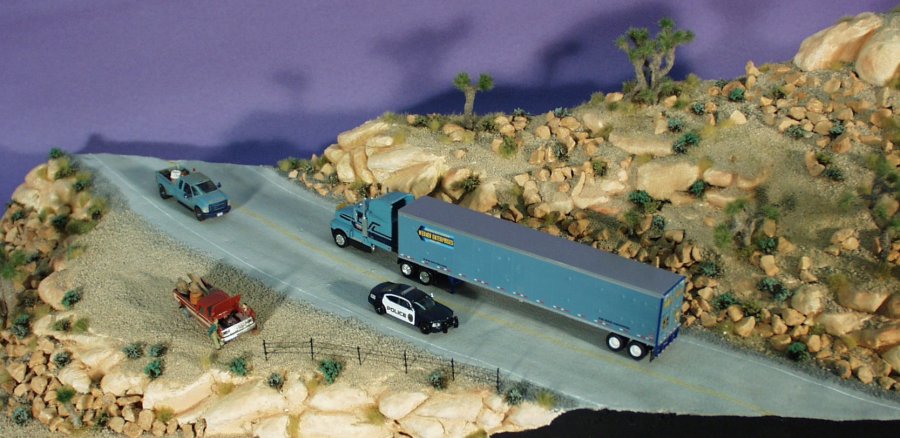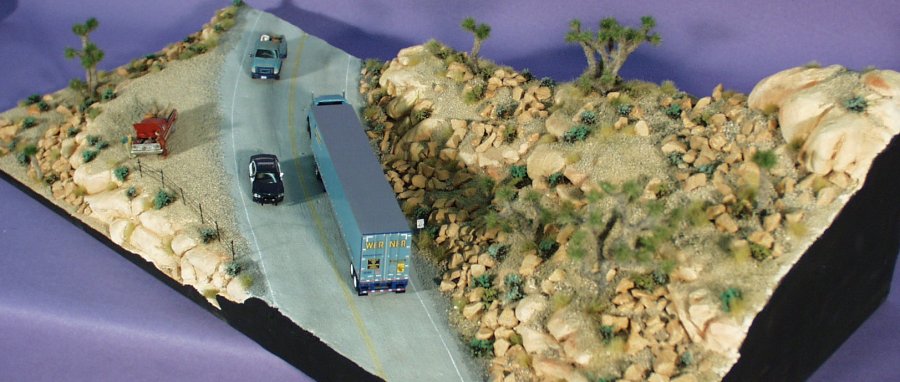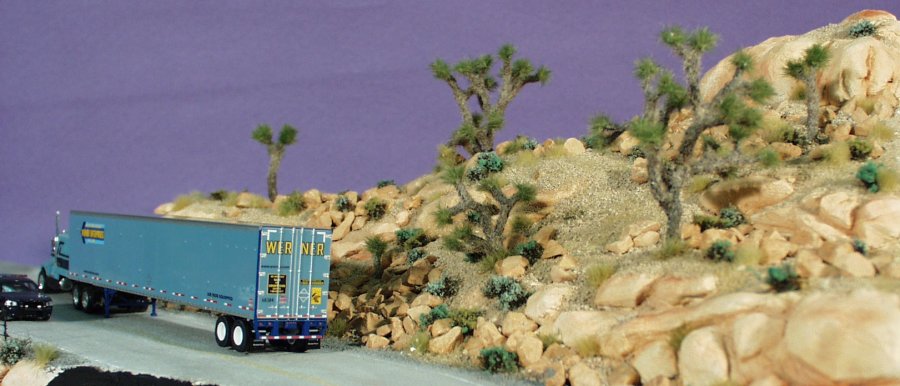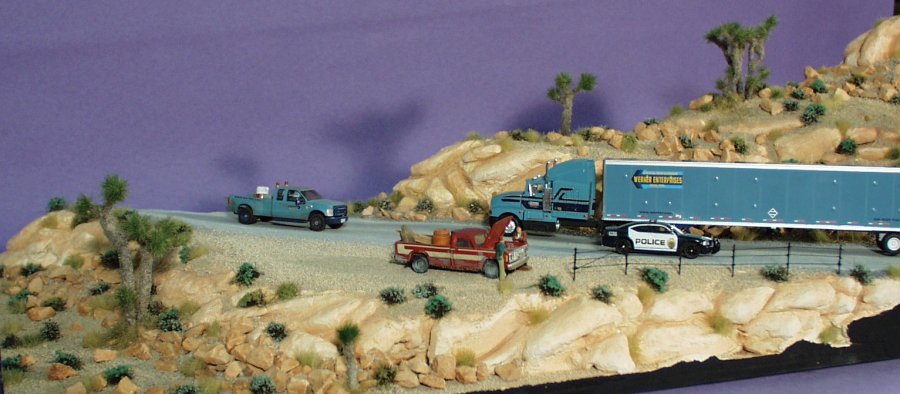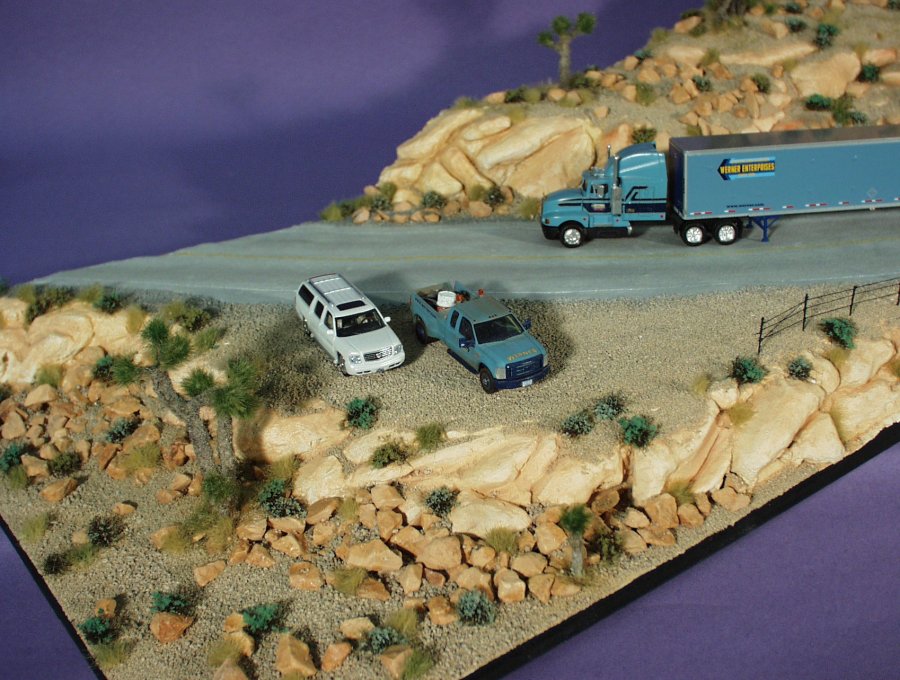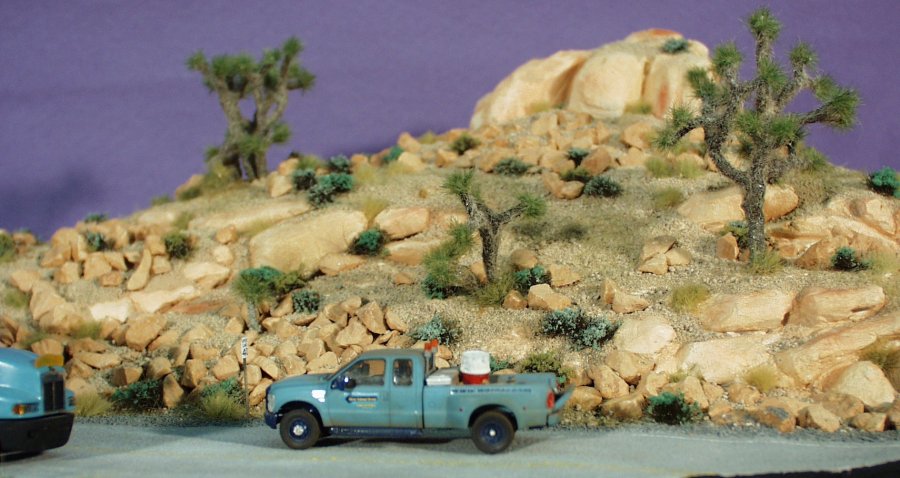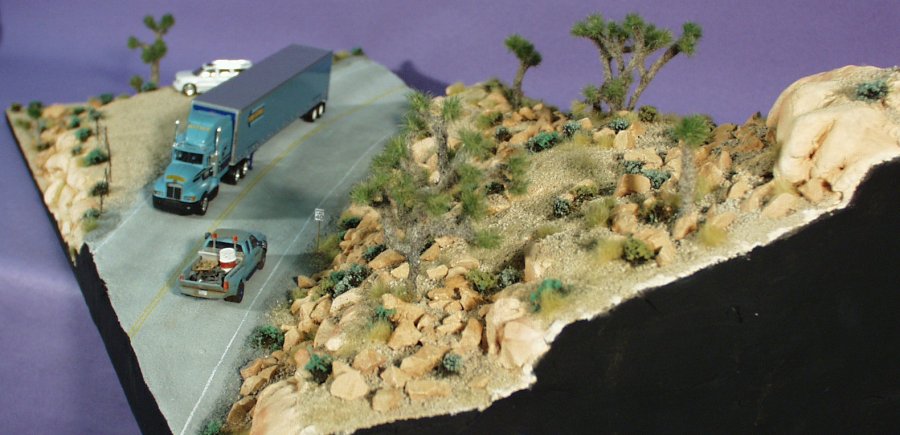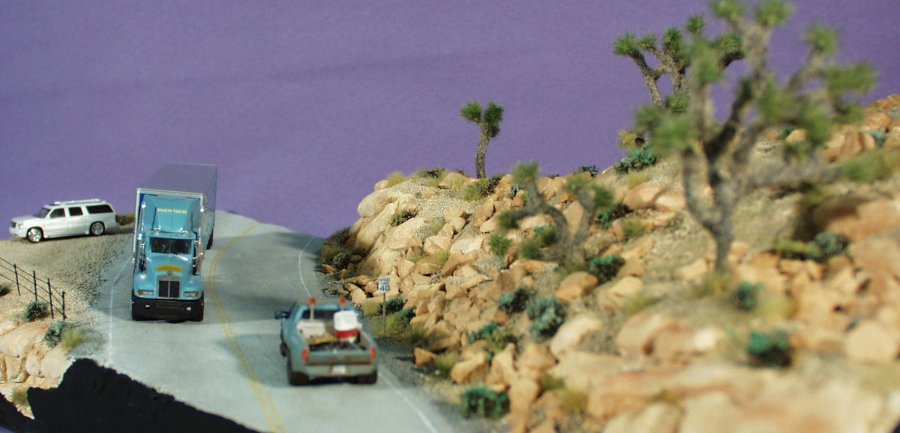 all photos copyright by Werner Meer
Mojave Desert Diorama in HO Scale by Kim Nipkow
See how Kim Nipkow built this beautiful Diorama (70 x 30 cm) from the ground up - step by step - click here
How to build Joshua Trees step by step by Kim Nipkow - click here
Hier sehen Sie eine detaillierte Anleitung zum Bau dieses Dioramas - step by step - hier klicken
Wie mache ich Joshua Trees - step by step - hier klicken
Kim Nipkow will present his HO scale layout at the 15th Convention - click here
He will also run Clinics about landscaping.
Hier ist ein Auzug aus der Bauanleitung dieses Dioramas.

Mit den Fingerspitzen zupft man einen Grasbüschel aus dem ¨Klumpen¨. Alle Grasfasern verlaufen parallel zueinander.

Nachher

steckt man den Grasbüschel in den Leimtupf.

Ich pflanze hellgrüne und beige / gelbe Grasbüschel. Diese sind meistens bei Steinen, wo es eher Feuchtigkeit hat.

Nach 5 min. werden die losen Fasern abgesaugt. Wie immer mit einem Tuch vor der Ansaugöffnung. So können die Fasern aufgefangen und wiederverwertet werden.

Zum Schluss werden noch die Joshuas gesetzt.

Alle Joshua Trees sind im Eigenbau entstanden.
Verschiedene Grössen und Formen widerspiegeln die Natur.
Als wären wir im Joshua Tree National Park.
Das fertige Diorama mit einem Cadillac Convertible und 3 Bikers
Die Harley Davidson Fahrer geniessen die Aussicht.
Als wäre die Landschaft mit den Joshuas schon immer da gewesen, obwohl dieses Diorama erst ende April 2012 erbaut wurde.
All photos copyright by Kim Nipkow

How to build Joshua Trees Step by Step by Kim Nipkow - click here

Please note: This Diorama is on display in the US-Railroad-Shop Kilchberg.

Links of my finished Desert Layout Project:
Links of Trainmaster: