updated: August 19, 2018: photo 8068
The project to realign SR-138 is essentially complete and the road is fully open to traffic.
I am very pleased to show some exclusive photos of these photographers:
Don E. Toles (DET), Gary G. Gray (GGG), Marc Fournier (MF)
Bruce "Doc" Jones (BHJ), Keith Schreiber (KAS), Paul Westover (PW)
Michael Frei (MIF) (more to follow)
A big thank you for sharing these excellent pictures with us.
Note: The copyright belongs to these gentlemen. Do not use any photos without written permission.
Abbreviations found on this page: EB = East Bound, NB = North Bound, SB = South Bound, WB = West Bound
For bigger size photos - please click on the 3-digit number below each photo (the first letters specify the photographer).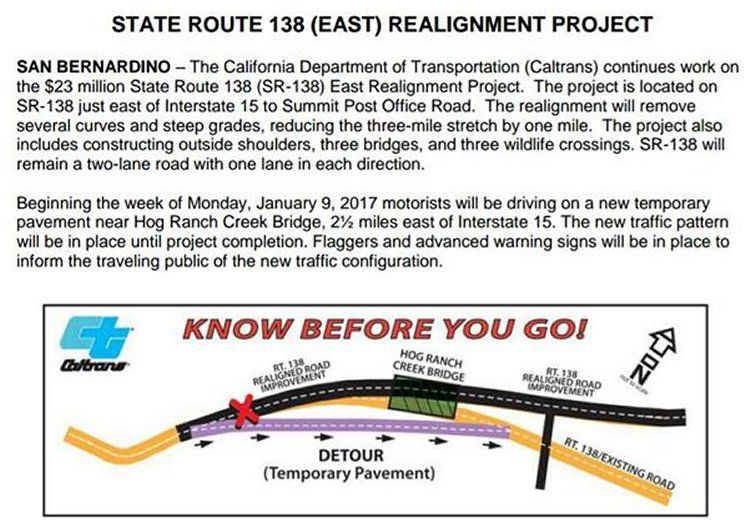 updated: February 5, 2017
updated: March 11, 2017
updated: March 23, 2017
updated: March 29, 2017
updated: March 29, 2017
updated: April 4, 2017
Yes, Highway 138 is open for traffic, again!
updated: April 29, 2017
updated: May 3, 2017
updated: May 20, 2017
updated: May 20, 2017
updated: May 30, 2017
updated: July 1, 2017
updated: July 18, 2017
updated: August 10, 2017
updated: August 20, 2017
updated: September 21, 2017
updated: October 3, 2017
updated: October 26, 2017
updated: January 26, 2018
updated: March 3, 2018
updated: March 7, 2018
updated: March 18, 2018
updated: March 25, 2018
updated: April 3, 2018
updated: April 17, 2018
updated: May 1, 2018
updated: June 12, 2018
updated: August 19, 2018
Go back to Cajon Pass Main Page - click here
(over all copyright by Werner Meer, Switzerland)