AMERICAN RAILROADFANS IN SWITZERLAND
HEADQUARTERS: WERNER MEER, HOCHWEIDSTRASSE 3, CH-8802 KILCHBERG (ZÜRICH) FOUNDED 1981
PHONE *41-44-715-3666, FAX *41-44-715-3660, E-MAIL trainmaster@bluewin.ch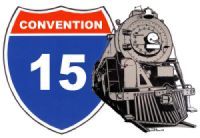 Logo by J. Lütscher
Speed and Power

Direktlink zur 15th Convention - hier klicken / English link - click here
Diese Digital Clinics wird exklusiv an der 15th Convention 2012 präsentiert.
This digital clinic will be presented at the 15th Convention in 2012.
updated: 17. Juni / June 2012
Weathering Clinics - Locos & Cars in HO Scale
Digital Presentation by Pelle Soeborg, Denmark
Pelle Soeborg is our Special Guest for the 15th Convention
During the clinic I will explain how to weather different types of rolling stock step by step accompanied by pictures - very much like I did in my book "Done in a Day". I am working on a follow up on "Done in a Day" where I feature new weathering projects and I have picked a couple of these projects for the clinic. Subjects will be: weathering a box car, weathering a hopper, weathering a tank car, weathering a brass diesel locomotive, weathering a plastic diesel locomotive. I will pobably be able to show at least 3, possibly 4, projects during the 40 minutes each session lasts. Pelle Soeborg
Achtung: Diese Clinic wird in englischer Sprache präsentiert und zwar im grossen Singsaal im Haus A/EG.
An dieser Clinic werde ich erklären, wie man die versch. Typen von Wagen und Loks veraltern kann (step-by-step) begleitet mit entsprechenden Fotos, so wie ich es in meinem Buch "Done in a Day" berschrieben habe. Ich zeige neue Alterungs-Projekte, die nicht im Buch sind. Mögliche Modelle sind: Veraltern eines Box Cars, Hoppers, Tank Cars, einer Messinglok und einer Plastikdiesellok. Innerhalb der 40 Min. Clinic sollte ich 3 bis 4 Projekte präsentieren können.
Pelle Soeborg präsentiert auch Clinics zum Thema "Landscaping"
Clinics "How to do realistic landscaping" - click here
Für grössere Bilder bitte auf die 4-stellige Nummer klicken / For bigger size photos please click on the 4-digit number.
| | |
| --- | --- |
| | |
| Veralterung mit dem Pinsel - 1624 | fertig gealtertes Modell - 1630 |
| | |
| Veralterung mit der Spritzpistole - 2764 | Vergleich: mit und ohne Alterung - 2791 |
| | |
| Box Car: starke Veralterung (Rost) mit dem Pinsel - 1860 | Vergleich: vorher und nachher - 1861 |
| | |
| Covered Hopper: Veralterung und Graffiti - 2877 | fertiges Modell auf der Anlage - 2895 |
| | |
| Tank Car: Veralterung mit dem Pinsel - 2910 | fertiges Modell auf der Anlage - 2926 |
all photos copyright by Pelle Soeborg
Books written by Pelle Soeborg and published by Kalmbach Publishing.
March 2009
October 2009
May 2012
The first book: "Mountain to Desert, Building the HO scale Daneville & Donner River" is out of print!
untenstehend sind die Links von den American Railroadfans / below are the links of the American Railroadfans
untenstehend sind die Links von Trainmaster / below are the links of Trainmaster
Website created by Werner Meer
TRAINMASTER BY WERNER MEER US-RAILROAD-SHOP KILCHBERG
HOCHWEIDSTRASSE 3 CH-8802 KILCHBERG (ZÜRICH) FOUNDED 1977
PHONE *41-44-715-3666, FAX *41-44-715-3660, E-MAIL trainmaster@bluewin.ch