AMERICAN RAILROADFANS IN SWITZERLAND
HEADQUARTERS: WERNER MEER, HOCHWEIDSTRASSE 3, CH-8802 KILCHBERG (ZÜRICH) FOUNDED 1981
PHONE *41-44-715-3666, FAX *41-44-715-3660, E-MAIL trainmaster@bluewin.ch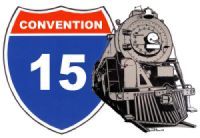 Logo by Jürg Lütscher
Speed and Power

Direktlink zur 15th Convention - hier klicken / English link - click here
Diese Clinics "how to do" werden exklusiv an der 15th Convention 2012 präsentiert.
These clinics will be presented exclusively at the 15th Convention in 2012.
added: 17. Mai / May 2012 / updated: 15. September 2012
Clinics "How to do realistic landscaping" by Pelle Soeborg, Denmark
All photos taken during the 3rd German US-Convention in Rodgau (Frankfurt) on October 16, 2011.
Pelle Soeborg is our Special Guest for the 15th Convention
Wir haben es geschafft, der Meister für realistischen Landschaftsbau kommt definitiv an die 15th CV. Wir sind sehr stolz, diesen Experten präsentieren zu dürfen. Viele Modelleisenbahner kennen Pelle Soeborg von seiner ersten Anlage: Daneville & Donner River. Er baut die heutige Epoche, was man eher selten sieht. Sein Freund, Per Laursen (Summit USA) produzierte kundenspeziefische Gebäude für seine Anlage. In der Zwischenzeit führt Summit USA eine Linie mit modernen Gebäudekits. Pelle hat auch schon einige Bücher publiziert: Mountain to Desert - Daneville & Donner River, Done in a Day, Scenery Techniques vertrieben durch Kalmbach Publishing. Sein neustes Buch "Rebuilding a Layout from A-Z" ist im Mai 2012 erschienen.
Diese Clinics werden an einem Diorama gezeigt. (Wir bedanken uns bei Kim Nipkow, der dieses Diorama im Rohbau für Pelle erstellt.)
Selbstverständlich können Sie Fragen stellen. Der "Meister" gibt ihnen gerne Auskunft.
Bitte beachten: Diese Clinic wird in englischer Sprache präsentiert.
Direct Link Pelle Soeborg - click here / Direct Link Summit USA - click here
The first time ever, the master of modern layout building with realistic landscaping will be coming to Switzerland. No question, we are very proud to have such an expert for our 15th Convention. Many model railroaders are familiar with his first layout: Daneville & Donner River. He is modeling the modern era which is actually not often seen. His friend, Per Laursen of Summit USA, produced custom made buildings for his layout. Summit USA is having a line of modern building kits. Pelle did already publish several books like: Mountain to Desert - Daneville & Donner River, Done in a Day, Scenery Techniques through Kalmbach Publishing. His new book "Rebuilding a Layout from A-Z" was published in May 2012.
These clinics will be done on a diorama as he did during the 3rd German US-Convention.Of course, people may ask questions as much as they want.
Please note: This clinic will be held in English.
Pelle Soeborg präsentiert auch Clinics zum Thema "Weathering"
Clinics: Weathering Locos & Cars in HO Scale - Digital Presentation - click here
Für grössere Bilder bitte auf die 4-stellige Nummer klicken / For bigger size photos please click on the 4-digit number.
3-277
3-278
3-279
So hat das Diorama am Sonntag um 15.00 h ausgesehen. Pelle Soeborg hat am Samstag Morgen diese beiden Module im Rohbau inkl. Gleisen übernommen. Dann wurden am Samstag 2 Clinics und am Sonntag 1 Clinic zu 2 Std. gemacht. Jetzt sehen wir den Meister an der Arbeit mit der letzten Clinic.
The photos above show the diorama on Sunday at 3 p.m. Pelle Soeborg took over these two modules on Saturday morning without landscaping. Of course the tracks were mounted and the styrofoam was in place. So, he made 2 clincis on Saturday and so far 1 clinic on Sunday, each 2 hrs. Now, we will see Pelle in action with his last clinic.
3-302
3-304
3-306
3-307
3-308
3-309
3-310
3-315
3-316
Unten sehen wir ein vollendetes, durchgestaltetes Diorama aus den Händen von Pelle Soeborg. Darauf steht die Athearn GE U50 (gealtert von Horst Meier).
Below is a finished diorama made by Pelle Soeborg (not done during the 3rd CV). The all new Athearn GE U50 is already here (weathered by Horst Meier).
3-270
3-271
3-276
3-272
3-275
3-267
all photos copyright by Werner Meer
Kim Nipkow erstellt für diese Clinic ein Diorama (50 x 100 cm) im Rohbau.
Pelle Soeborg wird an beiden Convention-Tagen an der Landschaftsgestaltung arbeiten. Haus A-OG
Kim Nipkow is building a diorama (50 x 100 cm) for this particular clinic. Pelle Soeborg will be working on it during the Convention on both days.
1001
1002
1003
1005
1006
1007
road is equalized - 1004
road is painted - 1011
1008
1009
1010
Now, this diorama is ready for landscaping by Pelle Soeborg - take a look during the 15th Convention ! !
all photos copyright by Kim Nipkow
Books written by Pelle Soeborg and published by Kalmbach Publishing.
March 2009
October 2009
May 2012
The first book: "Mountain to Desert, Building the HO scale Daneville & Donner River" is out of print!
untenstehend sind die Links von den American Railroadfans / below are the links of the American Railroadfans
untenstehend sind die Links von Trainmaster / below are the links of Trainmaster
Website created by Werner Meer
TRAINMASTER BY WERNER MEER US-RAILROAD-SHOP KILCHBERG
HOCHWEIDSTRASSE 3 CH-8802 KILCHBERG (ZÜRICH) FOUNDED 1977
PHONE *41-44-715-3666, FAX *41-44-715-3660, E-MAIL trainmaster@bluewin.ch