TRAINMASTER BY WERNER MEER US-RAILROAD-SHOP KILCHBERG
HOCHWEIDSTRASSE 3 CH-8802 KILCHBERG (ZÜRICH) SWITZERLAND (founded 1977)
PHONE *41-44-715-3666, FAX *41-44-715-3660, E-MAIL trainmaster@bluewin.ch
Go back to our Website - click here
added / updated: July 20, 2019
Cajon Pass Maps
Accurate Map as of 2018
The copyright belongs to Steve Jessup & Todd Gillette as published in Railroads Illustrated 2018 Annual on page 81.
Used by permission of White River Productions, 24632 Anchor Ave. Bucklin, MO 64631
https://www.whiteriverproductions.com/
Here is the link to the BNSF 3rd Main Track Project 2007 - 2008 (we are having 9 pages) -
click here
We are having a great photo documentation of the 3MT Contruction by BNSF with more than 900 photos.
8 different and detailed Maps of Cajon Pass with captions (Mile Posts and Location) by Gary G. Gray - click here
New 8/11: Maps "How to find" Hill 582, Sullivan's Curve, Noisy Point by Gary G. Gray - click here
Accurate Map as of 2010
We are very thankful to Michael Amrine, who took the time to draw a special map with all tracks over Cajon Pass as it was accurate in 2010 (incl. BNSF 3rd Main Track). With permission by Michael Amrine.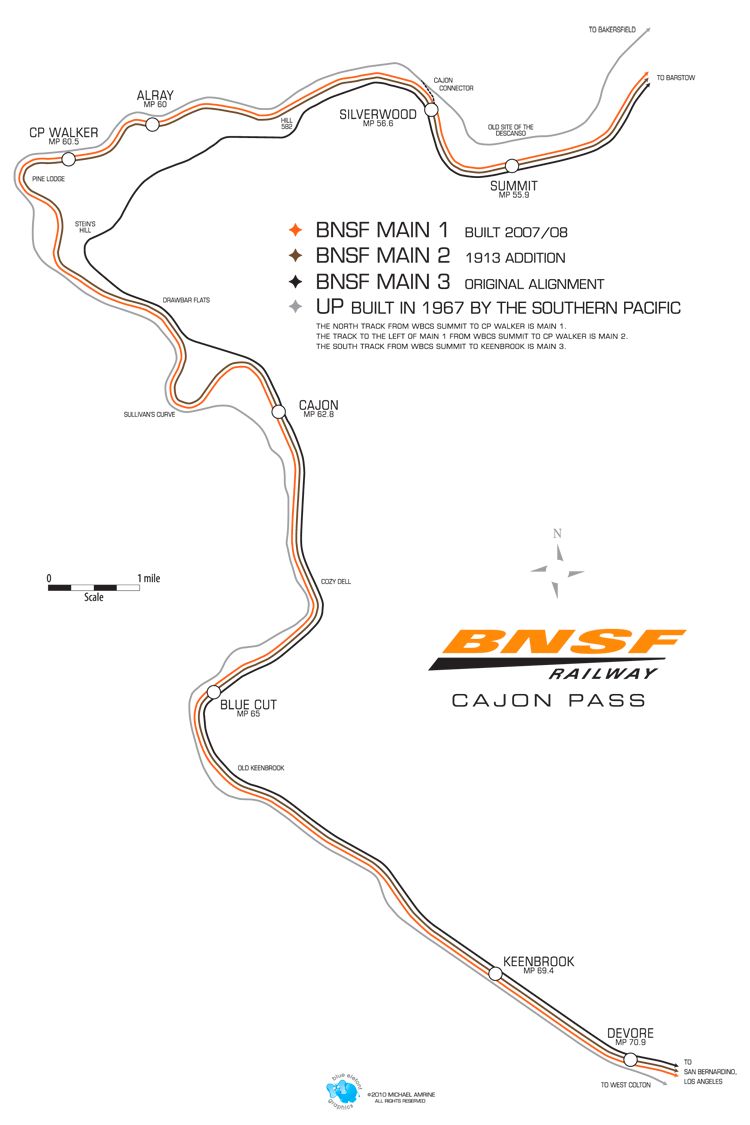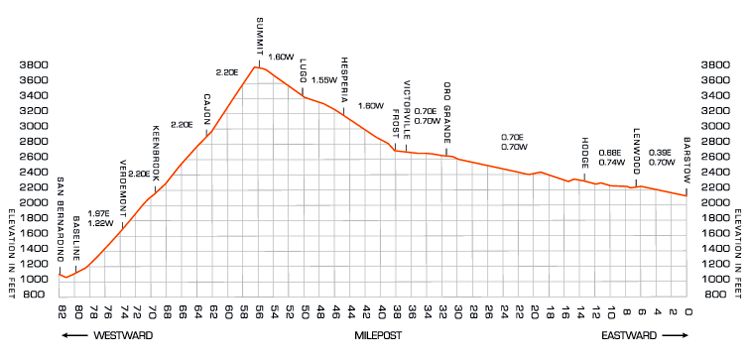 © 2010 Michael Amrine - All Rights Reserved - graphicsmike@gmail.com
Did you see the fantastic Cajon Pass Photography by Michael Amrine on railpictures.net? - click here
MILEPOSTS (MP) between Barstow and San Bernradino over Cajon Pass
The original track through Cajon was completed in 1885 with a ruling grade of 3%. The MilePosts were numbered from East to West starting at Barstow.



In 1913, a two mile longer second main track was completed with a ruling grade of 2.2%. The NEW 1913 main became the NORTH (#1) track while the original track became the SOUTH (#2) track. Since there was a two mile difference in the tracks between West Summit Island and Cajon Jct, the new MilePosts for the North track were given an "X" to denote a separate track. When the #1 and #2 tracks returned to parallel running at Cajon Jct, the newer North #1 track simply "lost" two miles and became MilePost equal to the original track.

With completion of construction of the new Third Main track, the "MILES" on MilePosts on the #1 and #2 tracks were lengthened to about 1.15 miles each to coincide (at Cajon Jct) with the 1913 track Mile Posts. In other words, for railroad purposes the distance between Summit and Cajon is now considered to be the same for all three tracks, even though the actual distance is 1.15 miles between mile posts on tracks #1 and #2.
| | | |
| --- | --- | --- |
| Barstow - Summit | Summit - Cajon Station (2,2 %) | Cajon Station - San Bernardino |
| | | | | | |
| --- | --- | --- | --- | --- | --- |
| MP | Location | MP | Location | MP | Location |
| 0.0 | Barstow | 55.9 | Summit | 62.8 | Cajon Station |
| 6.7 | Lenwood | 56.7X | West Summit Island | 63.4 | Curved Bridge |
| 13.6 | Hodge | 57.2X | Silverwood - Bridge USFS 3N45 | 64.4 | Swarthout Canyon Road X-ing |
| 21.1 | Helendale | 58.2X | Hill 582 | 65.0 | Blue Cut |
| 31.5 | Oro Grande | 58.9X | former Tunnel 1 (Alray) | 67.3 | Old Keenbrook |
| 34.6 | East Victorville | 59.2X | former Tunnel 2 (Alray) | 69.4 | Keenbrook |
| 36.7 | Victorville | 59.5X | Bridge over Baldy Mesa Road | 71.0 | Devore |
| 38.0 | Frost | 60.2X | CP Walker | 73.9 | Verdemont |
| 39.1 | Flyover | 60.6X | Davis Ranch Road X-ing | 75.0 | Ono |
| 41.1 | Thorn | 62.2X | Pine Lodge - Mormon Rocks | 79.9 | Baseline |
| 45.1 | Hesperia | 63.0X | Sullivan's Curve | 80.6 | 7th Street |
| 50.1 | Lugo | 64.1X | Bridge over Cajon Creek | 81.4 | San Bernardino |
| 52.8 | Martinez | 62.8 | Cajon Station | - | - |
| 55.9 | Summit | - | - | - | - |
Go back to Cajon Pass Main Page - click here