TRAINMASTER BY WERNER MEER US-RAILROAD-SHOP KILCHBERG
HOCHWEIDSTRASSE 3 CH-8802 KILCHBERG (ZÜRICH) SWITZERLAND (founded 1977)
PHONE *41-44-715-3666, FAX *41-44-715-3660, E-MAIL trainmaster@bluewin.ch
Go back to our Website - click here
updated: August 2, 2015
HILL 582
CAJON PASS, CALIFORNIA
A photographic tour around Hill 582 by Kim Nipkow taken on July 24, 2015.
Kim was the first modeller, who built Hill 582 in HO scale (link is below this group of photos)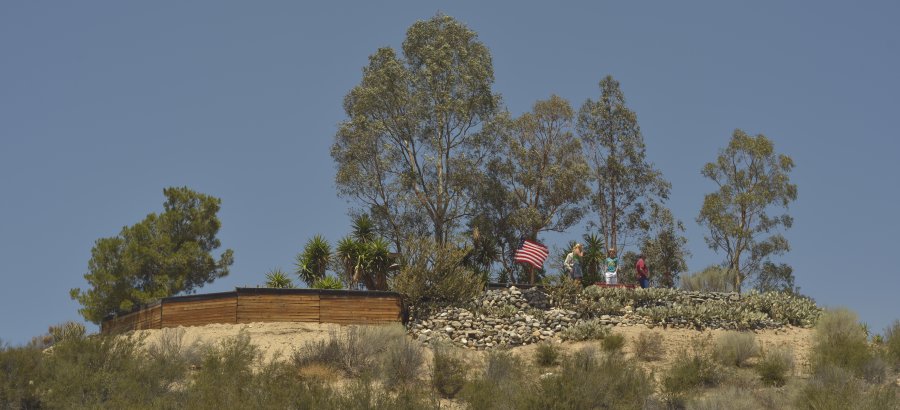 East side with wooden retaining wall and stone wall

just click on the 4-digit number for bigger size photos
South side - 9550
South side - 9551
South/East side - 9558
wooden retaining wall - 9555
East side - 9566
East/North side - 9568
East/North side from track level - 9570
End of Hill 582 North side with BNSF MT-2 and MT-1 - 9571
North side from track level - 9575
North side - 9576
North/West side with access roads to the Hill - 9578
West side - 9579
West side from track level - 9583
we are standing next to BNSF MT-1 - 9586
just above the wooden retaining wall - 9594
next to the bench is the box with visitor's booklet - 9592
Detail of East side - 9593 looking North w/bird feeder - 9590 looking North with benches - 9591
Official Hill 582 sign on North side of the Hill - 9589
Copyright by Kim Nipkow (with permission Werner Meer)
Hill 582 in HO Scale

Page 1/1

Built by Kim Nipkow (Switzerland)

Updated: 3/12/13
3/12/13 Do you believe - it is HO scale - 205
See all photos - click here
3/12/13 Hill 582 diorama in HO scale - 206
This exclusive photo with the dramatic dark sky was taken by Don Toles on 11/19/11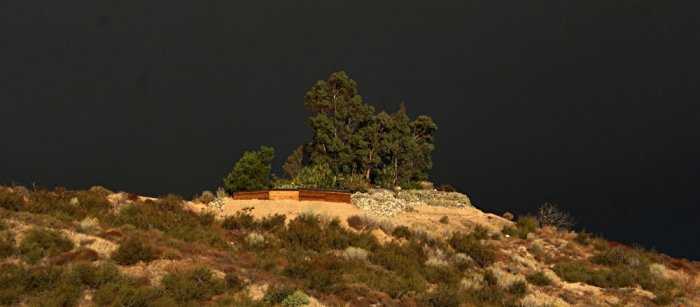 Below are different links to
Hill 582
Second in popularity only to California's Tehachapi Pass and the famous Tehachapi Loop, Southern California's Cajon Pass attracts rail enthusiasts
from throughout the United States and Canada as well as many foreign countries world-wide.
Below is a map with direction to access Hill 582.
Hill 582

Mainpage

by Don E. Toles

Updated: 7/06

/1

5

WM 5/31/10 East side - 3037
Lots of Infos and photos - click here

WM 6/1/10

West side of the Hill - 3338
History of Hill 582
The Early Years

1991 - 2006

by Don E. Toles

Updated: 7/01/10
12/01 - Gary & Don X-Mas 2001 - 068
Read it and see all 108 photos - click here
4/9/06 - Chard Walker, Don, Karl, Gary - 105
History of Hill 582
The Late Years

2008 - 2015

by Don E. Toles

Updated: 7

/

06

/1

5
12/29/08 - Triple meet, WB & 2 EB trains - 8139

Read it and see all

323 photos - click here

12/29/08 - Don Toles w/memorials - 8140
Copyright by Don E. Toles (with permission Werner Meer)
Hill 582 is located in the San Bernardino National Forest on United States Forest Service (USFS) land, thus making it accessible to the public. It is strategically located in the upper Cajon Pass approximately two miles below Summit at an elevation of 3621 feet. The BNSF #1 and #2 main tracks pass through a cut at the north end of Hill 582, and the steeper BNSF #3 main track passes by the south end of the Hill. The Union Pacific's "Palmdale Cutoff" main line runs parallel to BNSF a short distance north of the #1 and #2 tracks. Prior to 2001, access to Hill 582 from State Route 138 was provided entirely by USFS road 3N48 without the need to drive on BNSF right-of-way roads. Unfortunately, BNSF permanently removed a paved crossing at the northwest corner of the Hill in 2001, making it necessary to drive a short distance along the BNSF right-of-way road on the north side of track #3. Detailed directions for driving to the Hill from SR 138 using USFS road 3N48, also known as Parker Ranch Road, can be found below.

Since Hill 582 commands views of railroad tracks in virtually all directions, it is very popular among railroad photographers. Perhaps the most photographed view in the entire Pass is from Hill 582 looking west during the winter months towards the BNSF tracks with the snow-covered San Gabriel Mountains in the background. Hill 582 is also a popular rest spot for off-highway vehicle enthusiasts that frequent the upper Pass. Bird-watchers also gather on the Hill, as a constant supply of seed is provided for the birds in a feeder on the east side of the Hill. A wide variety of birds are attracted to the Hill - from large black ravens to tiny irradescent hummingbirds. Ground squirrels are common, and during the night, rats and mice are said to be all over the place. The rodents attract several snake varieties, including Southern Pacific rattlesnakes, King snakes and gopher snakes. Lizards also are abundant, and cottontail and jack rabbits are once again being seen. Rabbits have been scarce since the major brush fire that scorched Hill 582 in June, 2002. Tarantula sightings have become rare, but black widow spiders are common some years and scarce others.
Access to
Hill 582
Below is a Google map showing directions to Hill 582.
Here is an edited Google map showing the most common route used to visit Cajon Hill 582. Yearly, hundreds of railfans visit the Hill without incident, however we feel it necessary to enclose several "cautions".
Hwy 138 is a very narrow, winding and high-speed road. The turn onto the Hill 582 road can be dangerous. The turn-off is 1.6 miles from I-15. The road crossing of BNSF MT-3 deserves considerable caution.
The dirt roads leading to Hill 582 (1.3 miles) are NOT maintained and are very rough. We see numerous automobiles on the Hill but a vehicle with some clearance is recommended. On the map, the roads with a large red X should NOT be used.
Snakes and Bee Hives are common throughout Cajon. Rattle Snakes are seen frequently. Children and pets should be closely monitored when visiting all areas of Cajon Pass. Common sense rules of exploring any desert should be adhered to.
So far, the USFS and BNSF have "tolerated" our presence on Hill 582. Please respect the land and stay away from the tracks.
The Hill 582 Bunch (GGG & DET) 7/27/11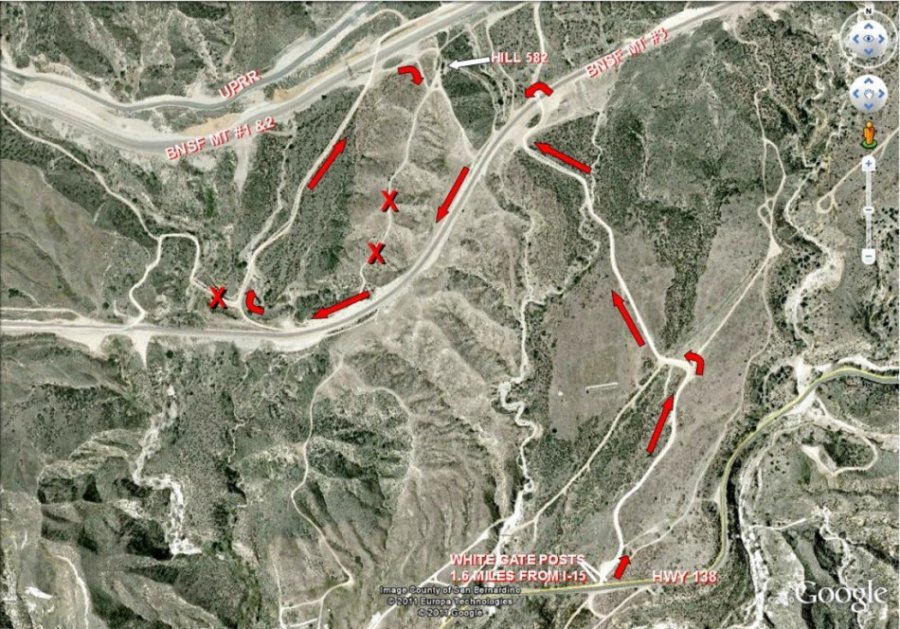 March 5, 2011 - The unpaved road into Hill 582 from State Route 138, designated as 3N48 on some US Forest Service maps, is not regularly maintained by any government agency. Above average rainfall this winter has caused some damage to the road. Currently the road is passable for most vehicles, but drivers of vehicles with limited clearance should be extra-cautious.
Below are links of a visit to Hill 582 (May/June 2010) by Werner Meer
Cajon Pass
Hill 582 Part 1

by Werner Meer
May 29 - 30, 2010

Updated: 7/22/10
WM 5/29/10 UP EB coming round the curve - 2119
See all 204 photos - click here
WM 5/29/10 BNSF WB pass UP EB - 2131
Cajon Pass
Hill 582 Part 2

by Werner Meer
June 1, 2010

Updated: 7/26/10
WM 6/01/10 BNSF EB w/9 locos - 3222
See all 239 photos - click here
WM 6/01/10 North side of Hill 582 - 3334
Cajon Pass
Hill 582 Part 3

by Werner Meer
June 2 + 4, 2010

Updated: 7/31/10
KS 6/02/10 - Don with question - we say, yes - 161
See all 261 photos - click here
WM 6/02/10 - Railfanning at its best - 2604
8 different and detailed Maps of Cajon Pass with captions (Mile Posts and Location) by Gary G. Gray - click here
New 8/11: Maps "How to find" Hill 582, Sullivan's Curve, Noisy Point by Gary G. Gray - click here
Accurate Map of Cajon Pass with 3rd Main Track by Michael Amrine - click here

Below are links to the Cajon Pass Photo Collection by Don E. Toles, Gary G. Gray, Marc Fournier
Below are links to the BNSF 3rd Main Track Project
Go back to Cajon Pass Main Page - click here