TRAINMASTER BY WERNER MEER US-RAILROAD-SHOP KILCHBERG
HOCHWEIDSTRASSE 3 CH-8802 KILCHBERG (ZÜRICH) SWITZERLAND (founded 1977)
PHONE *41-44-715-3666, FAX *41-44-715-3660, E-MAIL trainmaster@bluewin.ch
Go back to our Website - click here
updated / added: 6/13
Werner and Meer Diesel Locomotives in HO Scale
Die grosse Transportfirma "Werner Enterprises" mit Sitz in Omaha, NE (USA) ist eine der 5 Grossen in den USA. Da mein Vornamen "Werner" ist, habe ich eine Athearn (Blue Box) GE AMD-103 zu meiner persönlichen Lok gemacht. Die Lok wurde von Ferdinand Rat gespritzt und mit Werner Ent. Decals von A-Line beschriftet. Mehr Bilder von dieser Lok:
click here
Werner Enterprises (WE) is a big trucking company founded by Clarence L. Werner in 1956 and based in Omaha, NE.
With 7'200 Trucks (Tractors), 25'000 Trailers and 14'000 employees, WE is one of the five largest truck carriers in the U.S.
WE is using the railroads for TOFC service, which can be seen over Cajon Pass as well.
Direct link to Werner Enterprises: click here
Last but not least, the host of this website, Werner Meer, feels somehow familiar with WE because his first name is Werner.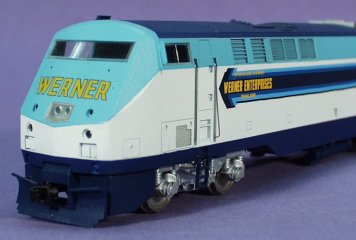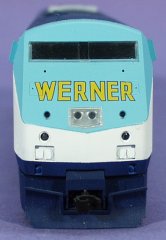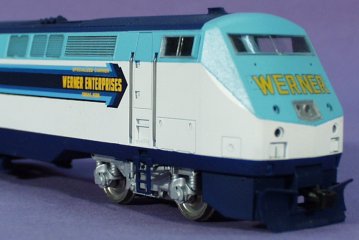 Selbstverständlich braucht eine gute Firma eine zweite Lok mit dem Nachnamen "Meer". Als Basis diente wieder eine Athearn (Blue Box) EMD FP45. Das Design wurde von mir kreiert und Uwe Meischen hat die Lok gespritzt und mit MAERSK Decals von Microscale beschriftet. Auch diese Lok gibt es nur bei "Trainmaster".
Of course, a good company needs also a second loco with the last name "Meer". We used again an Athearn (Blue Box) Kit: EMD FP45. The design was created by me and Uwe Meischen custom painted and decaled this model for me.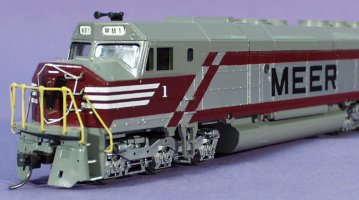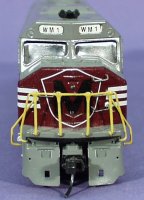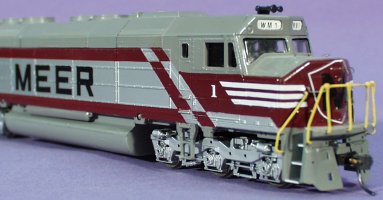 Zusammen haben wird die "Werner Meer" Loks, die für Director's Specials auf der HO-Anlage zum Einsatz kommen. Siehe hier: HO Layout
Together, we have the "Werner Meer" locos and occasionally, there are used for director's specials on my HO layout: HO Layout



copyright by Werner Meer

go back to Customized Models Main page - click here