AMERICAN RAILROADFANS IN SWITZERLAND
HEADQUARTERS: WERNER MEER, HOCHWEIDSTRASSE 3, CH-8802 KILCHBERG (ZÜRICH) FOUNDED 1981
PHONE *41-44-715-3666, FAX *41-44-715-3660, E-MAIL trainmaster@bluewin.ch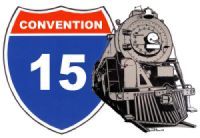 Logo by J. Lütscher
Speed and Power

Direktlink zur 15th Convention - hier klicken / English link - click here
Diese Modelle werden exklusiv an der 15th Convention 2012 präsentiert.
These detailed models will be presented at the 15th Convention in 2012.
updated: 30. Juli / July 2012
Steam, Gasturbines, early and late Diesel Locos in N Scale
by Thomas Kuen und Alexander Rudin, München, Germany
Speed and Power – passend zu diesem Thema der 15. Convention stellen wir in einer 2 Meter langen Vitrine auf 10 Gleistreppen Lokomotivmodelle aus. Angefangen mit Dampf über die Anfänge der Dieseltraktion, Gasturbinen der Union Pacific bis zu den neusten, modernen Dieselloks präsentieren wir einen geschichtlichen Überblick der US Eisenbahnen.
Die meisten Modelle sind Unikate, selber lackiert, teilweise umgebaute Serienmodelle und auch eigenbauten. Jedes Modell wird beschriftet sein mit Informationen vom Vorbild (Typ, Hersteller, Baujahr). Wir werden auch vor Ort sein und gerne Fragen der Besucher beantworten. Text und Photos by Alexander Rudin
Für grössere Bilder bitte auf die 2-stellige Nummer klicken / For bigger size photos please click on the 2-digit number.
all photos copyright by Alexander Rudin

untenstehend sind die Links von den American Railroadfans / below are the links of the American Railroadfans
untenstehend sind die Links von Trainmaster / below are the links of Trainmaster
Website created by Werner Meer
TRAINMASTER BY WERNER MEER US-RAILROAD-SHOP KILCHBERG
HOCHWEIDSTRASSE 3 CH-8802 KILCHBERG (ZÜRICH) FOUNDED 1977
PHONE *41-44-715-3666, FAX *41-44-715-3660, E-MAIL trainmaster@bluewin.ch