AMERICAN RAILROADFANS IN SWITZERLAND
HEADQUARTERS: WERNER MEER, HOCHWEIDSTRASSE 3, CH-8802 KILCHBERG (ZÜRICH) FOUNDED 1981
PHONE *41-44-715-3666, FAX *41-44-715-3660, E-MAIL trainmaster@bluewin.ch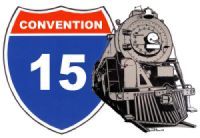 Logo by J. Lütscher
Speed and Power

Direktlink zur 15th Convention - hier klicken / English link - click here
Diese Modulanlage wird exklusiv an der 15th Convention 2012 präsentiert.
This modular layout will be presented at the 15th Convention in 2012.
updated: 30. Juli / July 2012
Indian Worth Station in G Scale (1:20,3 etc.)
by US-Train-Factory und Bigtrains,Switzerland
MANpower = men and power
Die Betreiber der sehenswerten festen Innenanlage des Vereins US-Train-Factory und Bigtrains in Sissach präsentieren:
Indian Worth Station and his environments. 15 meters of modular layout.
With
Water tower, Sanding and Coaling tower in action. Built by Christian Roth, powered by Norbert Stahel.

Scale 1:20.3
Die Anlage zeigt, dass die Kombination von selbst Gebautem mit Gekauftem sehr wohl schön gestaltet werden kann. Die bewusst schlicht gehaltene Landschaft kontrastiert dabei mit dem Rollmaterial in 20.3 und G. Dabei kommt auch das Verwittern und Supern zum Zug. Wie zum Beispiel bei der im Einsatz befindlichen K27 von Bachmann, die mit Sound sowie mit beweglicher Umsteuerung, pulsierendem Rauch und beweglicher Glocke (synchron zum Klang) ausgestattet ist.
Technisch ist die Anlage voll digitalisiert. Optisch bestechen die superschlanken Aristo-Weichen und belebend wirken weitere Gebäude sowie ein Fort, ein Viehverlad, akustisches und optisches Zubehör. Am Streckenende ist das Tracking vorübergehend zum Stillstand gekommen. Eine wässerig-sumpfige Gegend muss überwunden werden. Auch der Schnee ist noch nicht ganz gewichen. Und es eilt. Man will doch vor der Konkurrenz am Ziel sein. Darum führt der Weg ja mitten durchs Indianerland. Und es braucht Leute, Leute, Leute – eben Manpower. Wie eigentlich immer…
Für grössere Bilder bitte auf die 2-stellige Nummer klicken / For bigger size photos please click on the 2-digit number.
all photos copyright by Hanspeter Naber

untenstehend sind die Links von den American Railroadfans / below are the links of the American Railroadfans
untenstehend sind die Links von Trainmaster / below are the links of Trainmaster
Website created by Werner Meer
TRAINMASTER BY WERNER MEER US-RAILROAD-SHOP KILCHBERG
HOCHWEIDSTRASSE 3 CH-8802 KILCHBERG (ZÜRICH) FOUNDED 1977
PHONE *41-44-715-3666, FAX *41-44-715-3660, E-MAIL trainmaster@bluewin.ch