AMERICAN RAILROADFANS IN SWITZERLAND
HEADQUARTERS: WERNER MEER, HOCHWEIDSTRASSE 3, CH-8802 KILCHBERG (ZÜRICH) FOUNDED 1981
PHONE *41-44-715-3666, FAX *41-44-715-3660, E-MAIL trainmaster@bluewin.ch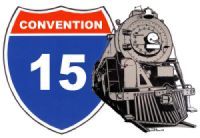 Logo by J. Lütscher
Speed and Power

Direktlink zur 15th Convention - hier klicken / English link - click here
Dieser digitale Diavortrag wird exklusiv an der 15th Convention 2012 präsentiert.
This digital slide show will be presented at the 15th Convention in 2012.
updated: 24. Juni / June 2012
D&RGW - then and now - (Helper-Provo, UT) by Harald Holy, Germany
Traktionswandel auf der Strecke der Denver & Rio Grande Western
zwischen Helper und Provo in Utah
(D&RGW, Utah Rail, UP)

Im Westen des Streckensystems der Denver & Rio Grande Westen, kurz vor Salt Lake City,
ist zwischen Helper und Price in Utah der Soldier Summit, mit ca. 2.300 m die dritthöchste
Passüberwindung der Bahngesellschaft zu bezwingen.
Neben der D&RGW hat auch die Utah Rail hier ihre Stammstrecke. Eine Betrachtung
des Traktionsgeschehens auf dieser Strecke zwischen ca. 1947 bis heute.
Für grössere Bilder bitte auf die 2-stellige Nummer klicken / For bigger size photos please click on the 2-digit number.
all photos collection / copyright by Harald Holy

untenstehend sind die Links von den American Railroadfans / below are the links of the American Railroadfans
untenstehend sind die Links von Trainmaster / below are the links of Trainmaster
Website created by Werner Meer
TRAINMASTER BY WERNER MEER US-RAILROAD-SHOP KILCHBERG
HOCHWEIDSTRASSE 3 CH-8802 KILCHBERG (ZÜRICH) FOUNDED 1977
PHONE *41-44-715-3666, FAX *41-44-715-3660, E-MAIL trainmaster@bluewin.ch