AMERICAN RAILROADFANS IN SWITZERLAND
HEADQUARTERS: WERNER MEER, HOCHWEIDSTRASSE 3, CH-8802 KILCHBERG (ZÜRICH) FOUNDED 1981
PHONE *41-44-715-3666, FAX *41-44-715-3660, E-MAIL trainmaster@bluewin.ch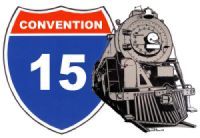 Logo by J. Lütscher
Speed and Power

Direktlink zur 15th Convention - hier klicken / English link - click here
Diese Clinics werden exklusiv an der 15th Convention 2012 präsentiert.
These Clinics will be presented at the 15th Convention in 2012.
updated: 1. Juli / July 2012
Clinics: Digitalisierung in HO Scale by Cedric Wiesendanger, Switzerland
Auch bei der Modellbahn ist die digitale Technik/Zeit angekommen. Immer mehr Hersteller bringen Loks auf den Markt, die mit einem Digital-Decoder (mit oder ohne Sound) ausgerüstet sind. Aber nicht alle Modellbahn-Loks, die auf dem Markt sind, haben solche Digital-Decoder ab Werk eingebaut. Da heisst es: selber einbauen oder einbauen lassen.
Dieser Workshop zeigt, wie man Digital-Decoder mit Sound in H0 Loks einbauen kann und wie man diese programmieren kann mit der Software JMRI über die Digitalsteuerung Intelibox von Uhlenbrock. Verbaut werden während der Convention: Soundtraxx Tsunami Decoder in Athearn SD40-2.
all photos copyright by Cedric Wiesendanger

untenstehend sind die Links von den American Railroadfans / below are the links of the American Railroadfans
untenstehend sind die Links von Trainmaster / below are the links of Trainmaster
Website created by Werner Meer
TRAINMASTER BY WERNER MEER US-RAILROAD-SHOP KILCHBERG
HOCHWEIDSTRASSE 3 CH-8802 KILCHBERG (ZÜRICH) FOUNDED 1977
PHONE *41-44-715-3666, FAX *41-44-715-3660, E-MAIL trainmaster@bluewin.ch