AMERICAN RAILROADFANS IN SWITZERLAND
HEADQUARTERS: WERNER MEER, HOCHWEIDSTRASSE 3, CH-8802 KILCHBERG (ZÜRICH) FOUNDED 1981
PHONE *41-44-715-3666, FAX *41-44-715-3660, E-MAIL trainmaster@bluewin.ch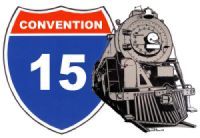 Logo by J. Lütscher
Speed and Power

Direktlink zur 15th Convention - hier klicken / English link - click here
Dieser digitale Diavortrag wird exklusiv an der 15th Convention 2012 präsentiert.
This digital slide show will be presented at the 15th Convention in 2012.
updated: 17. Juni / June 2012
The Appalachian Rail Trail by Emil & Monika Heller, Switzerland
The best of April 2008/2010/2012


Die Railfan-Reisen führten uns durch die US-Bundesstaaten Maryland, Delaware, Pennsylvania, Ohio, Virginia, West Virginia, Tennessee und North Carolina.
Die "highlights" aus den Jahren 2008, 2010 und 2011 sind Sandpatch Grade, Horseshoe Curve at Mance und in Pennsylvania, Clinchfield Road, Harpers Ferry, Philadelphia PCC Car im täglichen Einsatz, Street running in St. Marys WV, New River Gorges und Historic Town of Thurmond, Coal Branchline Pax-Thurmond, Strassburg RR Museum, Pennsylvania Lumber Museum, Amisch Country, Shenandoha Nat. Park,
Great Canyon of Pennsylvania und Great Smoky Mountains Nat. Park.
Für grössere Bilder bitte auf die 4-stellige Nummer klicken / For bigger size photos please click on the 4-digit number.
all photos copyright by Emil Heller

untenstehend sind die Links von den American Railroadfans / below are the links of the American Railroadfans
untenstehend sind die Links von Trainmaster / below are the links of Trainmaster
Website created by Werner Meer
TRAINMASTER BY WERNER MEER US-RAILROAD-SHOP KILCHBERG
HOCHWEIDSTRASSE 3 CH-8802 KILCHBERG (ZÜRICH) FOUNDED 1977
PHONE *41-44-715-3666, FAX *41-44-715-3660, E-MAIL trainmaster@bluewin.ch