AMERICAN RAILROADFANS IN SWITZERLAND
HEADQUARTERS: WERNER MEER, HOCHWEIDSTRASSE 3, CH-8802 KILCHBERG (ZÜRICH) FOUNDED 1981
PHONE *41-44-715-3666, FAX *41-44-715-3660, E-MAIL trainmaster@bluewin.ch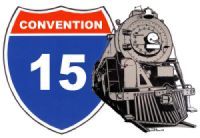 Logo by J. Lütscher
Speed and Power

Direktlink zur 15th Convention - hier klicken / English link - click here
Diese Anlage wird exklusiv an der 15th Convention 2012 präsentiert.
This layoutwill be presented at the 15th Convention in 2012.
added: 16. Juni / June 2012 - updated 17. August 2012

annulliert - sorry cancelled
leider musste die Teilnahme aus gesundheitlichne Gründen zurückgezogen werden
Takoma Yard in N Scale by Joshua & Joseph Post, Luxembourg
Erbauer: Joshua Post (16) - Thema und Zweck:
Die Idee der Anlage stammt von meinem Sohn Joshua, er wollte eine große Anlage auf der große Züge fahren können und ebenfalls nach belieben rangieren.
Da er den Norden Amerikas und Canada mag, befindet sich"Takoma Yard" wie der Name schon sagt, in Tacoma, Washington in der Nähe von Seattle etwa in den 80er - 90er Jahren. Ansonsten ist alles frei erfunden.
Die Anlage besteht aus vier Modulen von je 1,20 x 0,4 m und an jedem Ende ein Modul von etwa 0,45 x 0,8 m. Gesamtlänge 5,7 m, Breite 0,8 (0,4) m,
Gleise: Fleischmann Gebaut haben wir zusammen seit einem Jahr. Fertigstellung: na ja, wir spielen eben auch damit, da kann man schon mal vergessen dass noch einiges gemacht werden soll. Aber es macht einen riesigen Spaß ! ! Text, Skizze und Fotos by Joseph Post, Pintsch, Luxembourg


Für grössere Bilder bitte auf die 4-stellige Nummer klicken / For bigger size photos please click on the 4-digit number.
all photos copyright by Joseph Post

untenstehend sind die Links von den American Railroadfans / below are the links of the American Railroadfans
untenstehend sind die Links von Trainmaster / below are the links of Trainmaster
Website created by Werner Meer
TRAINMASTER BY WERNER MEER US-RAILROAD-SHOP KILCHBERG
HOCHWEIDSTRASSE 3 CH-8802 KILCHBERG (ZÜRICH) FOUNDED 1977
PHONE *41-44-715-3666, FAX *41-44-715-3660, E-MAIL trainmaster@bluewin.ch