AMERICAN RAILROADFANS IN SWITZERLAND
HEADQUARTERS: WERNER MEER, HOCHWEIDSTRASSE 3, CH-8802 KILCHBERG (ZÜRICH) FOUNDED 1981
PHONE *41-44-715-3666, FAX *41-44-715-3660, E-MAIL trainmaster@bluewin.ch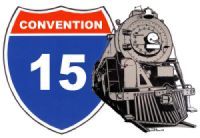 Logo by J. Lütscher
Speed and Power

Direktlink zur 15th Convention - hier klicken / English link - click here
Diese Kits werden exklusiv an der 15th Convention 2012 zusammengebaut.
These kits will be built during the 15th Convention in 2012.
updated: 15. Juni / June 2012
Workshop: Kits Assembly in HO Scale
by Robin & Walter Hefti, Switzerland
Erfreulich, dass Vater Walter und Sohn Robin (17) das Modelleisenbahn-Hobby pflegen und auch an der letzten CV dabei sind.



Da wir im Februar dieses Jahres umgezogen sind und nun unseren eigenen Hobbyraum bekommen haben, mussten wir uns entscheiden, ob wir unsere angefangene Anlage weiterbauen sollen oder uns eine neue Anlage im neuen Haus bauen werden.
Also haben wir uns entschieden, die alte aufzugeben und eine neue zu bauen. Mit der neuen konnten wir leider noch nicht beginnen.
Es liegen noch viele Wagenbausätze und Hausbausätze in den Schubladen, die warten, bis sie zusammengebaut werden. Sie sollen einmal auf unserer Anlage stehen. Mein Sohn Robin wird Güterwagen (Kits) von Inter Mountain zusammenbauen und ich werde an den Bausätzen von Bar Mills arbeiten. Walter Hefti
Für grössere Bilder bitte auf die 4-stellige Nummer klicken / For bigger size photos please click on the 4-digit number.
all photos copyright by Walter Hefti

untenstehend sind die Links von den American Railroadfans / below are the links of the American Railroadfans
untenstehend sind die Links von Trainmaster / below are the links of Trainmaster
Website created by Werner Meer
TRAINMASTER BY WERNER MEER US-RAILROAD-SHOP KILCHBERG
HOCHWEIDSTRASSE 3 CH-8802 KILCHBERG (ZÜRICH) FOUNDED 1977
PHONE *41-44-715-3666, FAX *41-44-715-3660, E-MAIL trainmaster@bluewin.ch