AMERICAN RAILROADFANS IN SWITZERLAND
HEADQUARTERS: WERNER MEER, HOCHWEIDSTRASSE 3, CH-8802 KILCHBERG (ZÜRICH) FOUNDED 1981
PHONE *41-44-715-3666, FAX *41-44-715-3660, E-MAIL trainmaster@bluewin.ch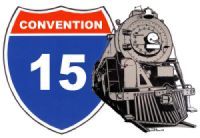 Logo by J. Lütscher
Speed and Power

Direktlink zur 15th Convention - hier klicken / English link - click here
Dieses Modell wird exklusiv an der 15th Convention 2012 präsentiert.
This highly detailed model will be presented at the 15th Convention in 2012.
updated: 30. Mai 2012
T-TRAK Modular System in N Scale by Bernhard Roll, Germany
T-TRAK - ein Modulsystem für alle


Nach 12 Jahren Modul-Modelleisenbahn bin ich schlussendlich bei T-TRAK gelandet.

T-TRAK das System
- ein zweigleisiges Modulsystem ohne eigene Modulbeine und aufwändige Verkabelung, einfach auf den Tisch gestellt.

GermaNTRAK
- ein Modulmodellbauverein baut NTRAK-Module nach US-Amerikanischem Vorbild aus Deutschland, Mitglieder in ganz Deutschland verteilt

Bernhard Roll
- Der Weg ist das Ziel, über NTRAK, Onetrak... viele Jahre Vereinsarbeit und Teilnahme an Ausstellungen und Conventions am
"Modul-Model-Eisenbahnbauerischen" Ziel angelangt.

| | |
| --- | --- |
| | |
| Layout Variante 1 | Wedding Chapel |
| | |
| Layout Variante 1 | Layout Variante 2 |
| | |
| Brown River | Layout Variante 2 (Rückseite mit den Loops) |
| | |
| Children's Paradise | Loop Mountain Line |
| | |
| Little Forest | Little Forest |
| | |
| Wait - Wait - Wait | Sandy Town |
| | |
| Mount Rushmore by Günter Nürnberger (Leihgabe) | Town 2 |
| | |
| Mount Rushmore by Günter Nürnberger (Leihgabe) | Future without people by Markus Schiavo (Leihgabe) |
all photos copyright by Bernhard Roll

untenstehend sind die Links von den American Railroadfans / below are the links of the American Railroadfans
untenstehend sind die Links von Trainmaster / below are the links of Trainmaster
Website created by Werner Meer
TRAINMASTER BY WERNER MEER US-RAILROAD-SHOP KILCHBERG
HOCHWEIDSTRASSE 3 CH-8802 KILCHBERG (ZÜRICH) FOUNDED 1977
PHONE *41-44-715-3666, FAX *41-44-715-3660, E-MAIL trainmaster@bluewin.ch