AMERICAN RAILROADFANS IN SWITZERLAND
HEADQUARTERS: WERNER MEER, HOCHWEIDSTRASSE 3, CH-8802 KILCHBERG (ZÜRICH) FOUNDED 1981
PHONE *41-44-715-3666, FAX *41-44-715-3660, E-MAIL trainmaster@bluewin.ch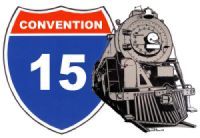 Logo by J. Lütscher
Speed and Power

Direktlink zur 15th Convention - hier klicken / English link - click here
Dieses Diorama wird exklusiv an der 15th Convention 2012 präsentiert.
This highly detailed Diorama will be presented at the 15th Convention in 2012.
updated: 26. Mai 2012
Stock Pen Diorama in HO Scale by Armin Abbühl, Switzerland

Zwischen 1984 und 2009 hat Armin Abbühl an 11 Conventions ein Diorama präsentiert. Vermutlich der einzige Aussteller, der so oft (mit nur einer Ausnahme) teilgenommen hatte. Deshalb freut es uns ganz speziell, dass er auch an der letzten CV mit dabei sein wird.

Stock Pen Diorama
Auch bei dieser Convention bin ich noch am Bauen von Gebäuden und Figuren bemalen. Das Gelände wird erst ab Spätsommer gebaut. Leider habe ich dadurch noch keine Bilder aber immerhin einen Plan davon. Grösse ca. 100 x 80 cm. Die neuen Gebäude werden nachher in meine Anlage eingebaut, dafür entnehme ich dieser einige Bauten und Bäume und setze sie auf mein Diorama.

Ich versuche dieses Diorama zu beschreiben:

Im Vordergrund sieht man ein Stock Pen für Schafe, nach eigenen Plänen gebaut. Ein Windrad pumpt Wasser für die Tiere. Eine kleine Schafherde ist auf dem Wege zum Bahnverlad. Auf der rechten Seite führt eine Naturstrasse an einer kleinen Tankstelle vorbei Richtung einer kleinen Siedlung, rechts oben das Perkins House, ein Warenhändler. Auf der linken oberen Seite eine kleine Mine. Das ganze Diorama soll ein Bild von der Ruhe und Gemäch-lichkeit ausstrahlen, also das Gegenteil von Speed and Power.


Dies ist mein 12. Beitrag mit einem Diorama innerhalb von 15 Conventions. (Armin Abbühl)
Für grössere Bilder bitte auf die 2- oder 3-stellige Nummer klicken / For bigger size photos please click on the 2- or 3-digit number.
Hier einige Bilder von der 3rd Convention bis zur 14th Convention. (Ausnahme 13th Convention).

31 - 3rd Convention 1984 Zürich - 32
41 - 4th Convention 1986 Zürich - 42
51 - 5th Convention 1988 Zürich - 52
61 - 6th Convention 1990 Zürich - 62
71 - 7th Convention 1992 Adliswil - 72
81 - 8th Convention 1994 Adliswil - 82
91 - 9th Convention 1996 Adliswil - 92
101 - 10th Convention 1998 Adliswil - 102
111 - 11th Convention 2000 Adliswil - 112
121 - 12th Convention 2002 Adliswil - 122
141 - 14th Convention 2009 Adliswil - 142
all photos copyright by Armin Abbühl

untenstehend sind die Links von den American Railroadfans / below are the links of the American Railroadfans
untenstehend sind die Links von Trainmaster / below are the links of Trainmaster
Website created by Werner Meer
TRAINMASTER BY WERNER MEER US-RAILROAD-SHOP KILCHBERG
HOCHWEIDSTRASSE 3 CH-8802 KILCHBERG (ZÜRICH) FOUNDED 1977
PHONE *41-44-715-3666, FAX *41-44-715-3660, E-MAIL trainmaster@bluewin.ch