AMERICAN RAILROADFANS IN SWITZERLAND
HEADQUARTERS: WERNER MEER, HOCHWEIDSTRASSE 3, CH-8802 KILCHBERG (ZÜRICH) FOUNDED 1981
PHONE *41-44-715-3666, FAX *41-44-715-3660, E-MAIL trainmaster@bluewin.ch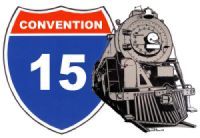 Logo by J. Lütscher
Speed and Power

Direktlink zur 15th Convention - hier klicken / English link - click here
Dieser digitale Diavortrag wird exklusiv an der 15th Convention 2012 präsentiert.
This digital slide show will be presented at the 15th Convention in 2012.
updated: 19. Mai 2012
Santa Fe - all the way (1860-1995) by Ulf Degener, Germany
Eine Zeitreise durch die Geschichte der einst grössten und bekanntesten US-Eisenbahngesellschaft, der Atchison, Topeka and Santa Fe Railway AT&SF). Die Entwicklung der Lokomotiven über die Jahrzehnte wird besonders gewürdigt und dargestellt. Auf die Phase der Fusion (Merger) mit Burlington Northern zur BNSF wird ausführlich eingegangen.
Ein Ausflug in die Vergangenheit !
Für grössere Bilder bitte auf die 3-stellige Nummer klicken / For bigger size photos please click on the 3-digit number.
all photos collection by Ulf Degener

untenstehend sind die Links von den American Railroadfans / below are the links of the American Railroadfans
untenstehend sind die Links von Trainmaster / below are the links of Trainmaster
Website created by Werner Meer
TRAINMASTER BY WERNER MEER US-RAILROAD-SHOP KILCHBERG
HOCHWEIDSTRASSE 3 CH-8802 KILCHBERG (ZÜRICH) FOUNDED 1977
PHONE *41-44-715-3666, FAX *41-44-715-3660, E-MAIL trainmaster@bluewin.ch