AMERICAN RAILROADFANS IN SWITZERLAND
HEADQUARTERS: WERNER MEER, HOCHWEIDSTRASSE 3, CH-8802 KILCHBERG (ZÜRICH) FOUNDED 1981
PHONE *41-44-715-3666, FAX *41-44-715-3660, E-MAIL trainmaster@bluewin.ch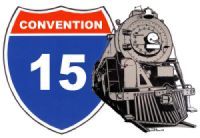 Logo by J. Lütscher
Speed and Power

Direktlink zur 15th Convention - hier klicken / English link - click here
Diese Gemälde werden exklusiv an der 15th Convention 2012 präsentiert.
This highly detailed paintings will be presented at the 15th Convention in 2012.
updated: 19. Mai 2012
Art Corner - Paintings by Peter Bomhard, Germany
Peter Bomhard

, Jahrgang 1952, seit Mitte der 50er Jahre wohnhaft in Nürnberg. Nach dem Abitur Ausbildung zum Ing. - grad in Nürnberg, anschließend weiteres Studium der Architektur an der TH Darmstadt mit Abschluss Dipl.-Ing. Architekt 1980.
Langjährige Architektentätigkeit hauptsächlich im Entwurf, Planung, Projektleitung und in künstlerischer Gestaltung.

Seit 1995 freiberufliche Tätigkeit als freischaffender Künstler, spezialisiert auf Eisenbahnbilder in Aquarelltechnik. Das Hobby "Eisenbahn", seit frühester Kindheit gepflegt, war ausschlaggebend für das bevorzugte Motiv: Die Dampflokomotive in Aktion.

Zahlreiche Veröffentlichungen und ausführliche Illustrationen in Eisenbahnbüchern und unterschiedlichen Fachzeitschriften, sowie etliche Originalbilder für Privatpersonen hierzulande, im europäischen Ausland, sowie in Nordamerika.

Inzwischen über 150 Eisenbahnmotive als Drucke im Angebot.



www.eisenbahn-bilder.de

www.bomhard-aquarelle.de
Für grössere Bilder bitte auf die 2-stellige Nummer klicken / For bigger size photos please click on the 2-digit number.
| | |
| --- | --- |
| | |
| Canadian Pacific F7 in the Rockies - 01 | AT&SF - Santa Fe Super Chief in Winter - 02 |
| | |
| ON Northlander in the Rockies - 03 | ON Northlander in Toronto - 04 |
| | |
| Lehigh Valley ALCO PA1 - 05 | Pennsy GG1 Electrics (Double) - 06 |
| | |
| Union Pacific 4-8-8-4 Big Boy in Cheyenne - 07 | Union Pacific Big Boy under Coaling Tower - 08 |
| | |
| Auftritt an der Messe in Dortmund 2012 - 09 | Peter Bomhard beim Malen - 10 |
all photos copyright by Peter Bomhard

untenstehend sind die Links von den American Railroadfans / below are the links of the American Railroadfans
untenstehend sind die Links von Trainmaster / below are the links of Trainmaster
Website created by Werner Meer
TRAINMASTER BY WERNER MEER US-RAILROAD-SHOP KILCHBERG
HOCHWEIDSTRASSE 3 CH-8802 KILCHBERG (ZÜRICH) FOUNDED 1977
PHONE *41-44-715-3666, FAX *41-44-715-3660, E-MAIL trainmaster@bluewin.ch