AMERICAN RAILROADFANS IN SWITZERLAND
HEADQUARTERS: WERNER MEER, HOCHWEIDSTRASSE 3, CH-8802 KILCHBERG (ZÜRICH) FOUNDED 1981
PHONE *41-44-715-3666, FAX *41-44-715-3660, E-MAIL trainmaster@bluewin.ch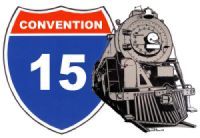 Logo by J. Lütscher
Speed and Power

Direktlink zur 15th Convention - hier klicken / English link - click here
Dieses Modell wird exklusiv an der 15th Convention 2012 präsentiert.
This detailed model will be presented at the 15th Convention in 2012.
updated: 14. Mai 2012
N&W 2-8-8-2 in O Scale by Max Hintermann, Switzerland



Baldwin baute die 2-8-8-2 ab 1909. Sie wurde hauptsächlich für die steilen Strecken konzipiert und erreichte normalerweise nur 25 mph (40 km/h). Für Norfolk and Western wurde sie jedoch umdesigned um 55 mph (89 km/h) zu erreichen. Eine Zugkraft von fast 80'000 Tonnen verlieh der Lok die notwenige Fähigkeit lange Züge zu ziehen.
Zwei Lokomotiven haben in Museen überlebt.





all photos copyright by Makus Hintermann

untenstehend sind die Links von den American Railroadfans / below are the links of the American Railroadfans
untenstehend sind die Links von Trainmaster / below are the links of Trainmaster
Website created by Werner Meer
TRAINMASTER BY WERNER MEER US-RAILROAD-SHOP KILCHBERG
HOCHWEIDSTRASSE 3 CH-8802 KILCHBERG (ZÜRICH) FOUNDED 1977
PHONE *41-44-715-3666, FAX *41-44-715-3660, E-MAIL trainmaster@bluewin.ch