AMERICAN RAILROADFANS IN SWITZERLAND
HEADQUARTERS: WERNER MEER, HOCHWEIDSTRASSE 3, CH-8802 KILCHBERG (ZÜRICH) FOUNDED 1981
PHONE *41-44-715-3666, FAX *41-44-715-3660, E-MAIL trainmaster@bluewin.ch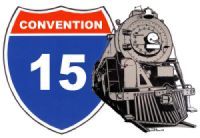 Logo by J. Lütscher
Speed and Power

Direktlink zur 15th Convention - hier klicken / English link - click here
Diese Modelle werden exklusiv an der 15th Convention 2012 präsentiert.
These highly detailed models will be presented at the 15th Convention in 2012.
updated: 14. Mai 2012
2-Truck Shay (scratchbuilt) in G Scale (1:29)
by Markus Hintermann, Switzerland



Nach einen Besuch in Roaring-Camps liess mich die Faszination zu "Geared–Steam" Lokomotiven nicht mehr los.
In einem Finescale-Railroader-Annual fand ich Skizzen eines Nachbaus und durch Studium vieler Bücher und Internet-seiten kamen die Details zusammen. Startpunkt waren Räder von USA-Trains und Kegelräder von Conrad. Die Drehgestelle waren nun bestimmt. Die Verbindung zu den Zylindern war das schwierigste Unterfangen, denn mein Ziel R1 zu fahren hatte ich mir in den Kopf gesetzt. Der Antrieb erfolgt durch einen LGB-Ersatzmotor im Kessel. Über 4 Zahnräder wird der Antrieb auf die Achse der Zylinder geführt. Lärchenholz, Messingprofile und Sanitär-Rohre für den Kessel sind die Hauptmaterialien. Als Werkzeuge dienten eine Ständerbohrmaschine, eine Inca Kreissäge um das Läcrhenholz aufzuschneiden und viele Handwerkzeuge, nicht zu vergessen ein Lötkolben um die Messingteile zu verbinden.
Der Pulpwood wagen wurde nach Bildern von Originalen nachgebaut. Lärchenholz, fein aufgeschnitten, und Messing. Proportionen waren mir wichtig, dass keine Teile zu fest überdimensioniert sind, was im Modellbau teilweise verlockend ist. Der Antrieb einer Bachman Porter war die Basis für eine andere Lok, so blieb der Kasten übrig. Nun ist er frisch gestrichen von der Überholung auf dem Weg zurück zum Shop.
Ausgestellt werden folgende Modelle: Eigenbau Shay, Flat Car with Porter, Pulpwood Car
| | |
| --- | --- |
| | |
| Shay | Porter loaded on Flat Car |
| | |
| Details Shay | Shay and Climax |
all photos copyright by Makus Hintermann

untenstehend sind die Links von den American Railroadfans / below are the links of the American Railroadfans
untenstehend sind die Links von Trainmaster / below are the links of Trainmaster
Website created by Werner Meer
TRAINMASTER BY WERNER MEER US-RAILROAD-SHOP KILCHBERG
HOCHWEIDSTRASSE 3 CH-8802 KILCHBERG (ZÜRICH) FOUNDED 1977
PHONE *41-44-715-3666, FAX *41-44-715-3660, E-MAIL trainmaster@bluewin.ch