AMERICAN RAILROADFANS IN SWITZERLAND
HEADQUARTERS: WERNER MEER, HOCHWEIDSTRASSE 3, CH-8802 KILCHBERG (ZÜRICH) FOUNDED 1981
PHONE *41-44-715-3666, FAX *41-44-715-3660, E-MAIL trainmaster@bluewin.ch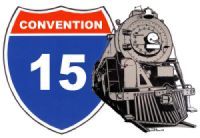 Logo by J. Lütscher
Speed and Power

Direktlink zur 15th Convention - hier klicken / English link - click here
Dieser Workshop wird exklusiv an der 15th Convention 2012 präsentiert.
This workshop (clinic) will be presented at the 15th Convention in 2012.
updated: 12. Mai 2012
Bau einer Wood Trestle in HO Scale by Achim Hennige, Germany
Workshop / Clinic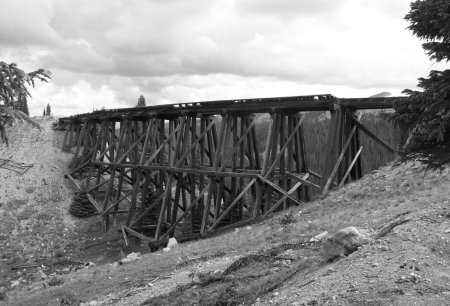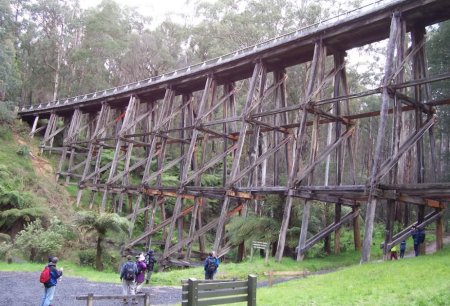 F

ür meine im Bau befindliche HO-Segmentanlage einer Shortline ähnlich der St Maries River Railroad in Idaho baue ich ein Segment auf dem ein kleines Flusstal überquert wird. Die Brücke wird aus Holzleisten verschiedenen Querschnitts (rund und vierkant) gebaut. Sie liegt zu ca

. 2/3 in der Geraden und geht dann in einen Bogen über, da sie in der Südostecke der Anlage liegt. Das Segment wird nach dem Prinzip der hängenden Schlucht gebaut, d.h. Der Segmentkasten liegt tiefer als die danebenliegenden.

Als Hilfsmittel dienen nur Bastelsäge, Feile, Maßband und Klebstoff. Als Vorlage verwende ich neben Bildern aus dem Internet die Beschreibungen Bridges & Trestles (Kalmbach Books) und eine alte Baubeschreibung aus einem M+F Journal von 1975.
all photos copyright by Achim Hennige

untenstehend sind die Links von den American Railroadfans / below are the links of the American Railroadfans
untenstehend sind die Links von Trainmaster / below are the links of Trainmaster
Website created by Werner Meer
TRAINMASTER BY WERNER MEER US-RAILROAD-SHOP KILCHBERG
HOCHWEIDSTRASSE 3 CH-8802 KILCHBERG (ZÜRICH) FOUNDED 1977
PHONE *41-44-715-3666, FAX *41-44-715-3660, E-MAIL trainmaster@bluewin.ch