AMERICAN RAILROADFANS IN SWITZERLAND
HEADQUARTERS: WERNER MEER, HOCHWEIDSTRASSE 3, CH-8802 KILCHBERG (ZÜRICH) FOUNDED 1981
PHONE *41-44-715-3666, FAX *41-44-715-3660, E-MAIL trainmaster@bluewin.ch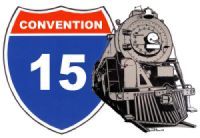 Logo by J. Lütscher
Speed and Power

Direktlink zur 15th Convention - hier klicken / English link - click here
Dieser Film wird exklusiv an der 15th Convention 2012 präsentiert.
This film will be presented at the 15th Convention in 2012.
added: 10. Mai 2012 / updated: 1. September 2012
Trains in Chile's Norte Grande
by Thomas Hollenstein, Switzerland
Sand, Steine und Schienen - Bahnen im Norden Chile's (April 2012).

Die Atacama-Wüste im Norden Chile's gilt als das trockenste und als eines der abgelegensten Gebiete der Erde. Trotzdem findet man in dieser Abgeschiedenheit interessante Bahnbetriebe, die durch ebenso karge wie spektakuläre Landschaften führen.
Erleben Sie, wie sich exotische Diesel- und Elektroloks mit ihren schweren Zügen über die steinigen Pässe und an Vulkanen und Salzseen vorbei durch das südamerikanischen Nirgendwo kämpfen.

Ein paar wenige Szenen habe ich schon mal auf YouTube gestellt: http://youtu.be/8MDmBIkGq1A
Dieser Film (inkl. Bonus-Szenen) kann an der Convention auch auf DVD gekauft werden. Preis sFr. 35.-. Er ist nach den Filmvorführungen im Saal 319 sowie bei der Anlage 227 "Ferrocarril Central Andino" im Haus C-2.OG erhältlich.
Für grössere Bilder bitte auf die 4-stellige Nummer klicken / For bigger size photos please click on the 4-digit number.
all photos copyright by Thomas Hollenstein

untenstehend sind die Links von den American Railroadfans / below are the links of the American Railroadfans
untenstehend sind die Links von Trainmaster / below are the links of Trainmaster
Website created by Werner Meer
TRAINMASTER BY WERNER MEER US-RAILROAD-SHOP KILCHBERG
HOCHWEIDSTRASSE 3 CH-8802 KILCHBERG (ZÜRICH) FOUNDED 1977
PHONE *41-44-715-3666, FAX *41-44-715-3660, E-MAIL trainmaster@bluewin.ch