AMERICAN RAILROADFANS IN SWITZERLAND
HEADQUARTERS: WERNER MEER, HOCHWEIDSTRASSE 3, CH-8802 KILCHBERG (ZÜRICH) FOUNDED 1981
PHONE *41-44-715-3666, FAX *41-44-715-3660, E-MAIL trainmaster@bluewin.ch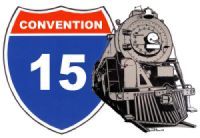 Logo by J. Lütscher
Speed and Power

Direktlink zur 15th Convention - hier klicken / English link - click here
Diese Modelle werden exklusiv an der 15th Convention 2012 präsentiert.
These detailed models will be presented at the 15th Convention in 2012.
updated: 8. Mai 2012
Passenger Diesels of the West in HO Scale
by Philipp Hochreutener, Edith & Ralf Willkommen, Switzerland



Die Entwicklung der Reisezug-Diesellokomotiven war untrennbar mit der Entwicklung der Bahnen im amerikanischen Westen verbunden. Im Ausstellungsdisplay wird ein kleiner Querschnitt der Reisezuglokomotiven verschiedenen Bahnen gezeigt, darunter auch die Meilensteine der amerikanischen Fahrzeugindustrie wie der Zephyr der Burlington Route, E-Units verschiedener Generationen, die nahezu bei allen Bahnen im Einsatz waren und verschiedene Triebwagen der 50er Jahre. Selbverständlich gehören aber auch die berühmten F-Units, allen voran sicher die chromstahlverblechten Warbonnets der Santa Fe und die Black Widows der Southern Pacific dazu. Jedoch werden auch die weniger spektakulären Roadswitcher der 50er, 60er und 70er Jahre und die bekannten Fahrzeuge von Amtrak gezeigt. Dabei wird der Typenvielfalt ebenso Beachtung geschenkt, wie den vielen verschiedenen Aussenanstrichen, die die amerikanischen Bahnen letztendlich bekannt gemacht haben. (Grösse: 440 x 80 cm)



Für grössere Bilder bitte auf die 4-stellige Nummer klicken / For bigger size photos please click on the 4-digit number.
all photos copyright by Ralf Willkommen

untenstehend sind die Links von den American Railroadfans / below are the links of the American Railroadfans
untenstehend sind die Links von Trainmaster / below are the links of Trainmaster
Website created by Werner Meer
TRAINMASTER BY WERNER MEER US-RAILROAD-SHOP KILCHBERG
HOCHWEIDSTRASSE 3 CH-8802 KILCHBERG (ZÜRICH) FOUNDED 1977
PHONE *41-44-715-3666, FAX *41-44-715-3660, E-MAIL trainmaster@bluewin.ch