AMERICAN RAILROADFANS IN SWITZERLAND
HEADQUARTERS: WERNER MEER, HOCHWEIDSTRASSE 3, CH-8802 KILCHBERG (ZÜRICH) FOUNDED 1981
PHONE *41-44-715-3666, FAX *41-44-715-3660, E-MAIL trainmaster@bluewin.ch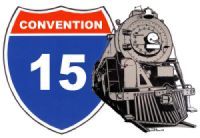 Logo by J. Lütscher
Speed and Power

Direktlink zur 15th Convention - hier klicken / English link - click here
Dieses Modul wird exklusiv an der 15th Convention 2012 präsentiert.
This highly detailed module will be presented at the 15th Convention in 2012.
updated: 5. Mai 2012
City & Industry Modul in HO Scale by Urs Jäggi, Switzerland
City, Industry, Housing, Restaurant and lots of people
Endlich ist die zweite Hälfte des an der 14th CV (2009) vorgestellten Moduls fertig. Nun beträgt die Fläche 1,4 x 1,6 m. Im neuen Teil wird eine detaillierte und umgestaltete Industrieanlage gezeigt. Aber auch Wohnungen und ein Restaurant mit Gartenterasse sind darin zu finden. Mit vielen Figuren, Autos und einer reichhaltigen Begrünung versuche ich, das Modul lebendig zu gestalten. Einige interessante Details sind darauf untergebracht. Deshalb lohnt es sich, etwas genauer hinzuschauen.
Für grössere Bilder bitte auf die 3-stellige Nummer klicken / For bigger size photos please click on the 3-digit number.
all photos copyright by Urs Jäggi

untenstehend sind die Links von den American Railroadfans / below are the links of the American Railroadfans
untenstehend sind die Links von Trainmaster / below are the links of Trainmaster
Website created by Werner Meer
TRAINMASTER BY WERNER MEER US-RAILROAD-SHOP KILCHBERG
HOCHWEIDSTRASSE 3 CH-8802 KILCHBERG (ZÜRICH) FOUNDED 1977
PHONE *41-44-715-3666, FAX *41-44-715-3660, E-MAIL trainmaster@bluewin.ch