AMERICAN RAILROADFANS IN SWITZERLAND
HEADQUARTERS: WERNER MEER, HOCHWEIDSTRASSE 3, CH-8802 KILCHBERG (ZÜRICH) FOUNDED 1981
PHONE *41-44-715-3666, FAX *41-44-715-3660, E-MAIL trainmaster@bluewin.ch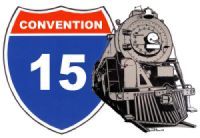 Logo by J. Lütscher
Speed and Power

Direktlink zur 15th Convention - hier klicken / English link - click here
Diese Gemälde werden exklusiv an der 15th Convention 2012 präsentiert.
This highly detailed paintings will be presented at the 15th Convention in 2012.
updated: 15. April 2012
Art Corner - Drawings by Martin Stamm, Switzerland
Es ist für mich ein riesiges Vergnügen und eine Ehre, zur allerletzten Convention zum ersten Mal dabei sein zu dürfen!

Zeichnen ist und war schon immer meine grosse Leidenschaft und mein Handwerk zugleich. Seitdem ich meine Finger bewusst bewegen kann, d. h. seit rund 60 Jahren, verbringe ich jede freie Minute damit! Meine Werkzeuge sind ausschliesslich Kugelschreiber, Faber-Castell Stifte und A4/A3 Papiere. Deshalb bezeichne ich das Ganze als "Drawings from the Drawboard".

Mein Beruf als Flugbegleiter, knapp 32 Jahre, eröffnete mir weltweit ungeahnte Perspektiven aus dem Reich der Schiene. Die dankbarsten Motive fand ich meistens in Nordamerika. Meine Sammlung aus diesem Kontinent umfasst inzwischen ca. 350 Bilder, und jährlich kommen mindestens 20 neue dazu. Sämtliche Bilder sind verkäuflich. Auf Wunsch sind ausserdem A3 Scan Copies zu sFr. 30.-- /Bild problemlos lieferbar. Wir werden an der CV ein paar dieser Kopien (im Bookstore) für Sie bereit halten.
Selbstverständlich zeichne ich auch auf Auftrag, einzige Voraussetzung sind qualitativ einwandfreie Fotovorlagen.
Und nun wünsche ich Ihnen viel Spass beim Betrachten! Martin Stamm
Für grössere Bilder bitte auf die 4-stellige Nummer klicken / For bigger size photos please click on the 4-digit number.
all photos copyright by Martin Stamm

untenstehend sind die Links von den American Railroadfans / below are the links of the American Railroadfans
untenstehend sind die Links von Trainmaster / below are the links of Trainmaster
Website created by Werner Meer
TRAINMASTER BY WERNER MEER US-RAILROAD-SHOP KILCHBERG
HOCHWEIDSTRASSE 3 CH-8802 KILCHBERG (ZÜRICH) FOUNDED 1977
PHONE *41-44-715-3666, FAX *41-44-715-3660, E-MAIL trainmaster@bluewin.ch