AMERICAN RAILROADFANS IN SWITZERLAND
HEADQUARTERS: WERNER MEER, HOCHWEIDSTRASSE 3, CH-8802 KILCHBERG (ZÜRICH) FOUNDED 1981
PHONE *41-44-715-3666, FAX *41-44-715-3660, E-MAIL trainmaster@bluewin.ch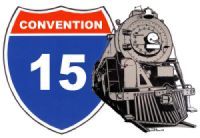 Logo by J. Lütscher
Speed and Power

Direktlink zur 15th Convention - hier klicken / English link - click here
Diese Modelle werden exklusiv an der 15th Convention 2012 präsentiert.
These highly detailed models will be presented at the 15th Convention in 2012.
updated: 21. März / March 2012
Canadian Locomotives in O Scale by Stefan Bürki, Switzerland
Schon fast eine Ausnahmerscheinung ist Stefan Bürki mit erst 28 Jahren, der sich hauptsächlich dem Modellbau von Canadian National (inkl. VIA, ONR, CP) widmet. Er zeigt Messingloks, die teilweise custom built und custom painted sind.
We may call it an exception that a 28 year old gentleman is devoted to modelling Canadian National (incl. VIA, ONR, CP).
He will present brass models and some are custom built and custom painted.
Für grössere Bilder bitte auf die 4-stellige Nummer klicken / For bigger size photos please click on the 4-digit number.
all photos copyright by Stefan Bürki

ALCO = American Locomotive Company / MLW = Montreal Locomotive Works / EMD = Electro Motive Division / GE = General Electric

untenstehend sind die Links von den American Railroadfans / below are the links of the American Railroadfans
untenstehend sind die Links von Trainmaster / below are the links of Trainmaster
Website created by Werner Meer
TRAINMASTER BY WERNER MEER US-RAILROAD-SHOP KILCHBERG
HOCHWEIDSTRASSE 3 CH-8802 KILCHBERG (ZÜRICH) FOUNDED 1977
PHONE *41-44-715-3666, FAX *41-44-715-3660, E-MAIL trainmaster@bluewin.ch