AMERICAN RAILROADFANS IN SWITZERLAND
HEADQUARTERS: WERNER MEER, HOCHWEIDSTRASSE 3, CH-8802 KILCHBERG (ZÜRICH) FOUNDED 1981
PHONE *41-44-715-3666, FAX *41-44-715-3660, E-MAIL trainmaster@bluewin.ch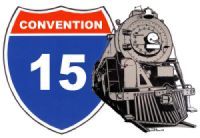 Logo by J. Lütscher
Speed and Power

Direktlink zur 15th Convention - hier klicken / English link - click here
Diese Anlage wird exklusiv an der 15th Convention 2012 präsentiert.
This highly detailed layout will be presented at the 15th Convention in 2012.
updated: 12. März / March 2012
Moose River & Western in On30 Scale by Michel Ledermann, Switzerland
Irgendwo in Amerika im letzten Jahrhundert, westlich des Moose Rivers entstand aus dem ehemaligen Logging Camp die Kleinstadt Alexia, in der sich diverse Geschäfte niederliessen.
Sogar die Moose River & Western erbaute ein Enginehouse mit Drehscheibe um kleinere Reparaturen ausführen zu können. Hauptarbeitgeber im Ort sind aber die Roger's Mining Supply und die Werkzeugmacher Longstreet + Jackson, welche über eigene Anschlussgleise verfügen. Ab und zu legt sogar noch ein Flussfrachter am Ufer von Alexia an, um Ware zu transportieren....
So, oder so ähnlich könnte sich die Geschichte abgespielt haben, welche auf meiner Eckanlage im Freelancestyle entstand. Die Anlage besteht aus zwei Modulen mit den Massen 180 x 110 cm und 180 x100 cm (total 280 x 180 cm).
Verlegt wurden Peco-Gleise und –Weichen, die mit einer Ecos-Zentrale und Servos gesteuert werden. Ein Teil der Gebäude entstand im Eigenbau und ein Teil aus Bausätzen. Etwa die Hälfte davon mit Inneneinrichtung und Beleuchtung.
Das meiste Rollmaterial ist gealtert und die Loks sind mit Sound ausgestattet.
Die Fotos sind aus der Entstehungsphase "Februar 2012". Also kann ich bis zur Convention noch weiter an der Landschaft und Detaillierung bauen, welches mir sehr viel Spass bereitet.
Für grössere Bilder bitte auf die 3-stellige Nummer klicken / For bigger size photos please click on the 3-digit number.
all photos copyright by Michel Ledermann

untenstehend sind die Links von den American Railroadfans / below are the links of the American Railroadfans
untenstehend sind die Links von Trainmaster / below are the links of Trainmaster
Website created by Werner Meer
TRAINMASTER BY WERNER MEER US-RAILROAD-SHOP KILCHBERG
HOCHWEIDSTRASSE 3 CH-8802 KILCHBERG (ZÜRICH) FOUNDED 1977
PHONE *41-44-715-3666, FAX *41-44-715-3660, E-MAIL trainmaster@bluewin.ch