AMERICAN RAILROADFANS IN SWITZERLAND
HEADQUARTERS: WERNER MEER, HOCHWEIDSTRASSE 3, CH-8802 KILCHBERG (ZÜRICH) FOUNDED 1981
PHONE *41-44-715-3666, FAX *41-44-715-3660, E-MAIL trainmaster@bluewin.ch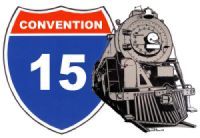 Logo by J. Lütscher
Speed and Power

Direktlink zur 15th Convention - hier klicken / English link - click here
Dieses Modell wird exklusiv an der 15th Convention 2012 präsentiert.
This highly detailed model will be presented at the 15th Convention in 2012.
updated: 9. Juni / June 2012
Galloping Goose No. 7 in 1:8 Scale by Walter Bernet, Switzerland
Eine Premiere der besonderen Art wird die im Eigenbau erstellte Golloping Goose No. 7 der Rio Grande Southern sein. Der Bau begann 2011 und sollte bis im Sommer 2012 fertiggestellt sein. Gerade rechtzeitig zur Präsentation an der 15th Convention.

A special premiere will be the completely scratchbuilt Golloping Goose No. 7 of the Rio Grande Southern. Construction started 2011 and it should be finished in
Summer 2012, just in time for the 15th Convention.

Diese Goose wird einmal auf 5 Zoll Gleisen fahren.
This Goose will be running on 5 inch tracks.

Technische Daten / Technical Data:

Massstab / Scale = 1:8
Länge / Length = 1885 mm
Breite / Width = 355 mm
Höhe / Height = 430 mm
Antrieb E-Motor 12V/500 Watt
Gewicht / Weight = ca. 150 kg

Erbauer / Builder: Walter Bernet, Au-Wädenswil, CH
Elektrik / Electrical: Hans Isler, Au-Wädenswil, CH
Grafik & PR: Roland Bachofen, Wädenswil, CH

Unten sehen wir Fotos vom Bau
below are photos of the construction
Für grössere Bilder bitte auf die 2-stellige Nummer klicken / For bigger size photos please click on the 2-digit number.
all photos copyright by Roland Bachofen

untenstehend sind die Links von den American Railroadfans / below are the links of the American Railroadfans
untenstehend sind die Links von Trainmaster / below are the links of Trainmaster
Website created by Werner Meer
TRAINMASTER BY WERNER MEER US-RAILROAD-SHOP KILCHBERG
HOCHWEIDSTRASSE 3 CH-8802 KILCHBERG (ZÜRICH) FOUNDED 1977
PHONE *41-44-715-3666, FAX *41-44-715-3660, E-MAIL trainmaster@bluewin.ch