AMERICAN RAILROADFANS IN SWITZERLAND
HEADQUARTERS: WERNER MEER, HOCHWEIDSTRASSE 3, CH-8802 KILCHBERG (ZÜRICH) FOUNDED 1981
PHONE *41-44-715-3666, FAX *41-44-715-3660, E-MAIL trainmaster@bluewin.ch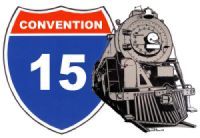 Logo by J. Lütscher
Speed and Power

Direktlink zur 15th Convention - hier klicken / English link - click here
Diese Modelle wird exklusiv an der 15th Convention 2012 präsentiert.
These highly detailed models will be presented at the 15th Convention in 2012.
updated: 13. August 2012
Locos in 1:29 / 1:11,3 / 1:8 Scale by Norman Schaake, Germany
Alle Modelle sind im Eigenbau entstanden. Als Basis für die UP Standard Gas Turbine diente ein Aristo Craft FA/FB Set. Für die U50 dienten 2 Stk. Aristo Craft U25B. Auch für die BLW Lok diente ein Aristo Craft FA/FB Set. Die BLW und die KM 4000 werden bis zur CV fertig sein. Vom Aero Train wird nur die Lok und der Schlusswagen ausgestellt.
Weitere Infos finden Sie auf dieser Homepage - hier klicken
All models are scrachtbuilt. For the Gas Turbine, a Aristo Craft FA/FB Set was used. For the U50, 2 Aristio Craft U25 B were used. Also for the BLW Loco, a Aristo Craft FA/FB Setw as used. The BLW and KM 4000 will be finished for the CV. From the Aero Train, the Loco and the Observation Car will be on display. More infos can be found on this website - click here
Für grössere Bilder bitte auf die 2-stellige Nummer klicken / For bigger size photos please click on the 2-digit number.
1:29 - UP GTEL & SP U50 - 04
1:29 - BLW Gas Turbine "Blue Goose" (81 cm) - 07
1:11,3 - Krauss-Maffei 4000 im Rohbau - 06
1:8 Aero Train - 01
1:8 Aero Train - 02
1:8 Aero Train - 03


Stand per August 2012. Die Lok ist bereits fertig lackiert. Nun kommt noch die Beschriftung und wir werden an der CV ein Unikat ist dieser Spurgrösse sehen.
Alle Modelle stehen im Haus A-EG unweit der Information.
1:11,3 - Krauss-Maffei 4000 - 08
1:11,3 - Krauss-Maffei 4000 - 09
all photos copyright by Norman Schaake

untenstehend sind die Links von den American Railroadfans / below are the links of the American Railroadfans
untenstehend sind die Links von Trainmaster / below are the links of Trainmaster
Website created by Werner Meer
TRAINMASTER BY WERNER MEER US-RAILROAD-SHOP KILCHBERG
HOCHWEIDSTRASSE 3 CH-8802 KILCHBERG (ZÜRICH) FOUNDED 1977
PHONE *41-44-715-3666, FAX *41-44-715-3660, E-MAIL trainmaster@bluewin.ch