AMERICAN RAILROADFANS IN SWITZERLAND
HEADQUARTERS: WERNER MEER, HOCHWEIDSTRASSE 3, CH-8802 KILCHBERG (ZÜRICH) FOUNDED 1981
PHONE *41-44-715-3666, FAX *41-44-715-3660, E-MAIL trainmaster@bluewin.ch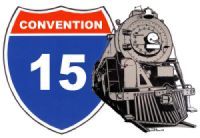 Logo by J. Lütscher
Speed and Power

Direktlink zur 15th Convention - hier klicken / English link - click here
Diese Modulanlage wird exklusiv an der 15th Convention 2012 präsentiert.
This highly detailed modular layout will be presented at the 15th Convention in 2012.
updated: 15. Februar 2012 / new update: 20. June / Juni 2012

sorry - cancelled / leider musste die Teilnahme zurückgestellt werden
Dease Lake & Northern in N Scale, Germany
Diese Spur N Anlage war bereits in der Vergangenheit an unseren Conventions ausgestellt. Wenn es die Platz-verhältnisse zulassen, kommen wir nochmals in den Genuss eines Fährbetriebes mit richtigem Wasser und zwar unter dem Motto: Die besten Anlagen von vergangenen Conventions.
This N scale Layout was already on display in the past at our Conventions. If there will be enough space, we will once again enjoy ferry boat activities on real water under the motto: The Best Layouts from past Conventions.
Für grössere Bilder bitte auf die 4-stellige Nummer klicken / For bigger size photos please click on the 4-digit number.
all photos copyright by Alexander Rudin

untenstehend sind die Links von den American Railroadfans / below are the links of the American Railroadfans
untenstehend sind die Links von Trainmaster / below are the links of Trainmaster
Website created by Werner Meer
TRAINMASTER BY WERNER MEER US-RAILROAD-SHOP KILCHBERG
HOCHWEIDSTRASSE 3 CH-8802 KILCHBERG (ZÜRICH) FOUNDED 1977
PHONE *41-44-715-3666, FAX *41-44-715-3660, E-MAIL trainmaster@bluewin.ch