AMERICAN RAILROADFANS IN SWITZERLAND
HEADQUARTERS: WERNER MEER, HOCHWEIDSTRASSE 3, CH-8802 KILCHBERG (ZÜRICH) FOUNDED 1981
PHONE *41-44-715-3666, FAX *41-44-715-3660, E-MAIL trainmaster@bluewin.ch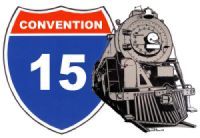 Logo by J. Lütscher
Speed and Power

Direktlink zur 15th Convention - hier klicken / English link - click here
Diese Modulanlagen werden exklusiv an der 15th Convention 2012 präsentiert.
These highly detailed modular layouts will be presented at the 15th Convention in 2012.
added: 14. Mai 2012 / updated: 17. September 2012
Chicago, New York, New England in HO Scale by Rolf Müller, Germany
Rolf Müller hat schon an vergangenen Conventions mit der speziellen Hintergrundtechnik in 3D und mit bis zu 1 m hohen Gebäudekulissen für grosse Beachtung gesorgt. Nun hat er 3 versch. Dioramen zu 4,7 m Länge und 0,4 bis 0,5 m Breite vorbereitet. Wir konnten Teile davon bereits bewundern, aber Rolf Müller hat diese abgeändert und ergänzt.
Chicago - Neu: Hochhaus mit Supermarkt, Strassenzug mit neuen Fassaden aus Bausätzen (Schmidtstrasse von der Firma Auhagen). New York - Neu: Containerabstellplatz und Hochhaus, neue Kulissen. New England - Neu: Erweiterung mit der Erzverladeinrichtung. Diese 3 Dioramen sind nicht miteinander verbunden.
Für grössere Bilder bitte auf die 4-stellige Nummer klicken / For bigger size photos please click on the 4-digit number.
New York - Cross Harbor - Container Terminal
2316
2317
2318
2314
2315
2323
Diese aus 4 Elementen bestehende Anlage ist zum Materialpreis zu verkaufen für sFr. 1100.- (ohne Fahrzeuge).
Länge 4,7 m x Breite 0,4 m. Standort Haus A-EG im Gang.
all photos copyright by Rolf Müller

untenstehend sind die Links von den American Railroadfans / below are the links of the American Railroadfans
untenstehend sind die Links von Trainmaster / below are the links of Trainmaster
Website created by Werner Meer
TRAINMASTER BY WERNER MEER US-RAILROAD-SHOP KILCHBERG
HOCHWEIDSTRASSE 3 CH-8802 KILCHBERG (ZÜRICH) FOUNDED 1977
PHONE *41-44-715-3666, FAX *41-44-715-3660, E-MAIL trainmaster@bluewin.ch