AMERICAN RAILROADFANS IN SWITZERLAND
HEADQUARTERS: WERNER MEER, HOCHWEIDSTRASSE 3, CH-8802 KILCHBERG (ZÜRICH) FOUNDED 1981
PHONE *41-44-715-3666, FAX *41-44-715-3660, E-MAIL trainmaster@bluewin.ch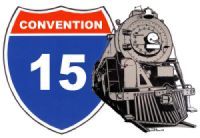 Logo by J. Lütscher
Speed and Power

Direktlink zur 15th Convention - hier klicken / English link - click here
Diese Modulanlage wird exklusiv an der 15th Convention 2012 präsentiert.
This highly detailed modular layout will be presented at the 15th Convention in 2012.
updated: 10. Februar 2012
Grain & Beer in HO Scale by AMRL, Luxembourg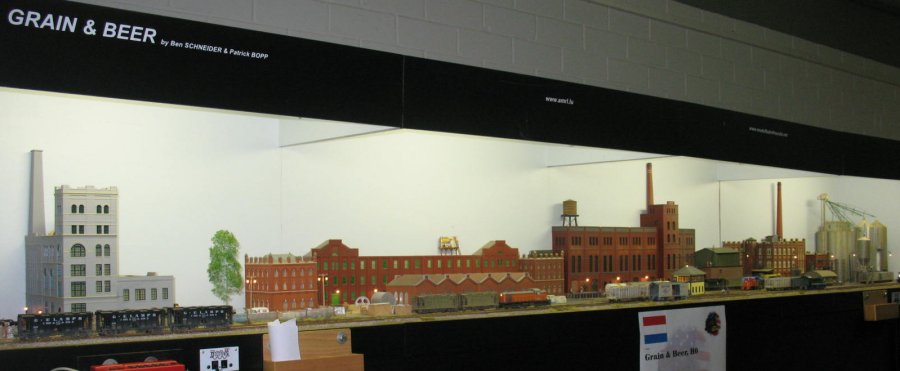 Brauerei-Betrieb aus der Gegend um Milwaukee, WI, wie er in den 50-er Jahren hätte sein können. Auf dieser Anlage wird alles, was zum Brauen des "goldenen Wassers" gebraucht wird, angeliefert. Der Prozess verläuft von rechts nach links. Hier werden alle primären Materialen (Hopfen, Malz usw.) angeliefert. In der Mitte der Anlage befindet sich dann das Brauhaus und auf der linken Seite steht das Abfüllhaus und das Direktions-Gebäude und der Abschluss wird mit einem kleinen angrenzenden Stadtteil gemacht. In der Strasse findet eine kleine "Gängster" Verfolgungsjagd statt, passend zu den 50-er Jahren. Mitten in der Anlage befindet sich noch dei hauseigene Eisenbahn-Reparaturwerkstatt und das Stellwerk. Der Gleisplan ist frei erfunden und für den Spielspass (rangieren) aufgebaut. Die Anlage wird digital betrieben und besitzt einen Computer um die Weichenstrassen über einen Touchscreen zu betätigen. Grösse: 4,50 x 0,55 m.
Weitere Infos finden Sie auf der Homepage von den AMRL (American Model Railroaders Luxembourg) - hier klicken
Für grössere Bilder bitte auf die 4-stellige Nummer klicken / For bigger size photos please click on the 4-digit number.
all photos copyright by AMRL (Patrick Bopp)

untenstehend sind die Links von den American Railroadfans / below are the links of the American Railroadfans
untenstehend sind die Links von Trainmaster / below are the links of Trainmaster
Website created by Werner Meer
TRAINMASTER BY WERNER MEER US-RAILROAD-SHOP KILCHBERG
HOCHWEIDSTRASSE 3 CH-8802 KILCHBERG (ZÜRICH) FOUNDED 1977
PHONE *41-44-715-3666, FAX *41-44-715-3660, E-MAIL trainmaster@bluewin.ch