AMERICAN RAILROADFANS IN SWITZERLAND
HEADQUARTERS: WERNER MEER, HOCHWEIDSTRASSE 3, CH-8802 KILCHBERG (ZÜRICH) FOUNDED 1981
PHONE *41-44-715-3666, FAX *41-44-715-3660, E-MAIL trainmaster@bluewin.ch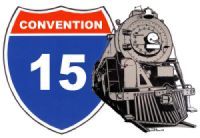 Logo by J. Lütscher
Speed and Power

Direktlink zur 15th Convention - hier klicken / English link - click here
Dieses Diorama wird exklusiv an der 15th Convention 2012 präsentiert.
This highly detailed diorama will be presented at the 15th Convention in 2012.
updated: 6. Februar 2012
Sierra RR: Angels Camp Endstation in HO Scale by Felix Reichlin, Switzerland
Die 15th Convention findet in Adliswil statt und der Erbauer dieses Dioramas wohnt in Adliswil. Wir haben dieses sehr schön detaillierte Diorama an vergangenen Conventions in verschiedenen Baustadien gesehen. Nun ist das Werk vollendet, gerade rechtzeitig zur letzten Convention.
The 15th Convention will take place in Adliswil and the builder of this diorama is living in Adliswil. We have seen this very nice detailed diorama in different building stages during past Conventions. Now, it is completely finished and just ready for the final Convention.
Für grössere Bilder bitte auf die 4-stellige Nummer klicken / For bigger size photos please click on the 4-digit number.
Gegründet 1897 in Kalifornien, verband die Sierra Railway die Minen und Sägewerke des Tuolumne County mit dem Rest der Welt. Von Oakdale, wo Anschlüsse zur Southern Pacific und zur Santa Fe bestanden, führte die 41 Meilen lange Strecke nach Jamestown. 1902 wurde noch die Zweiglinie von Jamestown nach Angels Camp mit seinen Goldminen gebaut, 1935 jedoch bereits wieder abgebrochen.

Bild 7122: Bei der (fiktiven) Endstation Angels Camp wird der Zug erwartet. Bild 7107: Der Zug nach Jamestown verlässt Angels Camp. Speziell für diese Strecke mit ihren engen Kurven, Steigungen und Spitzkehren durch den Stanislaus River Canyon beschaffte die Sierra Railway sehr kurze Personenwagen – auf diesem Diorama natürlich ein absolutes Muss. Anhand alter Fotos baute ich drei solcher Wagen aus Northeastern-Holzprofilen nach. Meine Meisterstücke! Bild 7132: Eine Goldmine der Utica Mining Company mit Gleisanschluss. Minen dieser Company blieben bis Anfang der 1940er-Jahre in Betrieb. Bild 7147: Die Lokomotiven der Sierra Railroad: 2-6-6-2 Nr. 38 / 2-8-0 Nr. 28 / 2-6-0 Nr. 9 sowie ein Rail Truck.




Dioramagrösse: 270 x 70 cm, Landschaft: Woodland Scenics, Gebäude: Durango Press, Campbell, Gleise: Selbstbaugleis Old Pullman, Lokomotiven: Messingmodelle, Wagenbausätze: La Belle, Northeastern, Tichy Train, Eigenbauten, Autobausätze: Jordan, Wheel Works, Scale Structures
all photos copyright by Felix Reichlin

untenstehend sind die Links von den American Railroadfans / below are the links of the American Railroadfans
untenstehend sind die Links von Trainmaster / below are the links of Trainmaster
Website created by Werner Meer
TRAINMASTER BY WERNER MEER US-RAILROAD-SHOP KILCHBERG
HOCHWEIDSTRASSE 3 CH-8802 KILCHBERG (ZÜRICH) FOUNDED 1977
PHONE *41-44-715-3666, FAX *41-44-715-3660, E-MAIL trainmaster@bluewin.ch