AMERICAN RAILROADFANS IN SWITZERLAND
HEADQUARTERS: WERNER MEER, HOCHWEIDSTRASSE 3, CH-8802 KILCHBERG (ZÜRICH) FOUNDED 1981
PHONE *41-44-715-3666, FAX *41-44-715-3660, E-MAIL trainmaster@bluewin.ch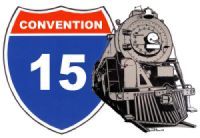 Logo by J. Lütscher
Speed and Power

Direktlink zur 15th Convention - hier klicken / English link - click here
Diese mini Dioramen werden exklusiv an der 15th Convention 2012 präsentiert.
This highly detailed mini dioramas will be presented at the 15th Convention in 2012.
updated: 17. Januar 2012



Dioramas in Z & HO Scale by Jürg Rüedi, Switzerland
Alle Dioramen in beiden Spurweiten sind sehr schön detalliert. Wagen und Loks sind realistisch veraltert. Es werden auch Fotos von den echten Wagen gezeigt, sodass der Vergleich vom Original zum Modell gemacht werden kann.
All dioramas in both scales are beautifully detailed. Rolling stock and locos are having realistic weathering. There will be even photos of the real cars to see how it looks (real thing and model).
Weitere Infos und Fotos finden Sie auf diesen 3 Links / More infos and photos can be found on these 3 links:
www.zscalegallery.com - www.rosetown.ch - http://s987.photobucket.com/profile/nwtraders59
Für grössere Bilder bitte auf die 4-stellige Nummer klicken / For bigger size photos please click on the 4-digit number.
all photos copyright by Jürg Rüedi

untenstehend sind die Links von den American Railroadfans / below are the links of the American Railroadfans
untenstehend sind die Links von Trainmaster / below are the links of Trainmaster
Website xcreated by Werner Meer
TRAINMASTER BY WERNER MEER US-RAILROAD-SHOP KILCHBERG
HOCHWEIDSTRASSE 3 CH-8802 KILCHBERG (ZÜRICH) FOUNDED 1977
PHONE *41-44-715-3666, FAX *41-44-715-3660, E-MAIL trainmaster@bluewin.ch