AMERICAN RAILROADFANS IN SWITZERLAND
HEADQUARTERS: WERNER MEER, HOCHWEIDSTRASSE 3, CH-8802 KILCHBERG (ZÜRICH) FOUNDED 1981
PHONE *41-44-715-3666, FAX *41-44-715-3660, E-MAIL trainmaster@bluewin.ch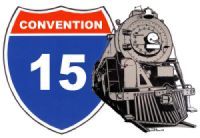 Logo by J. Lütscher
Speed and Power

Direktlink zur 15th Convention - hier klicken / English link - click here
Diese Microanlage wird exklusiv an der 15th Convention 2012 präsentiert.
This highly detailed micro layout will be presented at the 15th Convention in 2012.
updated: 25. Dezember 2011
Bear Creek in Fn3 (1:20,3) Scale by Michelle Schlechter, Luxembourg
Diorama in einer Box, Grösse / size: 160 x 75 x 80 cm - Diorama in a box
Für grössere Bilder bitte auf die 4-stellige Nummer klicken / For bigger size photos please click on the 4-digit number.
Bear Creek - Kurze Beschreibung des Dioramas - Short description of this diorama - Text by Michelle Schlechter
Das Management und die Arbeiter haben sich bei der neuen Lok eingefunden um diese feierlich in Empfang zu nehmen. Die Damen lassen es sich auch nicht nehmen um dem Ereignis beizuwohnen. Dabei darf der Fotograf nicht fehlen der diesen besonderen Moment festhält.
Wie man sehen kann, waren die Holzfäller schon am Werke und haben, dank der Hilfe der Steam Donkeys, schon ein paar Bäume waldaufwärts gefällt.
So oder so ähnlich mag das Resumee für mein Diorama klingen.
Ich bin vor etlichen Jahren durch Zufall über einen Bildband mit Fotos von Darius Kinsey gestolpert. Diese Fotos, die alle um die vorherige Jahrhundertwende mit Hilfe der damals üblichen Plattenkameras entstanden, haben mich seither nicht mehr losgelassen. Nachdem ich alle erhältlichen Bildbände gekauft hatte und die Bücher unzählige Male durchgeblättert hatte, kam mir eine Idee: Ich wollte versuchen, eine dieser Fotos dreidimensional in Form eines Dioramas darzustellen.
Meine Wahl fiel sofort auf den Massstab Fn3 (1:20.3). Erstens weil ich schon reichlich Material besass und zweitens die erhältlichen und für dieses Projekt benötigten Figuren in diesem Massstab sehr detailreich sind und interessante Mimiken bieten.
Da grosse Bäume eine Selbstverständlichkeit waren, bestellte ich diese auf mein Wunschmass bei Eddy (Anita Decor). Da ich mich seit etlichen Jahren schwer tat, selbst schöne realistische Bäume herzustellen, war dies ein notwendiges Übel.
Um das Diorama vor Staub zu schützen (Ausstellung, Transport, Lagerung), fiel die Wahl auf eine komplett geschlossene Konstruktion. Dies unterbindet eine regelmässige lästige und schwierige Entstaubung der Bäume die sonst immer wieder gerne grau werden. Die Kiste mit den Massen 160 x 75 x 80 cm besteht aus 10 mm (mit natürlichen Öl behandelten) Sperrholz. Die Zuschauerseite ist mit einer Glasplatte hermetisch geschlossen. Da dieses Diorama auch oben zu ist, fiel die Wahl auf eine nicht wärmende Neonbelichtung, die fest eingebaut ist. Einziger Nachteil dieses geschlossenen Dioramas ist das Gewicht.

Auf diesem Link finden Sie mehr Fotos zum Bear Creek Diorama - hier klicken
The Management and the workers have just received the new freshly built steam engine. This happening has to be put on film. Even the ladies with their nice gowns like to share this special moment. The woodworkers have now a new engine which will help 'em to bring the logs even faster out of the woods. The two steam donkeys are also a nice addition to the roster to help cutting the resting logs of the claim.
I was impressed from the very first time I saw the photographs by Darius Kinsey that he took around the turn of the 19th century. It just took a few moments before I had the idea to reproduce one of these photographs in three dimensions. It was naturally for me to choose to model a diorama in Fn3 (1:20.3) scale. First because I already had a lot of equipment in that scale. And secondly because there are a few very detailed scale people available which suited exactly what I was looking for.
Since big realistic trees have been a must for this project, I ordered a few from Eddy of Anita Decor. I have to admit that the trees I tried to do myself in the past were everything but good. To avoid problems with dust (during shows, transport, storage) I choose to build a completely closed box. The showcase is made of 10 mm plywood which has been finished with natural oil. It measures 160 x 75 x 80 cm. The visitor side is closed with a glass window. The diorama has enclosed lighting.
On this link you can find more photos of the Bear Creek diorama - click here
all photos copyright by Michelle Schlechter

untenstehend sind die Links von den American Railroadfans / below are the links of the American Railroadfans
untenstehend sind die Links von Trainmaster / below are the links of Trainmaster
Website created by Werner Meer
TRAINMASTER BY WERNER MEER US-RAILROAD-SHOP KILCHBERG
HOCHWEIDSTRASSE 3 CH-8802 KILCHBERG (ZÜRICH) FOUNDED 1977
PHONE *41-44-715-3666, FAX *41-44-715-3660, E-MAIL trainmaster@bluewin.ch