AMERICAN RAILROADFANS IN SWITZERLAND
HEADQUARTERS: WERNER MEER, HOCHWEIDSTRASSE 3, CH-8802 KILCHBERG (ZÜRICH) FOUNDED 1981
PHONE *41-44-715-3666, FAX *41-44-715-3660, E-MAIL trainmaster@bluewin.ch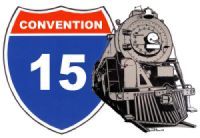 Logo by Jürg Lütscher
Speed and Power

Direktlink zur 15th Convention - hier klicken / English link - click here
Dieser On30 Layout wird exklusiv an der 15th Convention 2012 präsentiert.
This highly detailed On30 layout will be presented at the 15th Convention in 2012.
updated: 21. November 2011
Habana Northern in On30 Scale by Jack Treves, France
Name: Habana Northern - Scale: On30 (1:48) - Locale: Florida (USA) - Period: 1935 - Dimension: 4.15 x 0.85m
Track and turnouts: Micro Engineering code 83 and 70, Minimum radius: 14"
Control: all digital with a DCC Digitrax system and Soundtraxx sound decoder
Habana Northern Railroad & Navigation Company
is a small company that operated a ferry line connecting Florida to Cuba in the year 1935.
The ferry Habana Northern II was built in plasticard from original plans for a ferry crossing the Great Lakes. The apron which allows the loading of wagons is also scratch built from a model which equipped the Lake Michigan. Northern Habana II is fitted with an electronic reproduction of a steam horn. The original sound was recorded on the last steam ferry still in use today (the BADGER that ensures the crossing Manitowoc-Ludington on Lake Michigan).
Take a look at this video of the Habana Northern: http://www.railtv.fr/players/runvideo.aspx?Id=4130
Für grössere Bilder bitte auf die 3-stellige Nummer klicken / For bigger size photos please click on the 3-digit number.
| | | |
| --- | --- | --- |
| | | |
| 001 | 011 | cars are entering the ferry boat 014 |
| | | |
| 015 | Southside Diner 306 | Ferry Boat 017 |
| | | |
| 308 | 593 | falling from the ladder ? 594 |
| | | |
| Turntable 595 | R and B Customs Shop 596 | ferry boat loading dock 597 |
all photos copyright by Jack Treves

untenstehend sind die Links von den American Railroadfans / below are the links of the American Railroadfans
untenstehend sind die Links von Trainmaster / below are the links of Trainmaster
Website created by Werner Meer
TRAINMASTER BY WERNER MEER US-RAILROAD-SHOP KILCHBERG
HOCHWEIDSTRASSE 3 CH-8802 KILCHBERG (ZÜRICH) FOUNDED 1977
PHONE *41-44-715-3666, FAX *41-44-715-3660, E-MAIL trainmaster@bluewin.ch