AMERICAN RAILROADFANS IN SWITZERLAND
HEADQUARTERS: WERNER MEER, HOCHWEIDSTRASSE 3, CH-8802 KILCHBERG (ZÜRICH) FOUNDED 1981
PHONE *41-44-715-3666, FAX *41-44-715-3660, E-MAIL trainmaster@bluewin.ch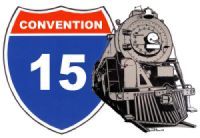 Logo by Jürg Lütscher
Speed and Power

Direktlink zur 15th Convention - hier klicken / English link - click here
Diese Mini Dioramen werden exklusiv an der 15th Convention 2012 präsentiert.
These highly detailed & lighted mini dioramas will be presented at the 15th Convention in 2012.
updated: 27. Oktober 2011 / 9. Mai 2012

sorry cancelled / leider wurde die Teilnahme zurückgezogen
Mini Dioramas "Roadside America" in HO Scale by Uwe Brilmayer, Germany
All photos taken during the 3rd German US-Convention in Rodgau (Frankfurt) on October 16, 2011.
Für grössere Bilder bitte auf die 4-stellige Nummer klicken / For bigger size photos please click on the 4-digit number.
3-231
3-244
3-226
3-228
3-225
3-230
3-240
3-232
3-229
3-235
3-237
3-239
3-236
3-241
3-233
3-227
3-242
3-243
Uwe Brilmayer ist der Inhaber der Firma Brima Modellanlagenbau und hat seinerzeit unseren Convention Cabosse übernommen
(steht neben seiner Firma).
Mit "Roadside America" präsentiert er uns Mini Dioramen, eingebaut in Stellwände, detailliert und mit Beleuchtung.
sorry - cancelled
Uwe Brilmayer is the owner of Brima and he once took over our Convention Caboose.
With "Raodside America" he is presenting detailed and lighted Mini Dioramas, built in dividing walls.
3-234
Direct Link Brima - click here
3-238
all photos copyright by Werner Meer

untenstehend sind die Links von den American Railroadfans / below are the links of the American Railroadfans
untenstehend sind die Links von Trainmaster / below are the links of Trainmaster
Website created by Werner Meer
TRAINMASTER BY WERNER MEER US-RAILROAD-SHOP KILCHBERG
HOCHWEIDSTRASSE 3 CH-8802 KILCHBERG (ZÜRICH) FOUNDED 1977
PHONE *41-44-715-3666, FAX *41-44-715-3660, E-MAIL trainmaster@bluewin.ch