AMERICAN RAILROADFANS IN SWITZERLAND
HEADQUARTERS: WERNER MEER, HOCHWEIDSTRASSE 3, CH-8802 KILCHBERG (ZÜRICH) FOUNDED 1981
PHONE *41-44-715-3666, FAX *41-44-715-3660, E-MAIL trainmaster@bluewin.ch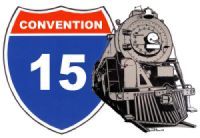 Logo by Jürg Lütscher
Speed and Power

Direktlink zur 15th Convention - hier klicken / English link - click here
Diese Kleinanlage wird exklusiv an der 15th Convention 2012 präsentiert.
This highly detailed micro layout will be presented at the 15th Convention in 2012.
added: 27. Oktober 2011 / updated: 27. Juli 2012
The X-Street Gang in HO Scale by Alexander Lösch, Germany
All photos taken during the 3rd German US-Convention in Rodgau (Frankfurt) on October 16, 2011.
Für grössere Bilder bitte auf die 4-stellige Nummer klicken / For bigger size photos please click on the 4-digit number.
"The X Street Gang" - Westcoast Switching 1:87 - Grösse: 145 x 35 cm
Es ist wieder Zeit für eine neue Rangieranlage, Fat City steht im Keller, die NY Harbor Belt ist verkauft...ich brauche wieder etwas für das Bastelzimmer...
vom Thema ist die Anlage in der Region um San Francisco/Oakland an der Westcoast angesiedelt. Der Zeitraum spielt um 1980 Bahngesellschaft Southern Pacific, zwei SW1500 der CCT liegen bereit für den Zeitraum 2005, diese müssen aber noch digitalisiert werden und entsprechende Wagen fehlen auch noch...
Die Anlage hat eine Grösse von 1,45m x 0,35m, sie wird wieder in bewährter Manier wie meine anderen Anlagen gebaut, mit Hintergung, Sichtblende und Beleuchtung. Für diese Anlage wird kein Fiddleyard benötigt hierfür dient das hintere Gleis das im linken Teil von Gebäuden verdeckt wird. Die Weichen und der grösste Teil der Gleise wird später in der Strasse liegen... Der Gleisplan stammt nicht von mir, sondern von Fabrice Fayolle, er baut mit dem selben Gleisplan nur in der Größe von 2,7 m x 0,6 m im Masstab 0 (1:48) seine Anlage 69th street (Text by Alexander Lösch)
3-293
3-295
3-296
3-294
3-297
3-298
3-300
3-375 Photo by A. Lösch
3-299
"The X Street Gang" - Westcoast Switching 1:87 - Size: 145 x 35 cm
It is time again for a new switching layout...Fat City found its place in my basement, NY Blues has been sold, so I need something new for my working room.
The layout is located in the area of San Francisco and Oakland, CA, on the west coast. The time period is around 1980 and the rairoad is the Southern Pacific. For the time period of 2005, 2 SW1500 for the CCT are already available, but without decoders or matching freight cars.
The size of he layout is 1,45x0,35 m and has again bee built in my proven desihn with background, front top screen an top lighting. The layout does not require a fiddle yard, but uses the track on the left rear of the layout instead. All switches and most of the track are embedded in the roads.
The layout track plan has not been designed by me but by Fabrice Fayolle who is using it for his layout 69th street in scale O (1:48) with a layout size of 2,7 m x 0,6 m (Translation by Alexander Lösch)
Mehr Fotos und auch Bilder vom Bau finden Sie auf der Homepage des Erbauers.
The X-Street Gang Official Web Site - click here
More photos incl. pictures of the construction you can see on the builder's own web site.
all photos copyright by Werner Meer (3-375 by Alexander Lösch)

untenstehend sind die Links von den American Railroadfans / below are the links of the American Railroadfans
untenstehend sind die Links von Trainmaster / below are the links of Trainmaster
Website created by Werner Meer
TRAINMASTER BY WERNER MEER US-RAILROAD-SHOP KILCHBERG
HOCHWEIDSTRASSE 3 CH-8802 KILCHBERG (ZÜRICH) FOUNDED 1977
PHONE *41-44-715-3666, FAX *41-44-715-3660, E-MAIL trainmaster@bluewin.ch