AMERICAN RAILROADFANS IN SWITZERLAND
HEADQUARTERS: WERNER MEER, HOCHWEIDSTRASSE 3, CH-8802 KILCHBERG (ZÜRICH) FOUNDED 1981
PHONE *41-44-715-3666, FAX *41-44-715-3660, E-MAIL trainmaster@bluewin.ch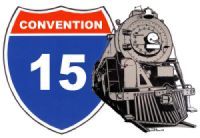 Logo by Jürg Lütscher
Speed and Power

Direktlink zur 15th Convention - hier klicken / English link - click here
Diese Modulanlage wird exklusiv an der 15th Convention 2012 präsentiert.
This highly detailed modular layout will be presented at the 15th Convention in 2012.
updated: 11. Dezember 2011
"The Mill" of the Mumby Lumber Co. in On30 Scale by Jacq Damen, Netherlands
All photos taken during the 3rd German US-Convention in Rodgau (Frankfurt) on October 16, 2011.
Für grössere Bilder bitte auf die 4-stellige Nummer klicken / For bigger size photos please click on the 4-digit number.
all photos copyright by Werner Meer
The Mill der "Mumby Lumber Co."

Nach meiner "Dreimühlentalbahn" hatte ich Lust auf eine neue Herausforderung.

Schon seit längerer Zeit war ich sehr an den kleinen Bahnstrecken der Holzindustrie an der Nordwestküste von Amerika interessiert. Das bedeutete eine Menge Forschung, da ich außer den oberflächlichen Kenntnissen aus den Modellzeitschriften nicht viel von dieser Materie wusste. Weil ich eine möglichst authentische Darstellung einer Holzsägerei der Zeit um 1900 machen wollte, habe ich Originalinformationen gesucht.

Einige Bücher sowie Kontakte in einem US-Forum ergaben eine enorme Menge an Informationen.

Ich habe ein Photo von dem kleinen Ort Mumby aus dem Jahr 1902 gefunden, ein Dörflein, das sich um eine Sägerei entwickelt hat. Das erfüllte meine Anforderungen.

Einer der Forumteilnehmer hat mich auf einige Sägewerke in der High Sierra aufmerksam gemacht, die genau meinen Vorstellungen entsprochen haben.

Ich habe dann Kopien von Bauzeichnungen von einem Sägewerk aus 1905, der Hume Bennet Mill in der High Sierra: das Gebiet wo die Mammutbäume herkommen, bekommen.
Meine Wahl war ab diesem Zeitpunkt auf einmal ganz einfach und ich habe mich entschlossen, eine modifizierte Version von diesem Sägewerk in 1:48 zu bauen.

Die einzige Anpassung ist eigentlich nur, eine Reihe von Mauern weggelassen zu haben, damit der gesamte Innenraum sichtbar ist, sowie die damit verbundene Eisenbahn.

Da es keine Maschinen für Sägewerke in diesem Maßstab zu kaufen gibt, sind diese alle nach ursprünglichen Zeichnungen selbst gebaut.
Nur einige Maschinen in der Werkstatt sind/waren als Bausatz bei zwei Firmen in der USA zu bekommen. Es wurden einige Pläne gezeichnet, um herauszufinden, wie das alles am besten auf 4 Modulen mit Schattenbahnhof präsentiert werden könnte.
Auf Papier sah alles sehr gut aus. In 3D passte irgendetwas nicht. Der geplante Nachbau des Dorfes hat nicht richtig gestimmt.

So habe ich mich entschlossen, das Dörflein wegzulassen.

Mit nur dem Sägewerk, dem Bahngleis und der Werkstatt, kehrte das Gefühl, in einem Wald zu sein, zurück. Das zugehörige Bahngleis geht vom Sägewerk zu den Stellen, wo die Bäume geschlagen werden.
Lokomotiven der Typen "Shay und Climax" sind speziell für diese Anforderungen entworfen worden. Sie fahren nicht schnell, haben jedoch ein sehr hohes Anfahrvermögen. Die Waggons sind speziell entworfen, um die riesigen Baumstämme zu transportieren und in einen "logpond" zu entladen. Das ist ein Teich wo die Bäume für das Sägewerk gelagert werden. Ich versuche mit dieser Bahn ein Gefühl von "dokumentieren" zu vermitteln. Die Fertigkeiten des Modellbaus zu zeigen, sind dabei eher zweitrangig.
Jacq Damen (

ü

bersetzt in gutes Deutsch von Erich Walle)
"THE MILL" of The Mumby Lumber Company

.

After finalising my large H0 layout "Dreimuhlentalbahn" (Warley 2006) I was looking for a new challenge in modelling. Another H0 layout was no option. The idea gave me a deja-vu feeling. I wanted something new, a different concept, different dimensions.
But what . . .?
Over the years I received for my birthday or/and fathers day a lot of American On30 material. On the question if I was going to do anything with this material, I decided to try my luck with an American logging operation, based on the On30 material. I was able to work out a plan based on a 1902 photo of the village of Mumby, hence the name, together with a large sawmill and related logging railway.
This looked promising on paper, a test set up during the construction showed something else. The intended atmosphere of the village could never be achieved. Too many buildings too close together, the sense of a rural setting was lost. Maybe attractive for a On30 model layout but not what I had in mind. I decided to delete the village and create more room for the landscape and sawmill structures. With the final arrangement only showing the sawmill, the logpond, unloading facilities and the repair shop, the feeling of being in the woods returned. This layout is trying to give a sense of documentation, where the scenery, structures and rolling stock form a consistent complementary balance and not only a showcase of building skills. The sawmill is based on the Hume Bennet mill high up in the High Sierra and built according original drawings from 1904. The covered sides have been deleted to enable to see the interior with the sawing process and all the necessary machinery.
Except for the large bandsaw and rolling stock everything is scratch built according to nature, original drawings or related patents from the period 1905 – 1920, the time the sawmill was operating in the High Sierra.
Jacq Damen
untenstehend sind die Links von den American Railroadfans / below are the links of the American Railroadfans
untenstehend sind die Links von Trainmaster / below are the links of Trainmaster
Website created by Werner Meer
TRAINMASTER BY WERNER MEER US-RAILROAD-SHOP KILCHBERG
HOCHWEIDSTRASSE 3 CH-8802 KILCHBERG (ZÜRICH) FOUNDED 1977
PHONE *41-44-715-3666, FAX *41-44-715-3660, E-MAIL trainmaster@bluewin.ch