AMERICAN RAILROADFANS IN SWITZERLAND
HEADQUARTERS: WERNER MEER, HOCHWEIDSTRASSE 3, CH-8802 KILCHBERG (ZÜRICH) FOUNDED 1981
PHONE *41-44-715-3666, FAX *41-44-715-3660, E-MAIL trainmaster@bluewin.ch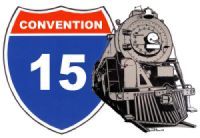 Logo by Jürg Lütscher
Speed and Power

Direktlink zur 15th Convention - hier klicken / English link - click here
Dieser Micro Layout wird exklusiv an der 15th Convention 2012 präsentiert.
This highly detailed micro layout will be presented at the 15th Convention in 2012.
updated: 22. Oktober 2011
Micro Layout - Time Goes By in O Scale by Hellertrain
All photos taken during the train show "Eisenbahn Modellbautage Winterthur" on October 21, 2011.
Diese Rangieranlage habe ich für die 15th Convention gebaut, um das Prinzip einer Kleinstanlage zu zeigen. Durch die kürze des sichtbaren Anlagenteils von 125 cm Länge und 60 cm Tiefe, konnten auch keine Weichen verbaut werden. Der ganze Rangierverkehr wird über drei Segmentbühnen (engl. Sector plate) abgewickelt. Irgendwo in Chicago der 60er Jahre sind die Bahngesellschaften New York Central mit einer RS1 und die Santa Fe mit einem SW9 am Rangieren der Boxcars und Reefers. Wenn man sich noch etwas Wind vorstellt , ist das Chicago feeling komplet. Die Loks werden Digital gesteuert und sind mit Sound Decoder versehen. Die Gebäude sind aus Sperrholz und mit selbstentworfenen Fotoausdrucken beklebt.
Totale Grösse der Kleinstanlage ist 2.0 x 0.6 m.



Für grössere Bilder bitte auf die 4-stellige Nummer klicken / For bigger size photos please click on the 4-digit number.
all photos copyright by Werner Meer

untenstehend sind die Links von den American Railroadfans / below are the links of the American Railroadfans
untenstehend sind die Links von Trainmaster / below are the links of Trainmaster
Website created by Werner Meer
TRAINMASTER BY WERNER MEER US-RAILROAD-SHOP KILCHBERG
HOCHWEIDSTRASSE 3 CH-8802 KILCHBERG (ZÜRICH) FOUNDED 1977
PHONE *41-44-715-3666, FAX *41-44-715-3660, E-MAIL trainmaster@bluewin.ch