TRAINMASTER BY WERNER MEER US-RAILROAD-SHOP KILCHBERG
HOCHWEIDSTRASSE 3 CH-8802 KILCHBERG (ZÜRICH) SWITZERLAND (founded 1977)
PHONE *41-44-715-3666, FAX *41-44-715-3660, E-MAIL trainmaster@bluewin.ch
Go back to our Website - click here
updated: August 2, 2011
Cajon Pass - Map of Hill 582
by Gary G. Gray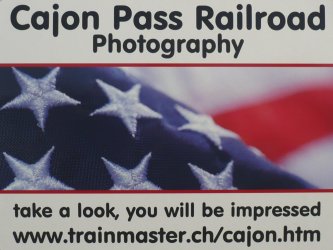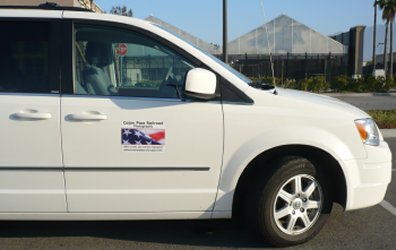 Below is a Google map showing directions to Hill 582.
Here is an edited Google map showing the most common route used to visit Cajon Hill 582. Yearly, hundreds of railfans visit the Hill without incident, however we feel it necessary to enclose several "cautions".
Hwy 138 is a very narrow, winding and high-speed road. The turn onto the Hill 582 road can be dangerous. The turn-off is 1.6 miles from I-15. The road crossing of BNSF MT-3 deserves considerable caution.
The dirt roads leading to Hill 582 (1.3 miles) are NOT maintained and are very rough. We see numerous automobiles on the Hill but a vehicle with some clearance is recommended. On the map, the roads with a large red X should NOT be used.
Snakes and Bee Hives are common throughout Cajon. Rattle Snakes are seen frequently. Children and pets should be closely monitored when visiting all areas of Cajon Pass. Common sense rules of exploring any desert should be adhered to.
So far, the USFS and BNSF have "tolerated" our presence on Hill 582. Please respect the land and stay away from the tracks.
The Hill 582 Bunch (GGG & DET) 7/27/11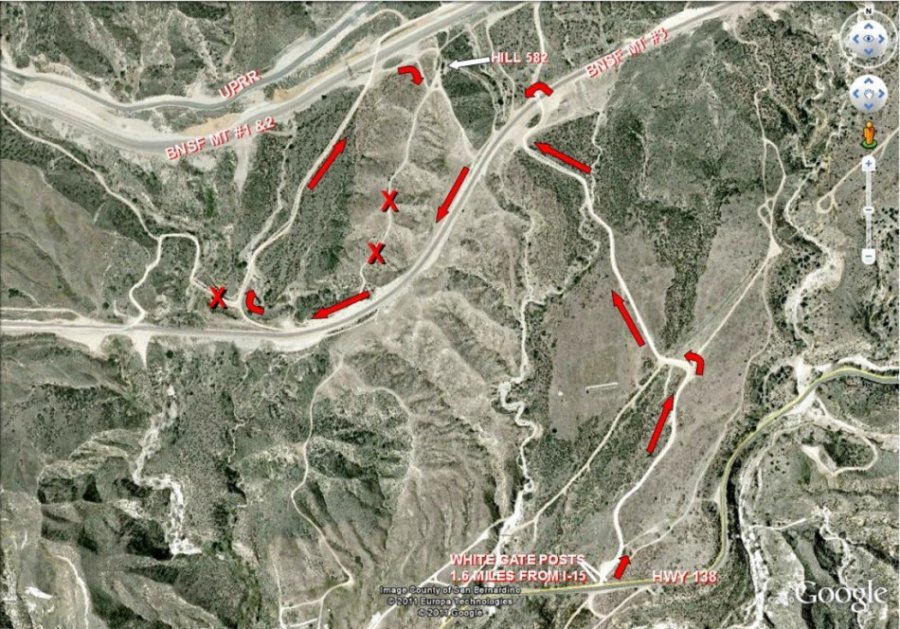 March 5, 2011 - The unpaved road into Hill 582 from State Route 138, designated as 3N48 on some US Forest Service maps, is not regularly maintained by any government agency. Above average rainfall this winter has caused some damage to the road. Currently the road is passable for most vehicles, but drivers of vehicles with limited clearance should be extra-cautious.
Did you see our Hill 582 pages? Lots of infos and photos from this special location - click here
For bigger size photos - please click on the 4-digit number below each photo.
Cajon Pass

The Swiss Flag is waving on Hill 582.

Don Toles is holding the sign:
Hey, are we having fun yet?
No question, yes, we sure do!
say Gary and Werner

List of photographers:
Werner Meer (Switzerland).
Guest photographers:
Gary G. Gray (USA).
A big thank you for sharing these excellent pictures with us.
Note: The copyright belongs to these people. Do not use any photos without written permission.
6/22/11 Hill 582, DET, GGG, WM - 1152
Did you see our Hill 582 pages? click here
GGG 6/22/11 Swiss Flag and Swiss Man - 1153
Below are photos taken from the air on June 2, 2010. Even there was not a single train in the Pass during our flight, it
still gives an idea about the different locations. We also recommend to see our 8 diff. maps by Gary Gray (see below).
Cajon Pass
Aerial Photos

2010

by Werner Meer
June 2, 2010

Updated: 7/08/2010
WM 6/02/10 Hill 582, BNSF MT-2/-1, UPT - 4033
See all 150 photos - click here
WM 6/02/10 Tunnel 1 shotcrete retaining wall - 4082
Here you find some maps and more infos about Cajon Pass and the former Tunnels:
Go pack to our Cajon Pass Maps and "How to find" Page - click here

Go back to Cajon Pass Main Page - click here