TRAINMASTER BY WERNER MEER US-RAILROAD-SHOP KILCHBERG
HOCHWEIDSTRASSE 3 CH-8802 KILCHBERG (ZÜRICH) SWITZERLAND (founded 1977)
PHONE *41-44-715-3666, FAX *41-44-715-3660, E-MAIL trainmaster@bluewin.ch
Go back to our Website - click here
42 Years Trainmaster - the source for American Model Railroading (1977 - 2019)
added / updated: 6/19
Switch Game / Time Saver
Rayantown in O Scale (1:48) 450 x 60 cm - built by Paul Dell Ava

Übersicht der ganzen Anlage (450 cm Länge). Es ist wie ein langes Gestell entlang der Wand, nur 60 cm breit und passt in jede Wohnung.
Overview of whole layout (450 cm lenght). It is like a shelf along the wall and only 60 cm wide, in other words, it fits in any flat.
Ein paar Infos zu dieser Rangieranlage / some background info for this switching layout
Alle Gebäude sind Eigenbauten nach Fotos. Tore, Truck Dumper, Rotary Dumper sind motorisiert (siehe Video).
Auf dem zweiten Video sieht man diverse Aenderungen.
Bitte beachten Sie die sehr gut detaillierten Interieurs.
All structures have been scratchbuilt in using photos.
Roll-up gates, Truck Dumper und Rotary Dumper have been motorized (as you can see on the video).
Check the very well detailed interiors.
Film 1 - Rayantown Nov. 2017 (10'42"): https://youtu.be/3R2eEETuYrQ
Film 2 - Rayantown Feb. 2019 (11'25"): https://youtu.be/Br20Y7tazmE
Film 3 - Animation - Rotary and Doors construction details June 2019 (8'23"): https://youtu.be/YxUnwdZbCzQ
Track and Turnouts are made by Lenz, Germany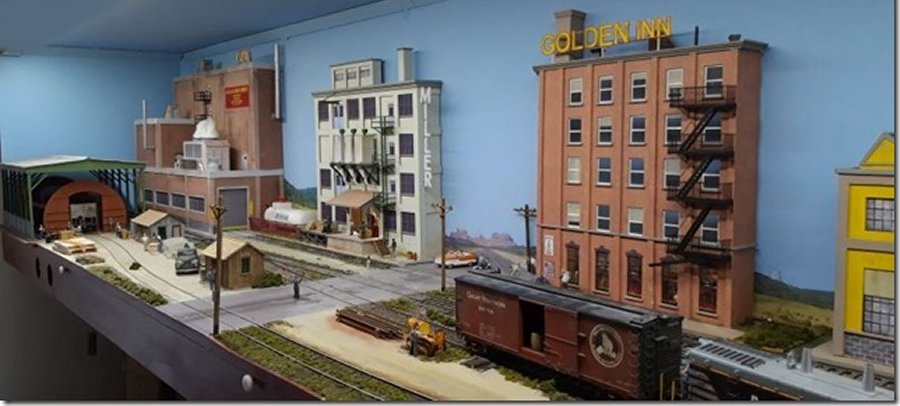 linke Seite der Anlage mit Rotary Dumper / left side of layout w/Rotary Dumper
rechte Seite der Anlage / right side of layout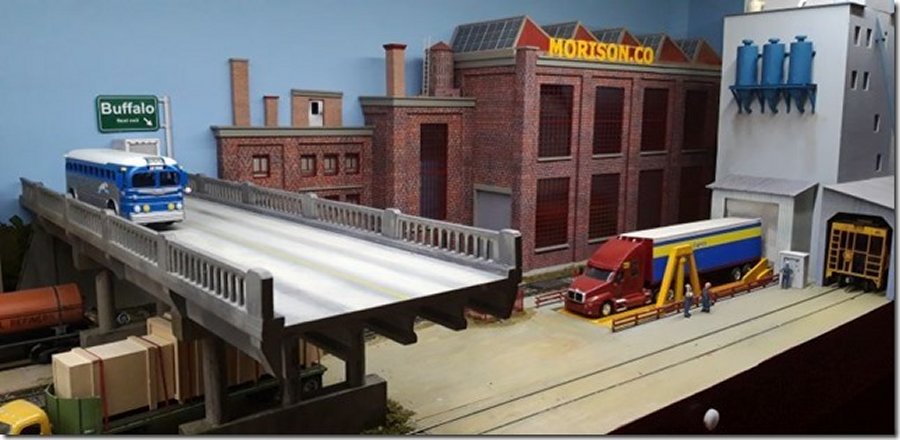 Strassenbrücke neben Morison.Co mit Truck Dumper und Rolltor / road bridge next to Morison.Co w/Truck Dumper and roll-up gate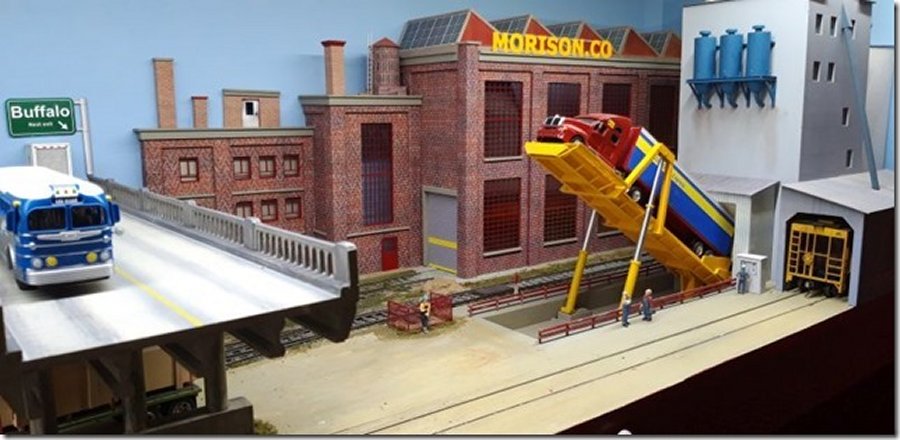 Die Lastwagen werden mit dem Truck Dumper entladen / The trucks are unloaded with the Truck Dumper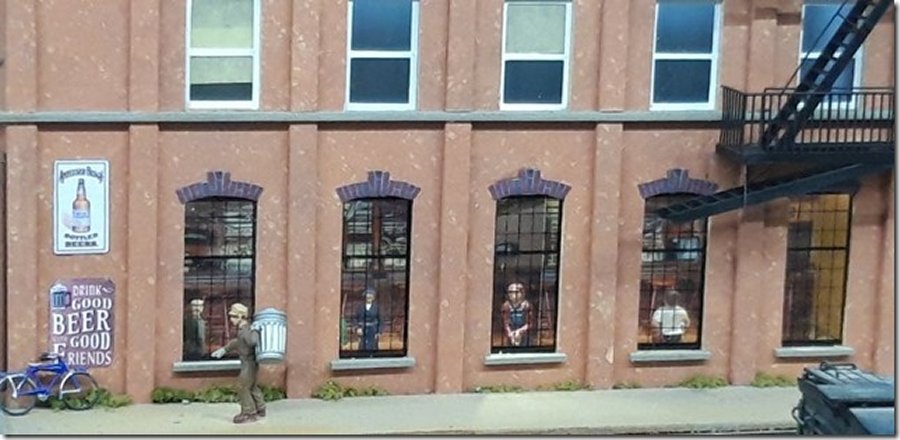 viele Details im Hotel Golden Inn / lots of details inside the building (Hotel Golden Inn)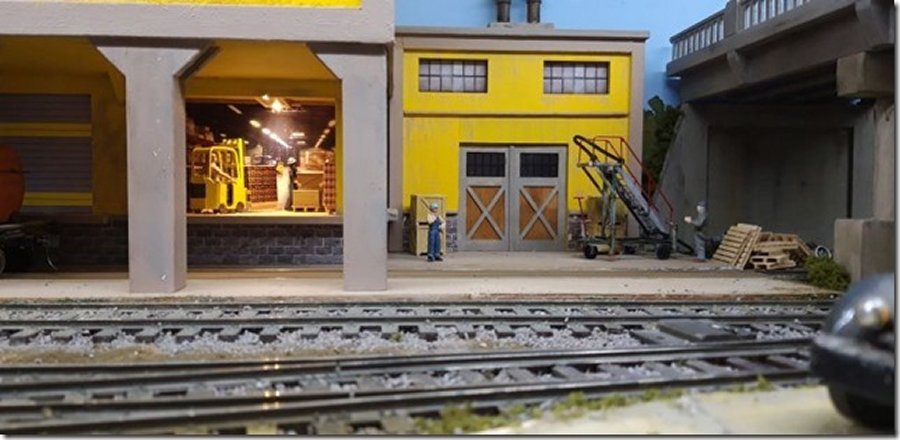 ausgezeichnete Details im Lagerhaus mit Rolltor / perfect details inside the warehouse w/roll-up gate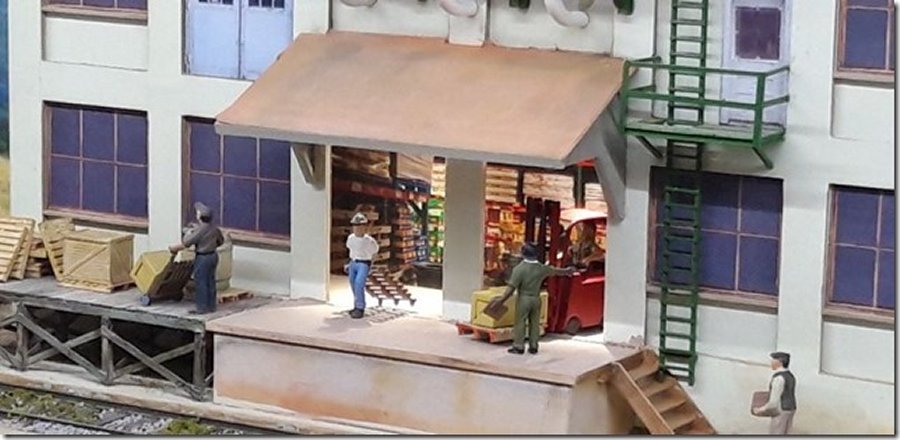 auch beim Miller gibt es sehr realistische Details im Lagerhaus / also at Miller we can see very realistic details inside the warehouse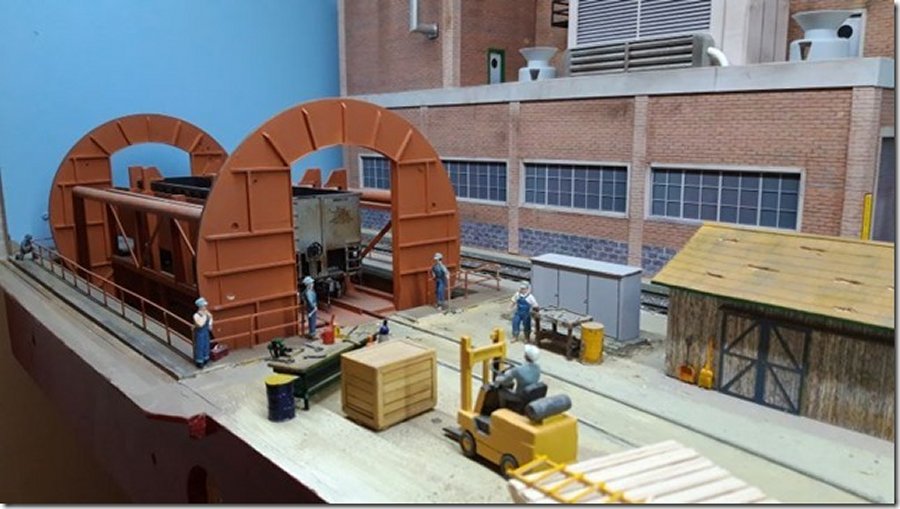 Da der Rotary Dumper neu montiert wurde hat er noch keine Gebrauchsspuren und man sieht die Monteure bei der Inbetriebnahme.
As the Rotary Dumper has just been installed, we cannot see any sign of use but we can see the workes doing a test before going into service.
copyright by Paul Dell Ava - 2019
In Memoriam - Paul Dell Ava (Dübendorf)
New: 13.07.2019


Wir sind traurig, dass uns schon wieder ein guter US-Eisenbahnfreund für immer verlassen hat.
Am 6. Juli 2019 ist Paul Dell Ava im Alter von 74 Jahren durch Herzversagen unverhofft verstorben.

Paul hat an vielen Conventions seine einmaligen Dioramen/Elementanlagen präsentiert. Diese waren immer hochdetailliert, mit Fahrbetrieb und es hatte sogar funktionierende Rotary Dumpers und Rolltore.

Seine letzte Spur 0 Anlage "Rayantown" hat zum Glück ein neues zu Hause gefunden.

Wir vermissen Dich sehr und wünschen happy railroading in "Heaven" !
Wir bedanken uns ganz herzlich bei allen Freunden, die Paul die letzte Ehre erwiesen haben.
Back to American Layouts Main Page: click here