TRAINMASTER BY WERNER MEER US-RAILROAD-SHOP KILCHBERG
HOCHWEIDSTRASSE 3 CH-8802 KILCHBERG (ZÜRICH) SWITZERLAND (founded 1977)
PHONE *41-44-715-3666, FAX *41-44-715-3660, E-MAIL trainmaster@bluewin.ch
Go back to our Website - click here
added: 4/04/2013 / updated: 8/23/2013
Cadillac Minivan (based on 2012 Chrysler Town & Country)
The time has come to replace my 1997 Chevrolet Trans Sport Minivan. There would be just too much to invest to go thru DMV control (MFK). Therefore, I decided to get an almost new (2012) Chrysler Town & Country. Since Fiat took over Chrysler, the Chrysler minivans are sold in Europe as Lancia Voyager. I really do not like to drive a Lancia, even it is actually a Chrysler. So, my Town & Country was direct imported from the USA thru my Garage. It is again a white car but with beige/brown interior. I would prefer a light beige or light gray color, but there was nothing available at the moment. No question, my van will be personalized with Trainmaster lettering etc. Because of being a Cadillac lover, I am "converting" this Chrysler to a Cadillac van. Of course, Cadillac did never ever produce a van, but this Chrysler is having lots of options (fully loaded) to become a luxury van.
This car was imported by Garage Dutli AG, Fine US-Cars, Zurich - http://www.dutli.ch/
April 4, 2013: How to personalize a minivan - the easy way ! It took me 7 hours to apply all decals, lettering and stripes !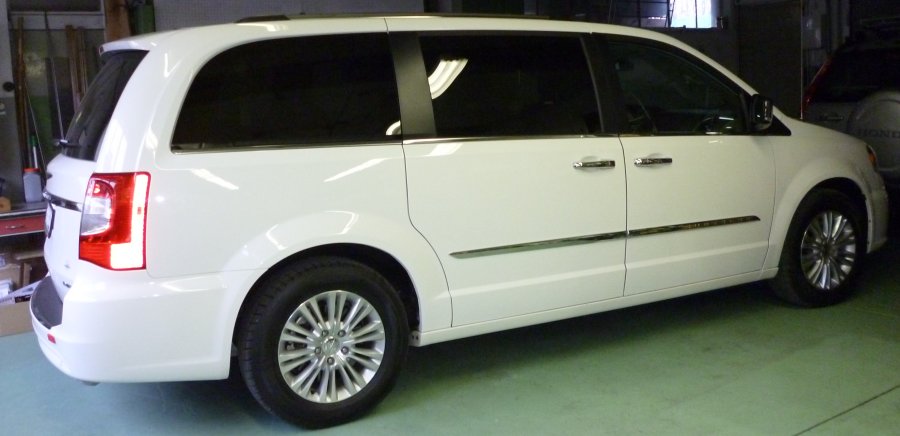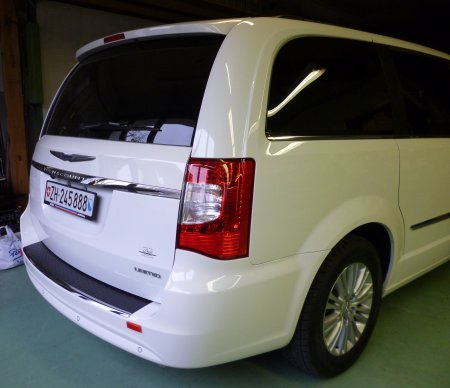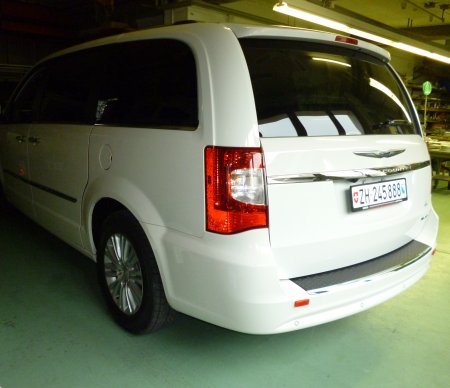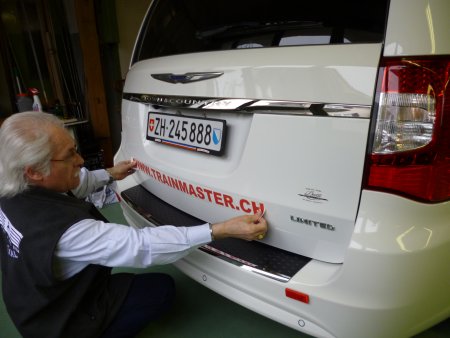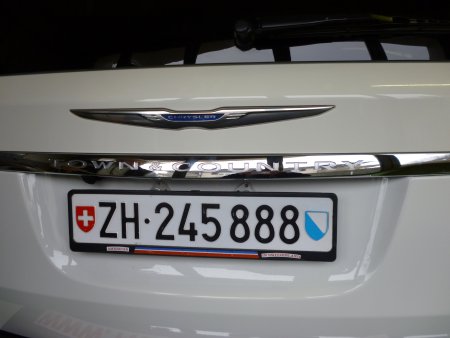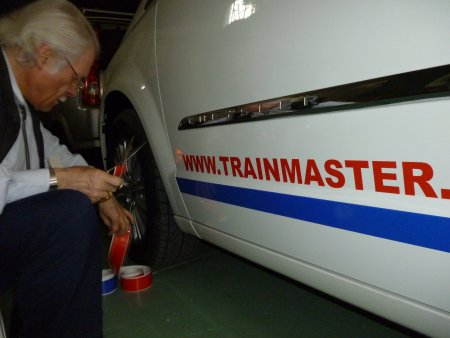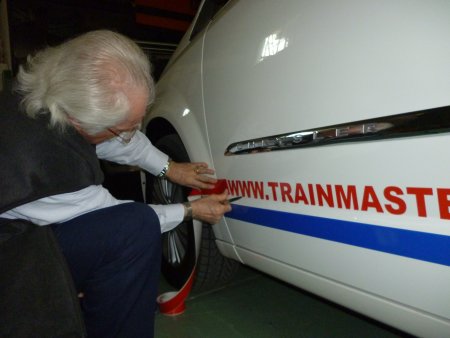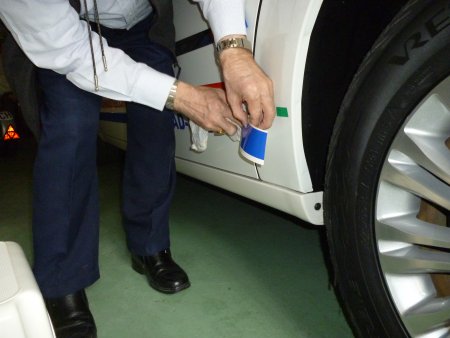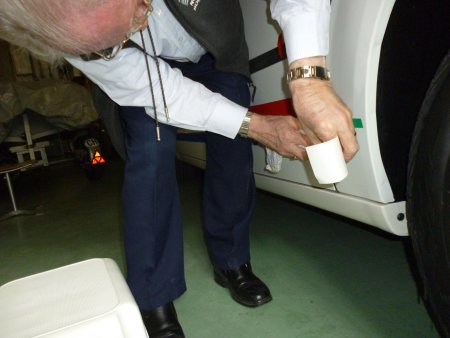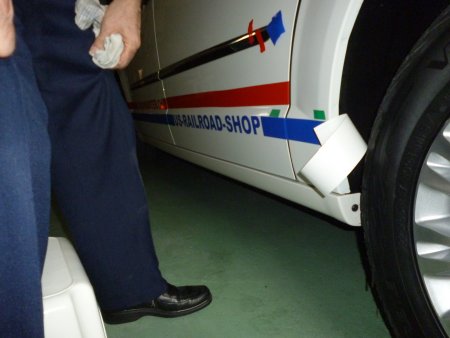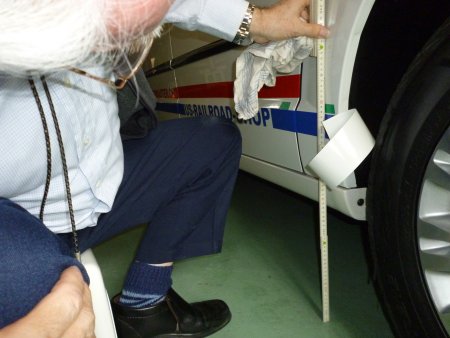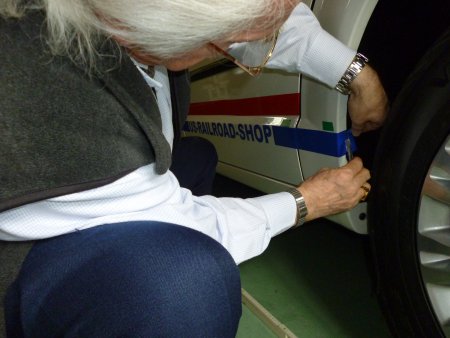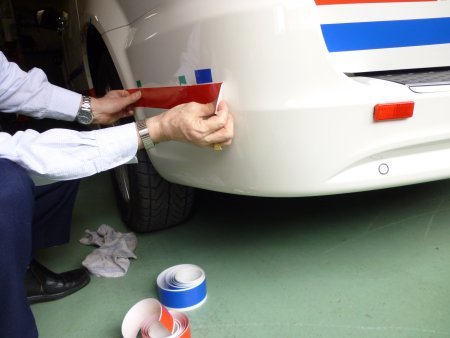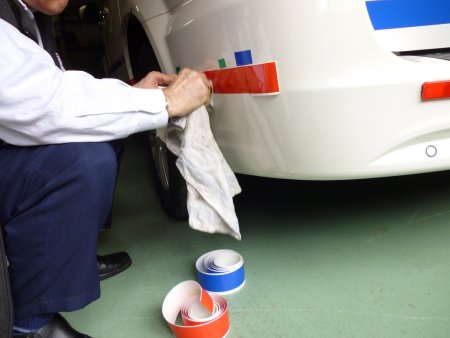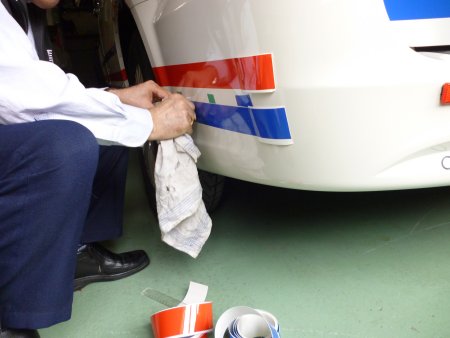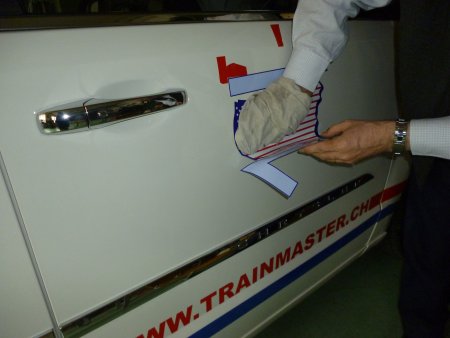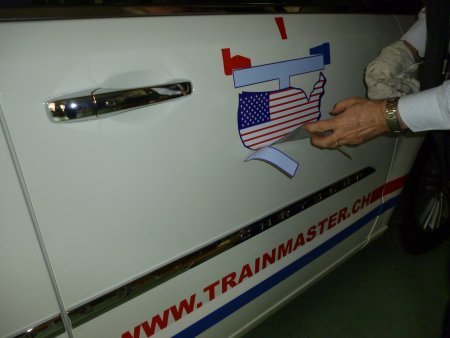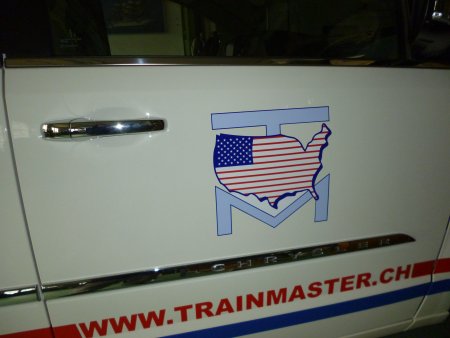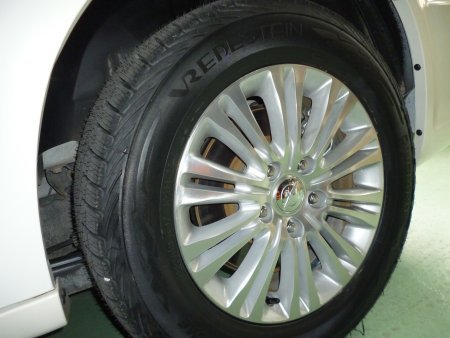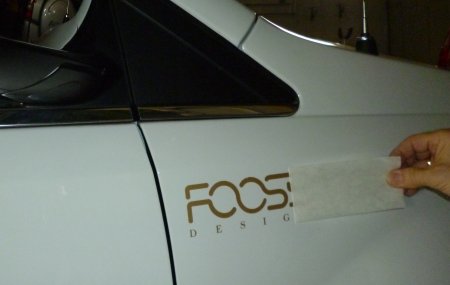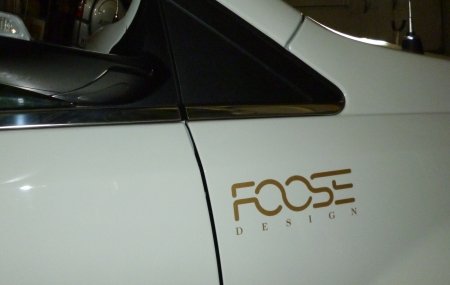 Foose Design Logo copyright by Chip Foose (first class car designer): https://www.chipfoose.com/
April 4, 2013: The photos below show my van how the decoration was done on this particular day.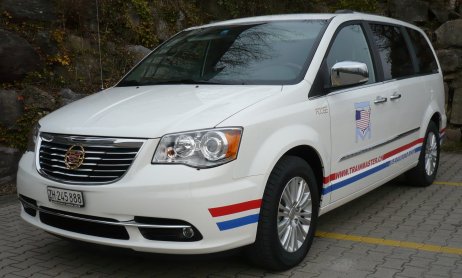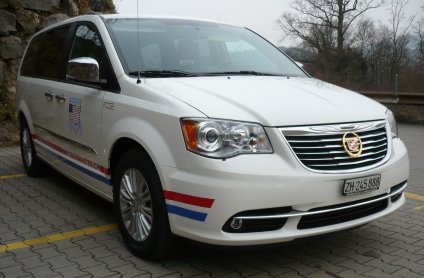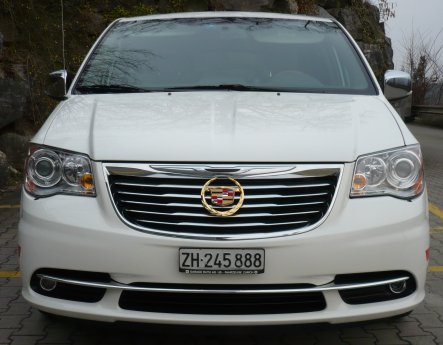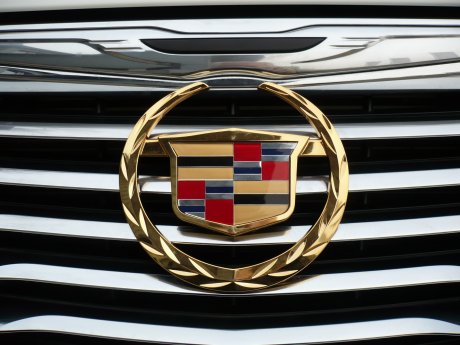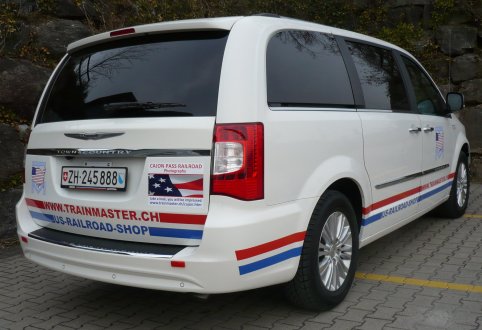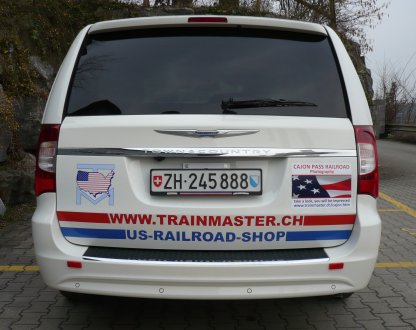 I am currently waiting for Cadillac lettering, new rear tailgate upper part (Chrysler logo will be replaced with Cadillac logo etc.), new center console as the current one will be removed to be able to walk back between the front seats. Once, my van is completely finished, I will sure show the result with more photos!
April 4, 2013: Here are some pics of the interior (left seat of 2nd row is out and 3rd row seats are folded inside the floor (stow-n-go).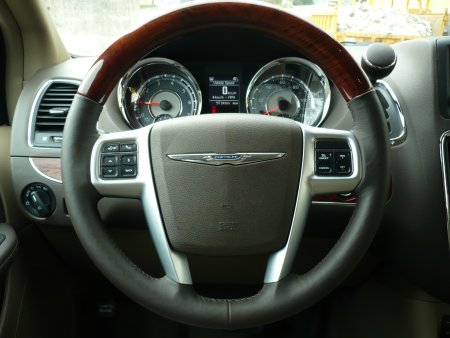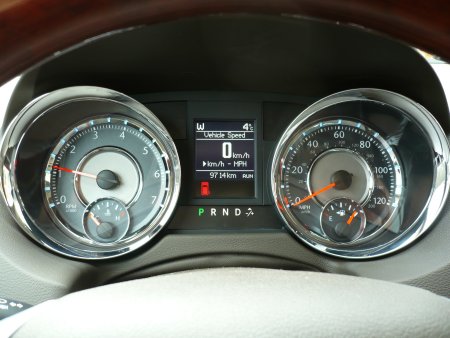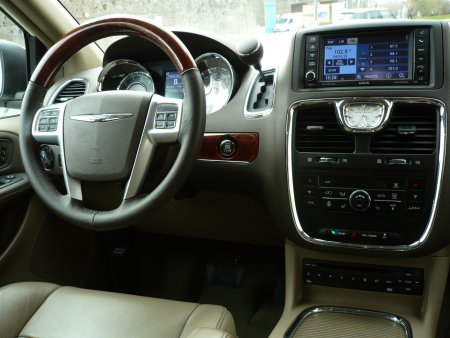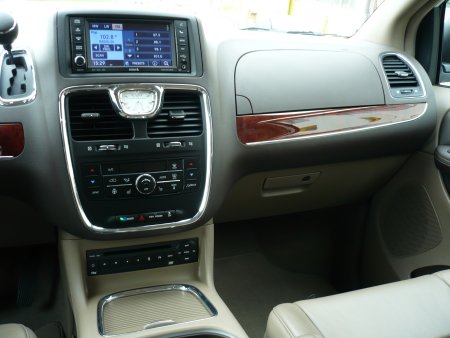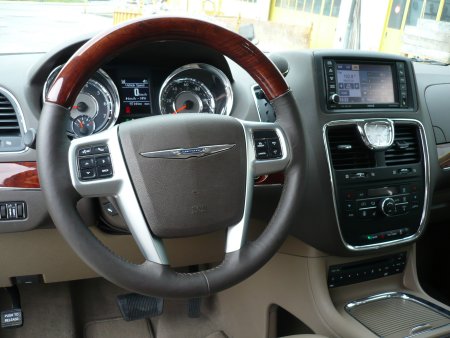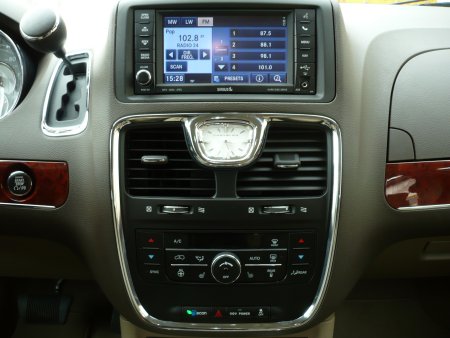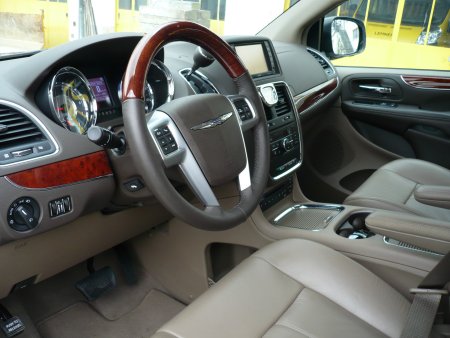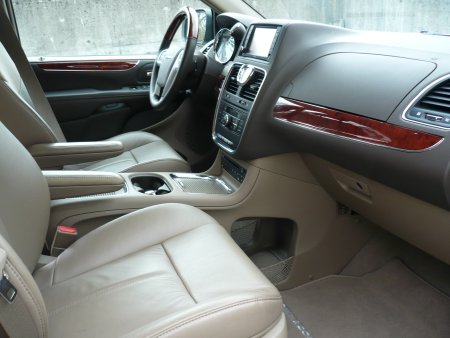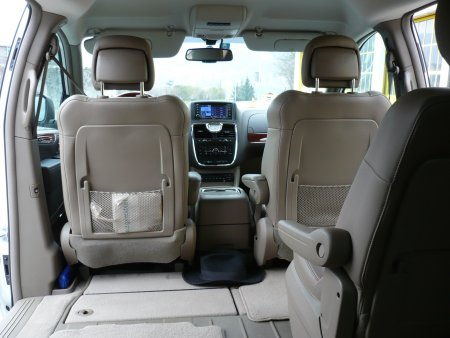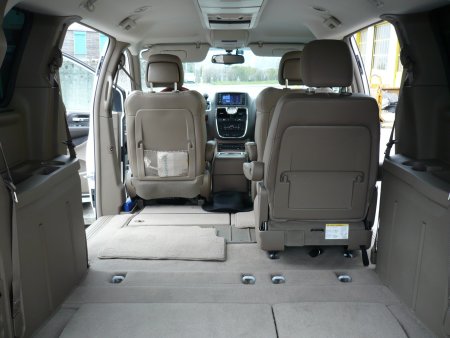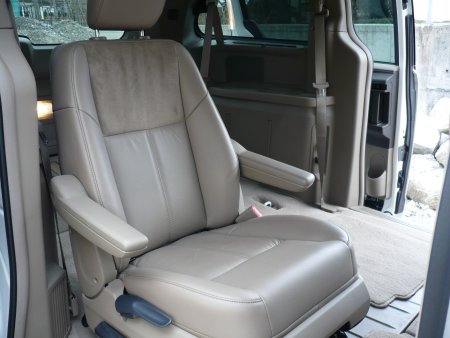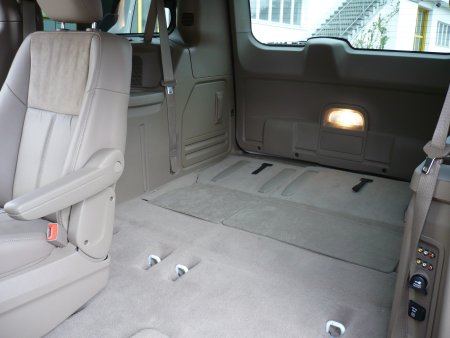 June 5, 2013: Finally, I got the Cadillac lettering for the interior. In addition, the hood got red and blue stripes and on both sides we got Cadillac lettering.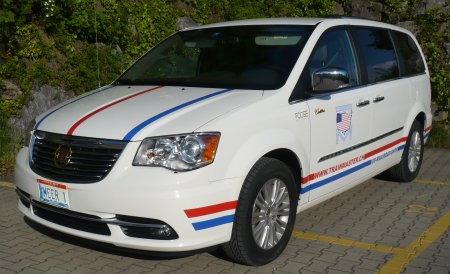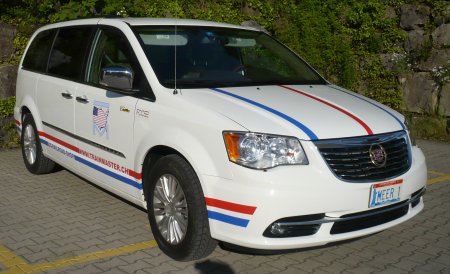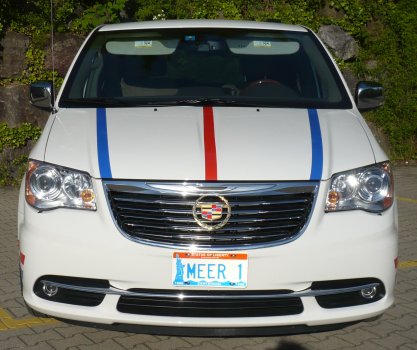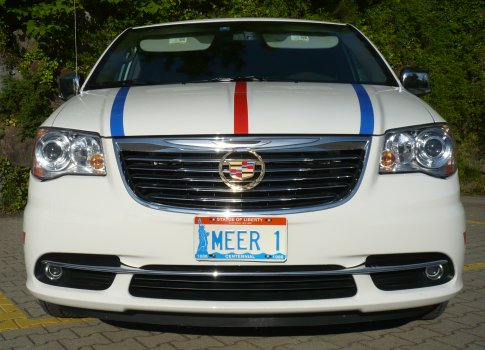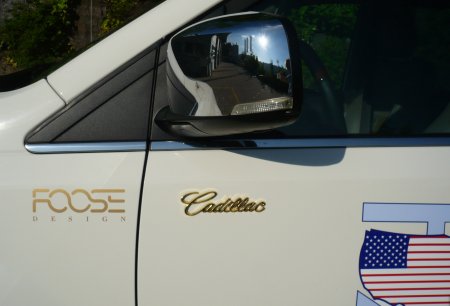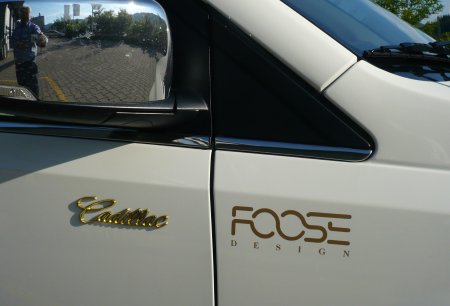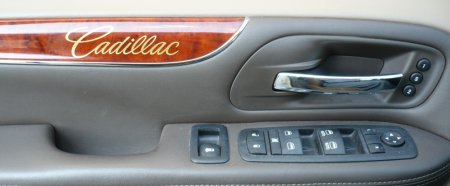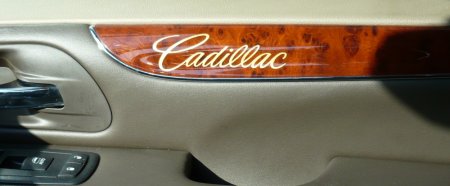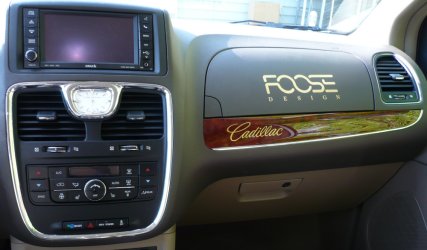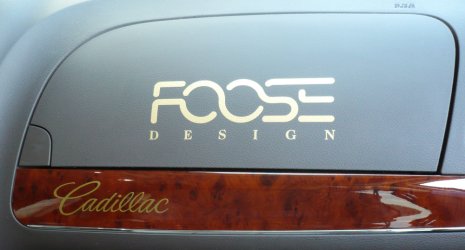 Foose Design Logo copyright by Chip Foose (first class car designer): https://www.chipfoose.com/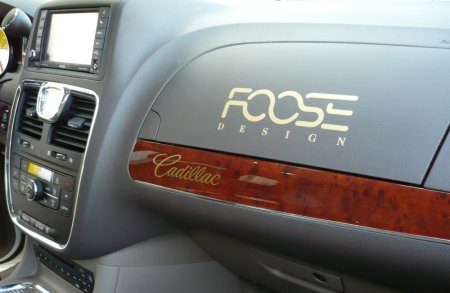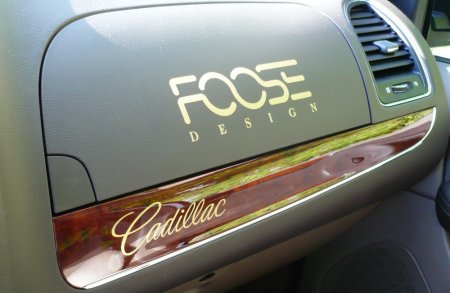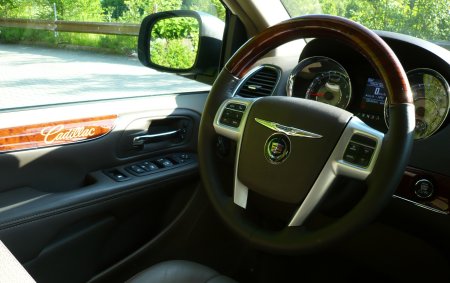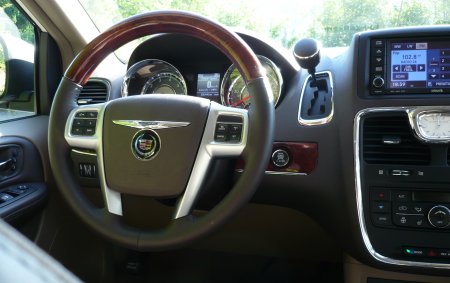 I am still waiting for other parts to complete this vehicle !
July 25, 2013: I was waiting for 4 months to get a new rear door panel without the Chrysler Wing Logo. But the parts dept. was not able to deliver.
Therefore, my body shop did a fantastic job. We removed the factory rear door panel and took out the wing logo. Afterwards it went to the painter to fill the empty logo space with filler and sand it down to get a smooth surface. Next step was a fresh layer of the correct white paint.
You may think why I am doing such an effort just for a car? Well, as already mentioned above, this Chrysler Minivan will be customized as a Cadillac Van !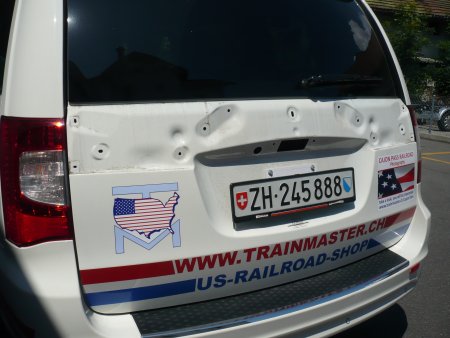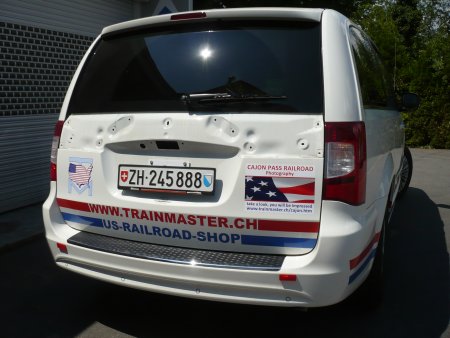 How it looks without the rear door panel.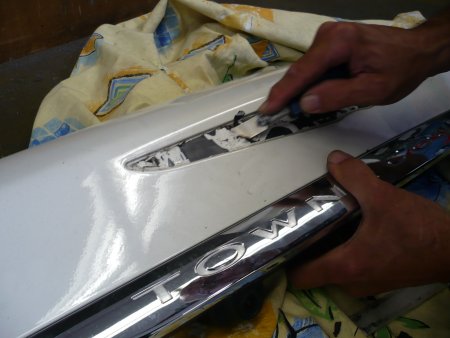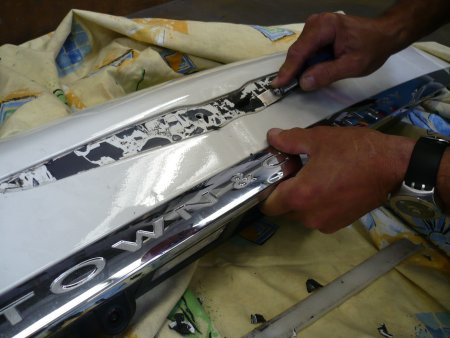 The Chrysler Wing Logo was removed and the rubber-glue had to be scratched off.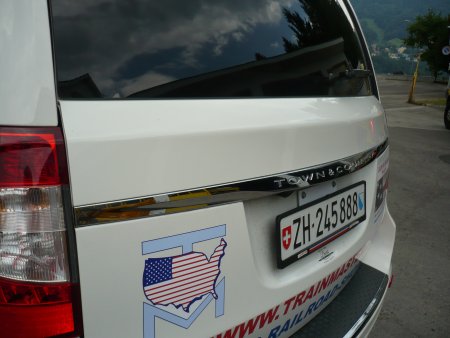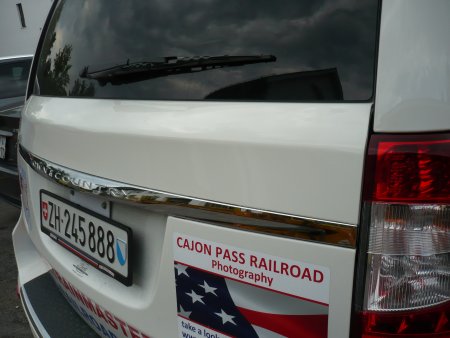 The rebuilt panel is back in place. No question, it is an excellent job and you would never think that there was a Chrysler Logo before.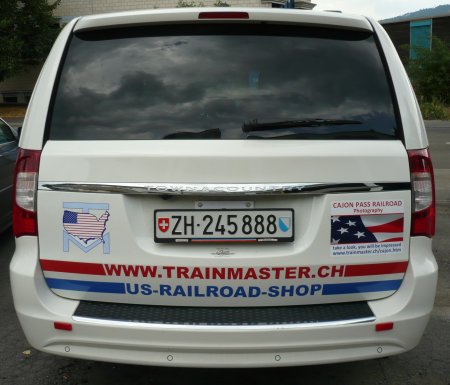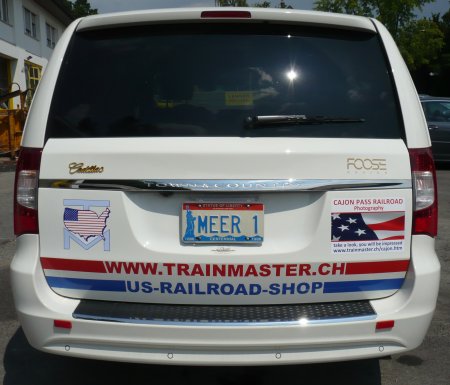 left: a clean panel without any lettering. right: Cadillac Logo and Foose Design Logo (copyright by Chip Foose) haven been mounted.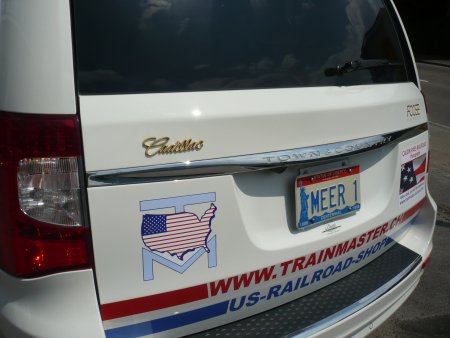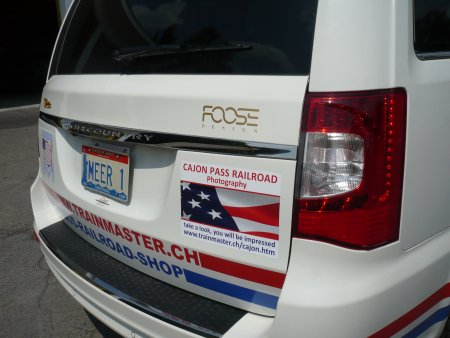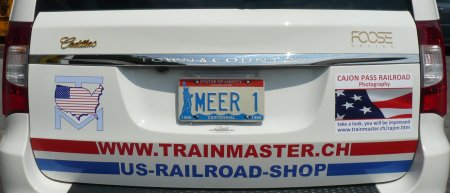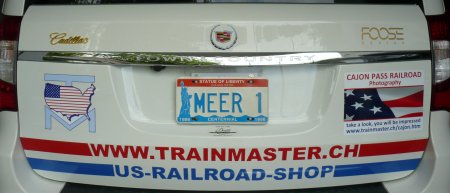 On the left picture is the Cadillac Crest Logo missing - The problen is solved - we have a Cadillac Logo.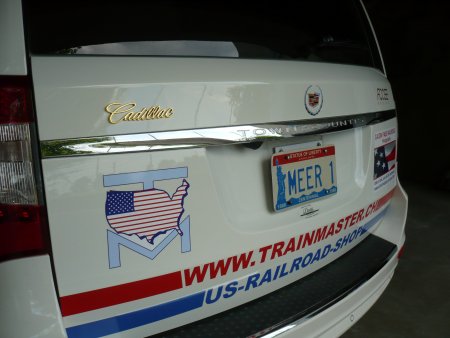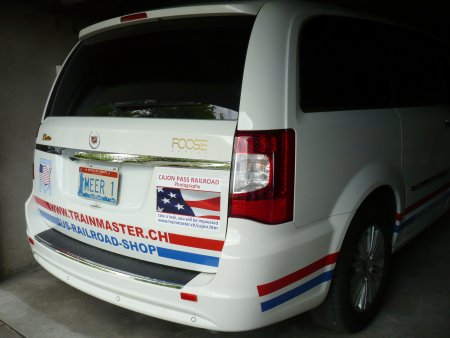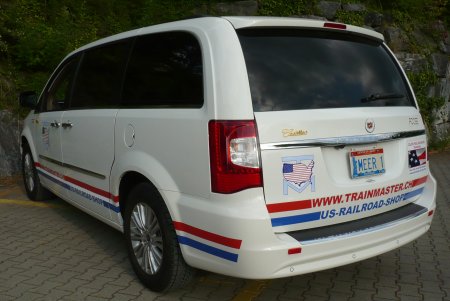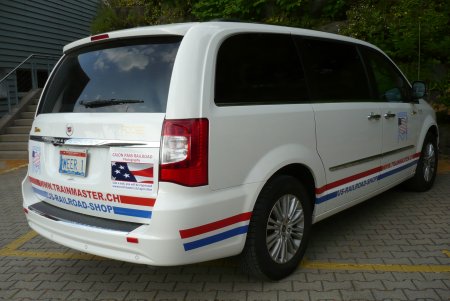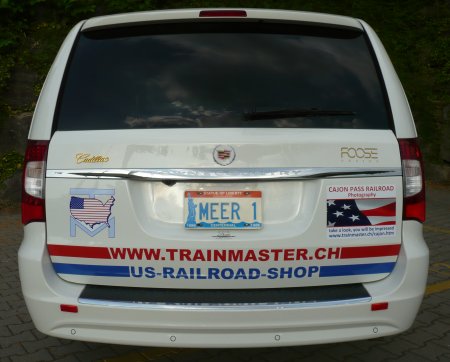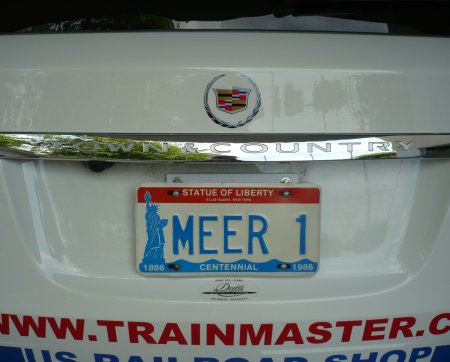 Well, an American Car needs also an American License Plate !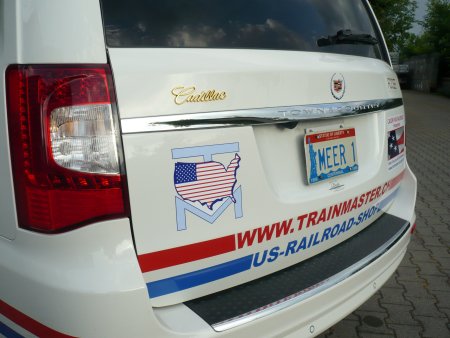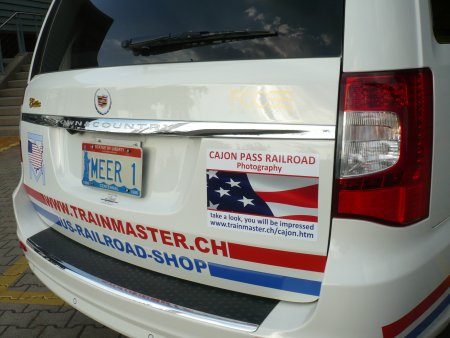 It really looks like factory built !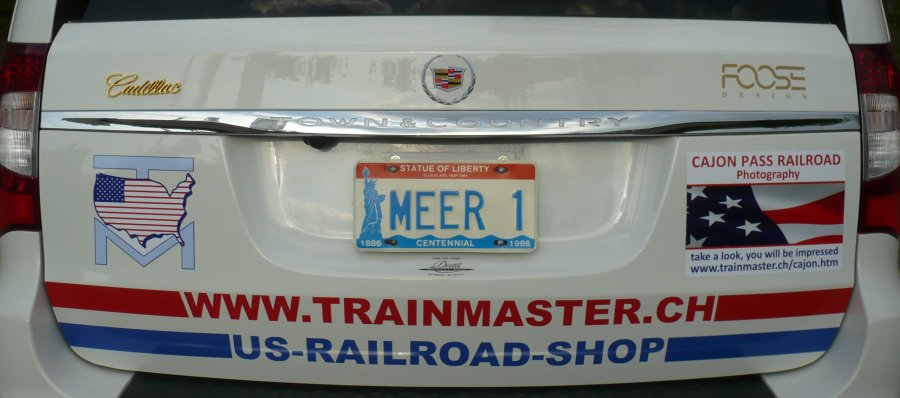 Did anyone know that Cadillac is having a "Town & Country" van in there lineup ?
At the same time, we removed the center caps (wheel covers) and sanded down the small Chrysler Wing Logo. On each cap, I mounted a Cadillac Logo.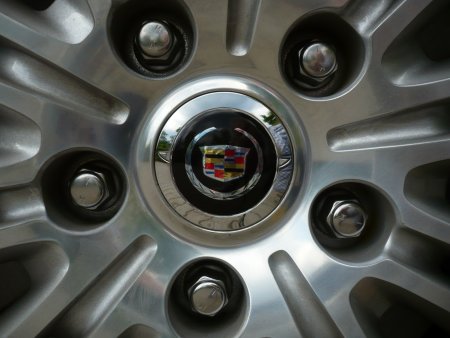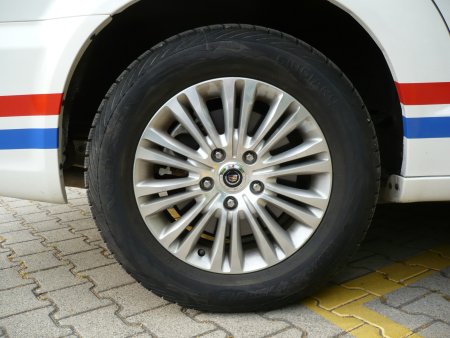 The last Chrysler "identity" are the trim moldings on bothe sides. These will be replaced with neutral ones. But I have to wait until end of August !
August 6, 2013: Last week, I got the 4 chrome trim moldings for all 4 doors (without Chrysler letterig)
Once again, my body shop did a fantastic job. We removed the factory trim moldings. It was not easy because the self adhesive tape was extremly strong. We had to be very careful to be sure that no paint would come off. But my body shop knew how to do it. Afterwards he had to remove the double sticking rubber glue from the door panels. He used a special machine for removal and afterwards everything had to be polished. The application of the new trim moldings was easy. The whole job was a 1 1/2 hour project. At the end, the result is very satisfactory and finally, there are no more Chrysler markings on my Van.
There you go - we have the only Cadillac Minivan in town !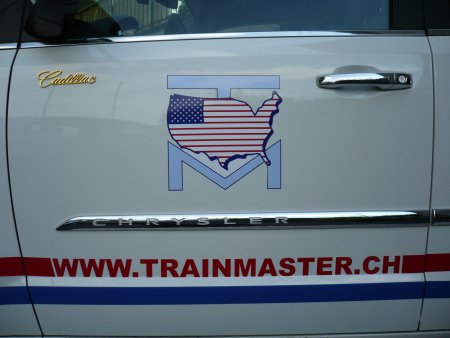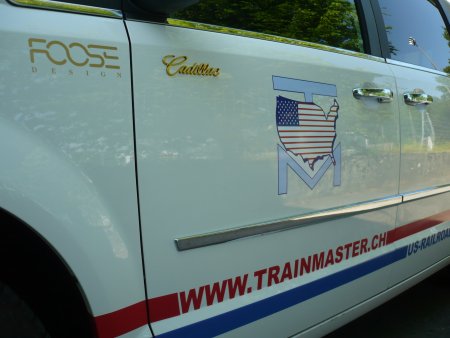 Because the original moldings have been wider compared to the neutral ones, we had to replace front and rear !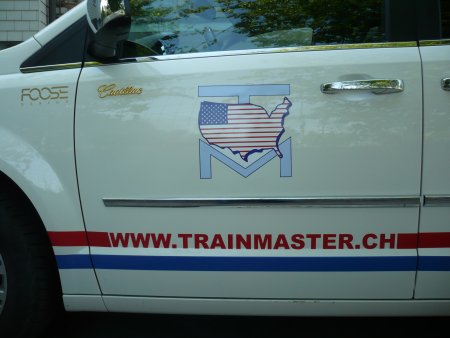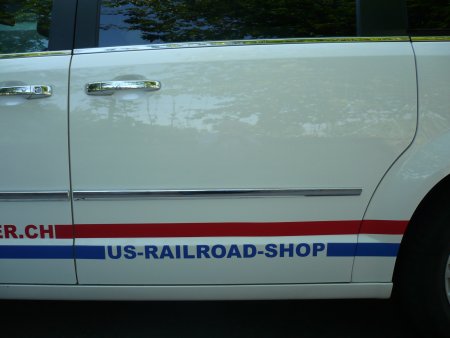 left side with neutral moldings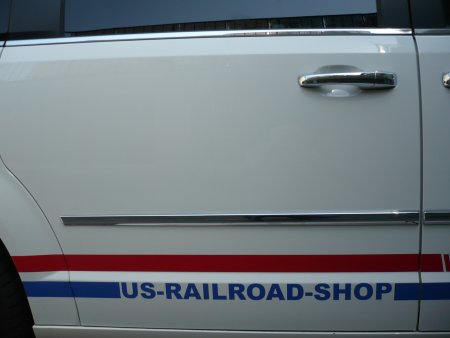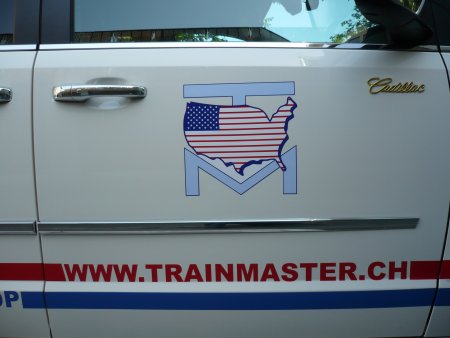 right side with neutral moldings
This car was imported by Garage Dutli AG, Fine US-Cars, Zurich - http://www.dutli.ch/




photo copyright by Michael Dutli
August 23, 2013: LED-Lights for Daylight Driving
After January 1, 2014, all cars in Switzerland must use their lights during daytime. Therfore, I ask my Garage to install additional LED-Daylight lamps in front.
Once you start the engine, these lights will be automatically on. If you are using the regular lights of the car, the LED's will be dimmed automatically.
Here, you can see the result. My Garage did an excellent job as it really looks like factory installed.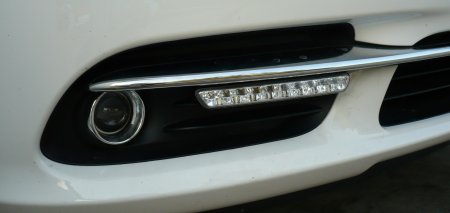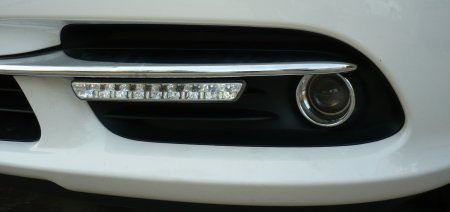 left side - it really looks like factory installed - right side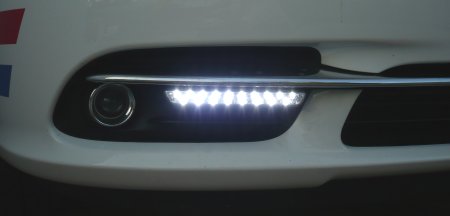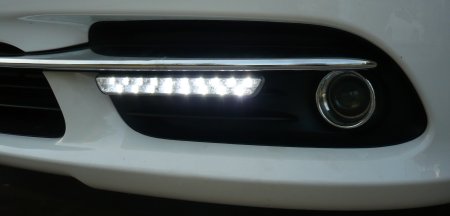 now the LED's are fully lit for daylight driving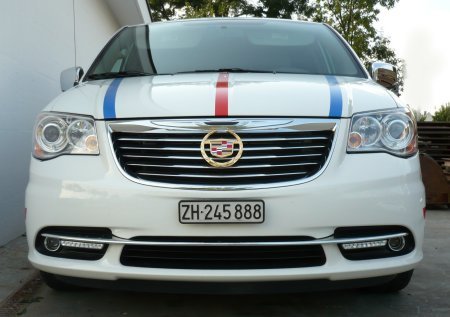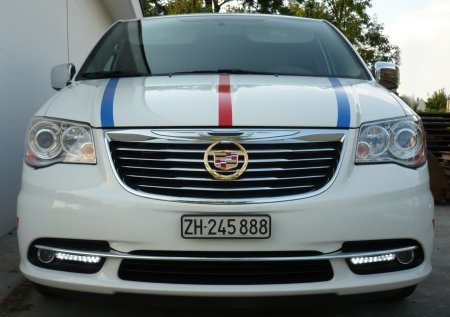 left - the LED's are off - right - the LED's are on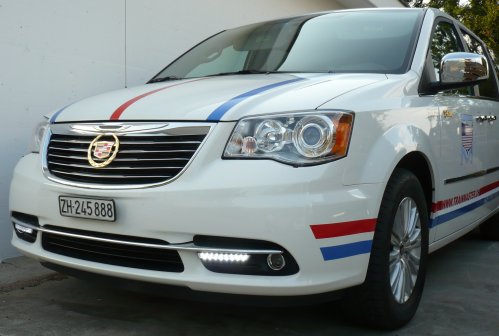 I am ready for the new regulation starting in January 2014 - of course, it is already in use from now on.
The first Cadillac Minivan
in Switzerland

Lots of photos from the
finished vehicle

updated: 8/23/2013
click here
go back to American Cars main page - click here
My old 1997 Chevrolet Trans Sport just before going out of service on April 2, 2013
I purchased this Minivan as a new car from Garage Dutli back in 1997. It was always running well and did never ever break down within these 16 years. It looks still good but there would be too much to invest to pass the strict rules of the Swiss DMV control. Therefore, I have to say good bye to my Minivan.
In the meantime, the senior boss of the garage fixed several things and is using it as his personal vehicle (of course without all decals).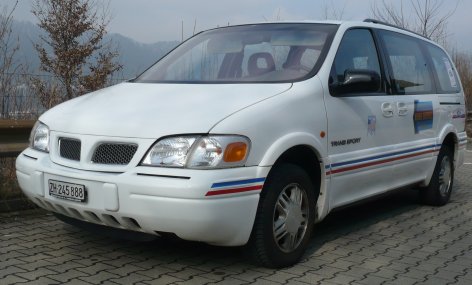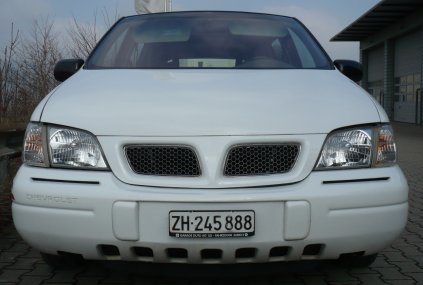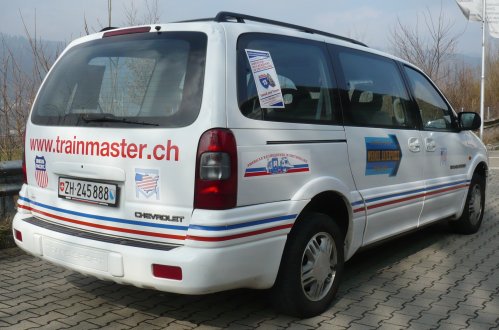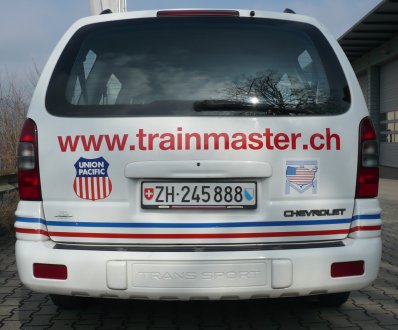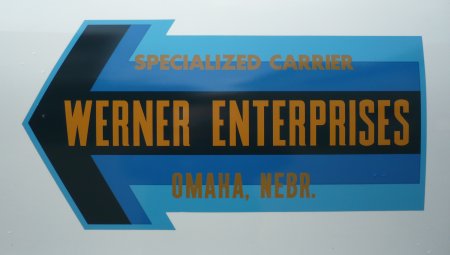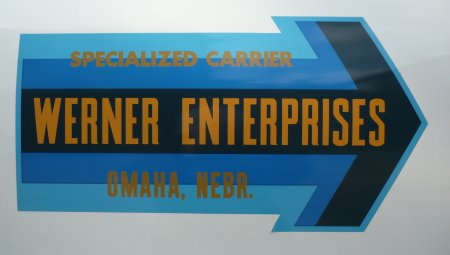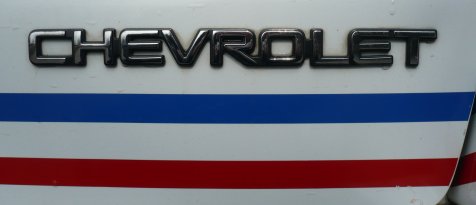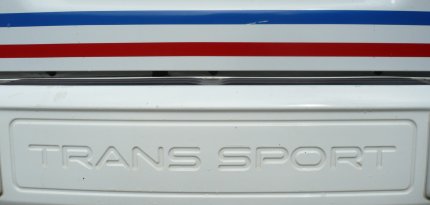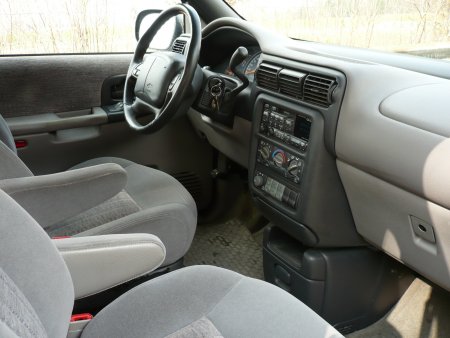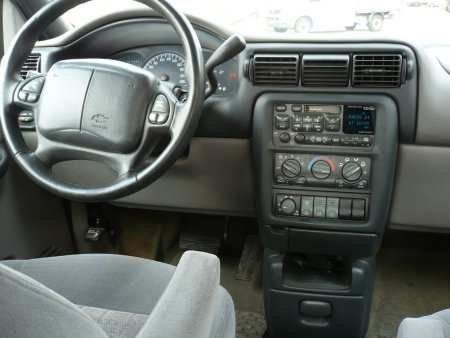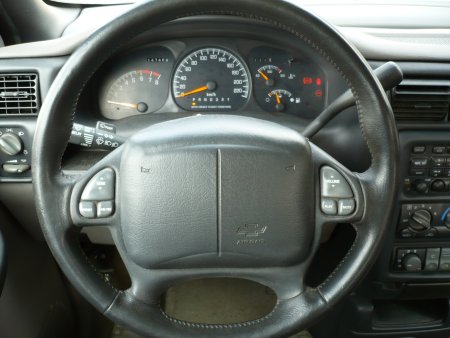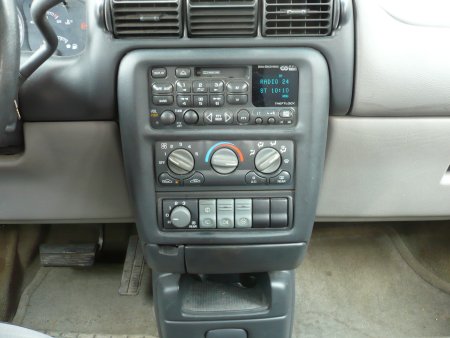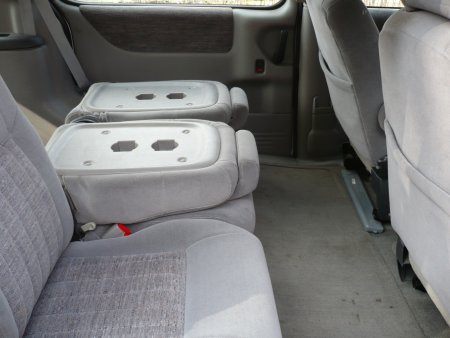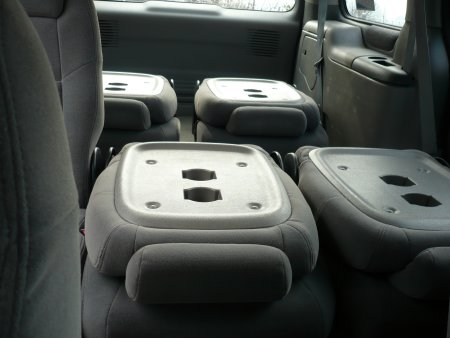 all photos copyright by Werner & Melinda Meer

go back to American Cars main page - click here